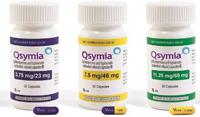 The FDA on July 17 approved the anti-obesity drug Qsymia, made by Vivus, Inc. (NASDAQ: VVUS), the second of three diet pills in less than a month, marking a huge shift in an agency that had not approved any new anti-obesity drugs in the preceding 13 years. Which of the three diet pills is most effective at reducing weight?
A team of British researchers completed a detailed analysis of the clinical trials of all three diet pills (Belviq, Qnexa/Qsymia and Contrave) and published their results in the July issue of Neuropharmacology. They wrote, "In terms of weight-loss and metabolic benefits, Qnexa is the leader."
Qsymia patients had an average weight loss of 6.7 percent and 8.9 percent, respectively, over treatment with placebo.
Belviq (made by Arena Pharmaceuticals' (NASDAQ: ARNA) patients had average weight loss ranging from 3 percent to 3.7 percent.
Patients taking Orexigen Therapeutics' (NASDAQ: OREX) Contrave had average weight losses of 4.2 to 5.2 percent.
Disclosure: I have no positions in any stocks mentioned, and no plans to initiate any positions within the next 72 hours.