Global commodity price erosion is aiding China on its annual import savings to the tune of $460 billion. 70% of this savings is being derived from soft crude oil prices, the rest coming from energy, metal, coals and agricultural commodities. This slump gives China some breathing space for instituting policy reforms needed for economic recalibration.
Primarily the trade surplus surged to $594.5 billion which has helped mitigate pressure on the Chinese renminbi brought about by capital outflow. But the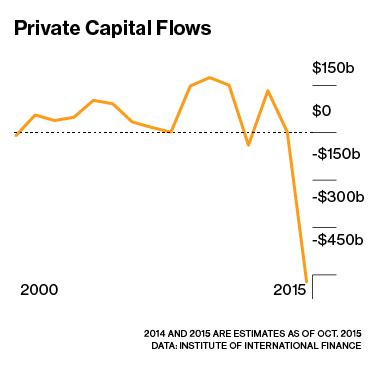 economy had hit a brick wall early last year due to fiscal shock and monetary tightening as Capital Economics proxy growth indicator slowed to 4%, but since then economic activity has picked up. This has happened at the behest of a 30% jump in fiscal spending and availability of new credit which reached a year high of 14.4% in December. The Chinese regime has shown resoluteness not to allow financial institutions, or worse the stock market, to collapse; talks of deleveraging, are really out of the window. There has also been a much needed structural shift in the manufacturing sector, as value addition in new technology grew 10.2%, which is 4.1% faster than industrial enterprises. Fixed asset investment grew at a robust real growth rate of 12%. On the consumer side, CPI was marginally up 1.4% over last year, underpinned by globally soft crude oil prices, but retail activity remained buoyed and posted an annual rise of 10.7%.
In the backdrop of generally robust economic data, Chinese economy still has to traverse through quagmire as it has a US$ 26 trillion worth of debt that dwarfs its US$ 3.3 trillion foreign currency reserves. This could prove to be the Achilles heel which would reduce any margin of error in policy enacting. For example, the rapid devaluation in August was merely brought about as authorities shifted from a peg to a trade-weighted basket and does point to the preponderance of capital flight in absence of controls. This economic change of guard was in response to IMF's traditional criteria of evaluating responsiveness of the tradability of a currency in the foreign exchange market. Chinese regime obliged, keenly primed on the SDR's rights on acquiring the status of a reserve currency. In the aftermath, JP Morgan estimated that the authorities spent a record US$ 160 billion in December defending the yuan. With a sizeable industrial base, facilitated by trade surplus, a shift to consumption-led growth should bolster growth because there is lower reliance on foreign capital goods and services. On the other side there is a fear of running down of reserves. For example, data from International Settlements shows a fast pace of reduction in foreign liabilities, driven primarily by the need to pay off dollar denominated debt before FED announces yet another rate increase. This requirement to shed off debt burden can run contrary to an easing monitory policy, as it would complicate the economic landscape with capital flight veering dangerously to devalue renminbi.
Transparency in governance is needed, because it is a strong likelihood that bad debts, accrued via a debt driven growth model, could be rolled over interminably and then be classified as non-preforming. This can lead to lost dynamism while the economy drifts into a middle-income trap.