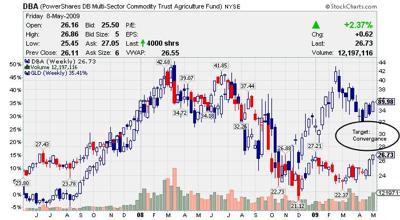 The debate of inflation vrs deflation vrs stagflation has always a great one to stir the pot and evoke some of the best economic debates and insight there is.
The bottom line here is that we all want to make money in this market, with the least amount of risk exposure.  Well perhaps speaking for myself, because I surely am.
Throw your gold out the window, and load your wheelbarrows with food.
(no, not literally, that's one of those attention-grabber statements, how did it work?)
Fundamentally, I "think" that gold is overvalued here.
Fundamentally, I "think" that grains are undervalued here.
Fundamentally, what I "think" means nothing, and I would advocate to never trade of that alone.
However, when the fundamentalls and technicals both agree, now that is a trade.
When two different underlying assets which both share the same dri... force behind them (inflation in this case) create an excessive divergance in relative price between the two, a highly profitable trade opportunity arises to fade them back to the covergance center.
The trading vehicles I have selected most purely represent the gold and grains sector are GLD (SPDR gold shares ETF) and DBA (Powershares Agriculture ETF).
So let's take a look at the what the technicalls are telling us here, via 3 charts.  DBA, GLD and DBA vrs GLD
1) DBA: After hitting an intraday low of 21.52 on 5 Dec 2008, DBA then rallied to a 6 month intraday high of 27.21 on 6 Jan 2009. After pulling back to 22.37 on 3 March 2009, DBA has been in a powerfull uptrend and currenty at 26.73 as of the 8 May 09 close. DBA is currently only .48 cents away from breaking it's 6 months high set on 6 Jan 2009. After that, it appears the next resistance level is at the 32.00 level, from September 2008.
2) GLD:  After hiting an intraday high of 98.99 on 20 Feb 2009, GLD had produced a series of 3 consecutive lower highs during it's current downtrend. GLD is having difficulty breaking back above the 92 level here, which was the same resistance level which it encountered in October 2008. As GLD continues this current downtrend, it appears the next support level is the 72.00 level, established in November and Decemeber 2008.
3) GLD vrs DBA: a comparision over a 2 year period.
Disclosure: (equal amount of)
Long DBA
Short GLD
(Exit Target: when the weekly chart converges again)