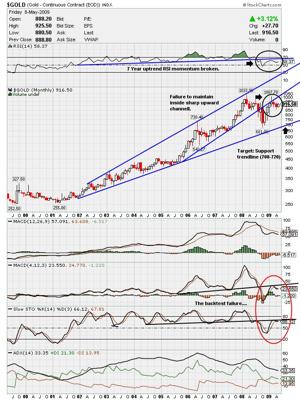 Every higher high from 2002 to 2008 was supported with a higher high of RSI and MACD, suggestive of bullish momemtum.
The last push up to 1007 however, was not.  The push to 1007 actually rose just high enough to "back-test" the prior 6 year support rsi/mach/stochastic channel, which used to be a support indicator.  Now it a resistance level.
Gold's longer term chart is displaying negative divergance with every indicator (rsi, mach, stochastics).
Target: 720 in 2009 (the major trendline support level)
Disclosure: Short GLD, Short USO
   &nbs... Long DBA (hedge)