I wrote the report on July 25, 2017.
Intel Corp. (INTC)
   Sector: Technology
   Sub-Group: Semiconductors
   By: Kevin Lim, CFA
 BUY
Price (07/25/2017): $34.67
Target Price: $44.58
Upside: 29%

Business Description
The company has seven operating segments:
Client Computing Group: Includes platforms designed for notebooks, desktops, tablets and communication components.
Data Center Group: Includes workload-optimized platforms for enterprise, cloud, and communication infrastructure.
Internet of Things: Includes platforms for retail, transportation, industrial, video, buildings and smart cities.
Non-Volatile Memory Solutions Group: Includes NAND flash memory products primarily used in solid-state drives.
Intel Security Group: Includes security software products that secure computers, mobile devices, and networks around the world.
Programmable Solutions Group: Includes semiconductors (FPGAs) for military, automobile, data center, industrial and communications.
All Other: Includes results from other non-reportable segment and corporate related charges.
Competitors
Intel competes against other companies that make and sell platforms and software to businesses that build and sell computing and communications systems to end users.  Competitors also include companies that sell goods and services to businesses that use them for their internal and customer facing processes (large data centers).
Intel is a leading provider of platforms for traditional desktops and notebooks.  They are a recent entrant to the tablet and mobile device segment - competitors include numerous companies that offer tablets, smart phones and other mobile devices based on ARM architecture.
Intel is a leading provider in the data center market segment face competition from companies using ARM architecture and other technologies.
In the programmable solutions market segment, Intel is a leading provider of programmable semiconductors and related products (FPGAs and System on Chips FPGAs) and face competition from companies offering specific standard products (ASSPs), graphics processing units (GPUs), and CPUs.
Competitive Advantages
Intel offers solutions across every segment of the smart, connected world from cloud, to the networks, to devices.  The expansion of cloud and data centers, memory, and FPGAs – all of which are connected – help Intel's growth.
Intel is currently developing the next generation 10nm process technology that will offer significant improvements in performance, energy efficiency, new features and cost.
Intel has made significant R&D investments into integrated manufacturing network, which enables them to have more direct control over design, development, and manufacturing processes.  Most of Intel's competitors rely on third-party subcontractors for manufacturing and assembly and test needs.
Risk Factors
The industry in which Intel operates is highly competitive and subject to rapid technological changes.
Intel's competitors that design and manufacture applications processors based on the ARM architecture, which feature low power, long battery life operation, low energy consumption, and are built to integrate numerous functions on one chip.
Summary
Intel is trading at 15.7 times current forward multiple of 2017E EPS of $2.20.  Using industry average multiple of 24.2, we arrive at $53.24.  Intel is also trading at 2017 E EV/EBITDA of 6.7x vs 12.4x for the industry average – discount of 45%.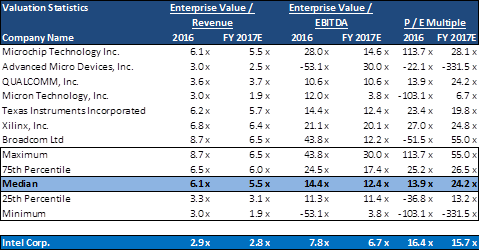 Cash Flow Summary – DCF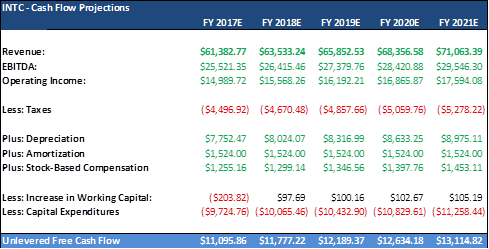 Using DCF valuations with 10.6% discount rate and 3.5% LTGR, we arrive at $32.49.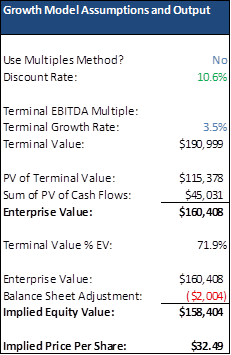 DCF Sensitivity Table

Data Center Group, a segment with the highest operating margin, above 40%, sales grew by 18.3%, 11.1%, and 7.9% in 2014, 2015, and 2016, respectively.
Intel is a global company that offers solutions across all segment of the connected world - with solid free cash flows, an attractive dividend yield of 3%, and current cash flow yield of 7% - that could outperform as its P/E multiple is at a discount of 46% compared to its peer group.
Disclosure: I am/we are long INTC.