Today, let's look at Hythiam Inc. (NASDAQ:HYTM), a provider of specialized behavioral health management services to health plans, employers and unions through a network of licensed and company managed health care providers, from a Technical POV. The overall indications, after Friday's (September 25, 2009) market action, are Bullish: in the near term Neutral, mid-term Bullish, and long term Bullish. The recent Candle Stick analysis is: Very Bearish.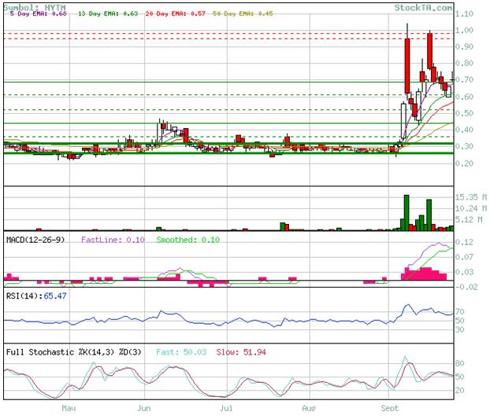 Latest News: Hythiam: Strong Buy Rating Reaffirmed
seekingalpha.com/article/163410-hythiam-...
Hythiam Announces the Closing of US$7M Registered Direct Offering
http://finance.yahoo.com/news/Hythiam-Announces-the-Closing-bw-1678896689.html?x=0&.v=1
Friday's Market Action   Close  .70        +.04       Volume 2,116,800/shrs
There is a DOJI on September 25, and one Gaps open up on September 25, 2009 at .66/.69, the near term resistance is .95, support at .69, and the 50 day (NYSEMKT:EMA) exponential moving average is .45.
This is Hythiam Inc. (HYTM): This company specializes in researching, developing, and licensing medical protocols for the treatment of alcohol and drug addiction. The company's PROMETA treatment programs utilize a combination of medication, nutritional supplements, and counseling to treat drug and alcohol addiction. Hythiam' PROMETA Centers are operated through management or licensing agreements with health care providers in the US. PROMETA also provides maintenance support by offering individualized care programs following medically supervised treatment. Its Catalyst program offers disease management services. The company owns a controlling stake in managed behavioral health provider Comprehensive Care.
Competitive Landscape
Demand is driven by the rising costs of providing medical care. The profitability of individual companies depends on efficient operations and the ability to negotiate favorable contracts with healthcare providers. Large companies and organizations have advantages in negotiating contracts with healthcare providers. Small companies can compete successfully only by providing special coverage plans, or in small markets. The industry is highly automated: annual revenue per employee is close to US$1 million.
  Managed Healthcare Industry Forecast
US personal consumption expenditures on health insurance premiums, an indicator for managed healthcare services, are forecast to flatten with an annual compounded growth rate of 1% between 2008 and 2013. Data Sourced: December 2008
Hythiam Inc. (HQ)
Terren S. Peizer  Founder, Chairman and Chief Exec. Officer
11150 Santa Monica Boulevard
Suite 1500
Los Angeles, CA 90025
United States
Phone: 310-444-4300
Fax: 310-444-5300
Paul A. Ebeling, Jnr. Analyst
Ebeling Heffernan
Disclosure Long HYTM