Cimarex Energy (NYSE-XEC) has performed strongly since the collapse of oil pricing in mid-2014. Out of any selection of other oil and gas companies of similar size and focus, it regularly one of the top performers, down just 25% including the recent rout in oil prices, versus a ~59% decline in oil and a 45% decline in the sector as a whole NYSE-XOP. Out of my selection of peers below, only Concho Resources (NYSE-CXO, -23%) fared better during this time, which I believe is largely due to a substantial hedging position (an attribute that Cimarex is lacking), and EOG (NYSE-EOG) which I regard as a best-in-class producer with nearly 5x the market cap of Cimarex.

Why Has the Stock Outperformed During the Past Year?
Part of this outperformance is because the company production mix is about 47% gas, sparing it some of the impact of declining oil price. However, many of the peers above also have a balanced product mix (or even majority gas production), and therefore product mix is not a satisfying explanation, in my view.
Another factor is that Cimarex entered the price collapse with a strong balance sheet of approximately 1.0x Debt to Cash Flow, which makes it a safe haven in troubled times. I agree with this point in the short term, but see 'safe haven' as a weak reason to own an expensive, high-multiple oil & gas stock longer term. While Cimarex started with a strong debt position, if cash flows are weak, then a good debt position can quickly deteriorate into a bad one.
In doing some further casual reading on the company, I was struck by the lack of detailed research anyone has actually done on the firm. Sell side research, and research here on Seeking Alpha all largely parroted the contents of the corporate presentation. To get the facts straight, I set out to gather some info of my own.
First Stop - Corporate Declines
A company's total production is based on a portfolio of previously drilled wells, all of which are steadily declining at different rates. For example, without new capital expenditures, at a 30% annual decline rate, an asset base currently producing 150,000 boe/d of production becomes just 105,000 boe/d by the end of the year. In my experience, the decline is rarely discussed in many oil & gas presentations, and Cimarex is no exception.
A high decline-rate firm needs to keep spending to stand still, and might have a hard time ever returning cash to shareholders. Companies that feature a high decline rate often face such a predicament because of recent high growth rates, resulting in a portfolio of 'younger' vintage wells. High decline-rate companies will require a larger ongoing level of capital expenditures to continue to generate stable cash flows. This treadmill is one (of many) reasons why some otherwise similar oil & gas firms can trade at significantly different cash flow multiples - because a low decline firm only needs to reinvest a small portion of cash flow to stay flat, with the rest available for growth, dividends, buybacks, or debt repayment.
Determining a corporate decline rate is challenging because of a lack of public data. Fortunately, if you are lucky enough to have a subscription to a data service, you can obtain this data and reasonably estimate the decline rate.
Upon doing this analysis, I found that Cimarex at the end of 2014, had a corporate decline rate of around 38%. To get this figure, I pulled total operated production (this will vary slightly from Cimarex's reported numbers), I grouped the production by vintage (ie, the sum of production from wells that first began producing in 2011, 2012, 2013, 2014 … etc), and fit some curves to estimate how fast production was falling for these different groups of wells.

Cimarex's decline rate has improved from 2012 when the company was younger and fast-growing, however at 38% in 2014, the company still needs to drill a lot of wells to keep production flat. Also, because Cimarex typically spends the majority of its capital in Q1, the actual decline rate at the time of writing this article is potentially higher than the 38% I calculated.
I am the first to admit there is a degree of estimation error in determining the decline rates, but I was generous to the company by erring on the low-side - so I would estimate the true decline at the end of 2014 is likely between 38% and 42%.
It is also interesting to note that while Cimarex has 18% of its production (28,000 boe/d) from low-decline wells drilled before 2010, over 60% of current production is from wells drilled in 2013 or 2014, which have decline rates far above 40%.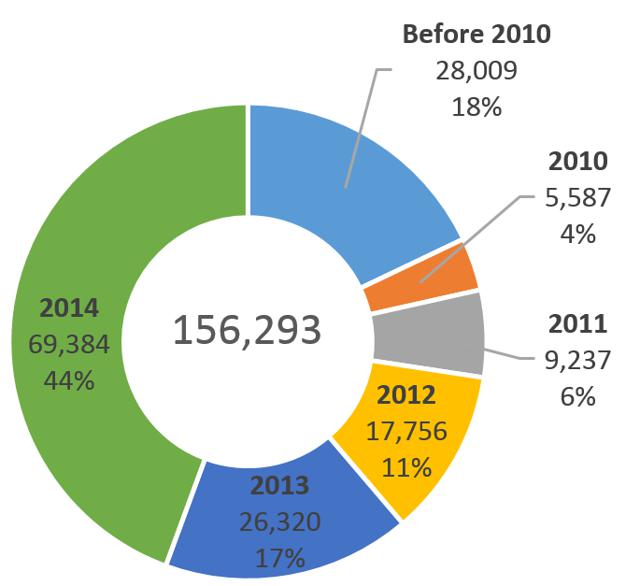 Second Stop - Capital Efficiency
Another element that I have rarely seen discussed in corporate presentations is the concept of capital efficiency. Generally speaking, it is the amount of money a company needs to spend to bring a flowing boe on stream.
For this analysis, I determined the capital efficiency by using the corporate decline rate of 38% to determine what production should have fallen to over the past year without any capex, and then compared this to the actual production rate at the end of the year to see what the company added this past year. I then divided actual corporate capex by this implied production addition. In short, I took Capex / (Closing Production - Opening Production x (1-Decline Rate)).
This approach benefits by using true capital expenditures, including facilities, dry holes and other outlays that management never talks about. Using this approach, I looked at Q4/13 production which averaged 117.4 mboe/d. I then applied the 38% decline to these volumes to arrive at 73.2 mboe/d as an estimated Q4/14 production rate, if no capex was spent during the year.
The difference between actual Q4/14 production (158.2 mboe/d) and the 73.2 mboe/d suggests the company brought on production from new wells of ~85 mboe/ between those 12 months, while spending a total of $2.11B. This works out to a capital efficiency of ~US$25,000/boe/d. To avoid seasonal issues, I also ran this analysis on a trailing 12 month basis for each quarter, calculating similar capital efficiencies regardless of starting point. Over time Cimarex has improved its use of capital, but the trajectory suggests capital efficiencies are likely to remain well above $20,000/boe/d for the next few years.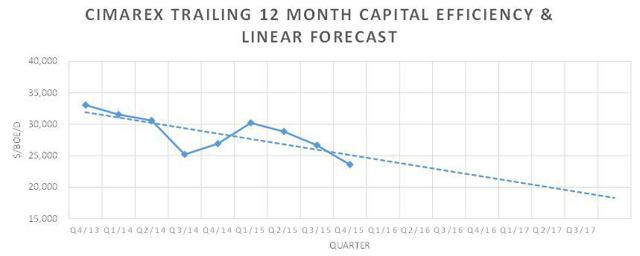 Sustaining Capital Requirements
Having corporate decline rates and corporate capital efficiency estimates lets you now estimate the required capex a company needs to spend just to keep production flat. The calculation is simply "Current Production" x "Decline Rate" x "Capital Efficiency". In the case of Cimarex this works out to 157,783 boe/d x 38% x $25,000= $1.5B, just to stay flat.
To be fair, some of the past capital may have related to infrastructure and may not be required going forward. Also, the industry is getting good at saving costs during this oil price downturn.
Let's assume a more optimistic capital efficiency of $20,000/boe/d. This would imply sustaining capital costs of $1.2B. There are numerous other sensitivities that can be run, which I have summarized in a table below.
Required Capital to Maintain a Flat Production Profile: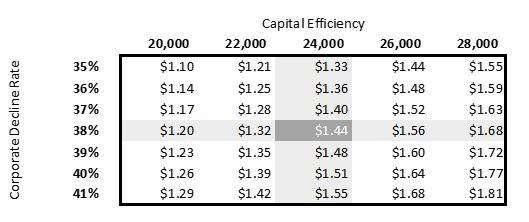 So overall, just to keep production flat, Cimarex likely needs to burn through somewhere between $1.2-$1.6B annually. And because most of its drilling program is weighted toward Q1, nearly $400M was already spent prior to getting service cost reductions this year, making it tough to achieve the lower-cost number of $1.2B in 2015.
The company needs to fund $250-$650M in capex by raising equity or increasing debt, before it can even achieve production growth. To achieve production growth of just 10%, Cimarex would need to spend at least ~$400M more still. Based on my own estimates for 2015 production (152.3 mboe/d), average WTI prices at $54.25 full-year, and netbacks (~$20/boe field netbacks), I estimate total cash flow for Cimarex at just $950M, compared to a $1.2-$1.6 potential capital program. Slap on the $60M per year in dividend obligations, and you're left with a company that can't organically grow production and cash flow without continued equity raises or increases in debt.
Based on my own sensitivities, Cimarex is unable to fund a 'stay flat' capital program at any realistic price deck for the foreseeable future.
2015 Cash Flow from Operations - Billions

Does this sound deserving of a high multiple and resilient stock price? Not in my books. So how does this stack up to competitors?
Guidance, Consensus Expectations, and Post 2015
Based on the median of consensus expectations, Cimarex is anticipated to average 157.3 mboe/d in 2015, growing to 163 mboe/d for 2016. This is achieved with capex of just $1.06B in 2015 and $1.20B in 2016 - yielding an impressive amount of growth with minimal spend.
This compares to guided production of 153-158 mboe/d full-year on a $0.9-$1.1B capital program. Interestingly though, with 1 quarter of actuals, and Q2 guidance of 160.8-164.2 mboe/d, we can back into rough estimates for Q4 exit rates, which I have illustrated as a couple cases below. We can see that Cimarex is likely going to exit 2015 at production rates about 7% below where they started the year, despite street consensus of growth into 2016.

Using the same decline rate & capital efficiency math from before, we can apply consensus 2016 capital of $1.2B with a $20,000 capital efficiency and 38% corporate decline. This projects a Q4/16 exit production rate of ~152 mboe/d. This exit rate is 7% below the consensus average production rate for the year alone. And let's not forget that the average full year production rate will likely be less on account of the upward slope in production between Q4/15 and Q4/16.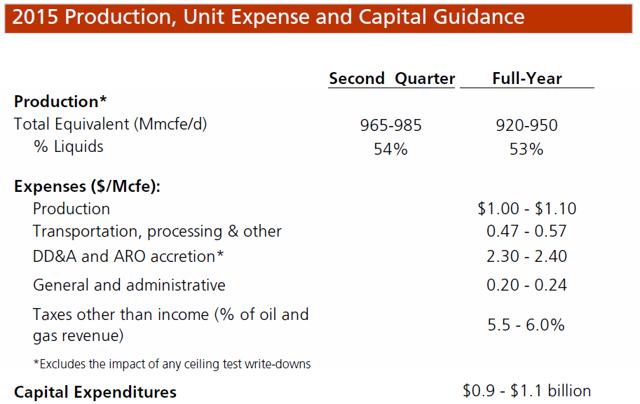 At this point - the Cimarex story is looking pretty weak - but ultimately we need to know how does Cimarex stack up to its peer group from a valuation perspective?
Grabbing consensus cash flow, quarterly production rates and forward looking enterprise value calculations, I plotted a line in blue below, showing the relationship between expected production volume growth (Q4/15 to Q4/16) versus the Enterprise Value / Cash Flow metric. Not surprisingly, as growth expectations improve, so too does a company's valuation based on EV/CF. This relationship is also quite strong, having an R-Square (albeit on 13 data points) of 0.9244.
Interestingly, when I use the capital efficiency data from before ($20,000/boe/d) and try to use consensus capex estimates ($1.2B) to drive production growth to Q4/2016, the production growth rate drops from ~9% under consensus to just ~2% under my more realistic numbers. Similarly, consensus cash flows would also drop about as much, making the 2016 EV/CF metric a bit higher than with consensus estimates.
The result is a shift toward the more "Realistic Estimate" case, highlighted in orange, in which Cimarex trades at a substantial premium to a variety of its peers, despite having no capacity to grow or story-driven catalysts.
Ultimately, comparing this gap in valuation to the trend line exposes 33% downside potential to the Enterprise Value, or about 36% downside value to the equity value, given the corporate debt load.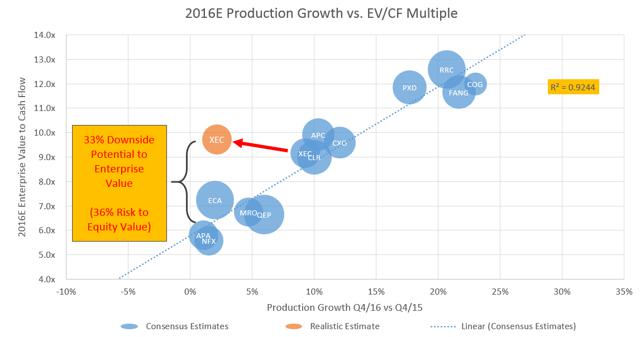 In short, I now view Cimarex as a Short. The firm isn't a catastrophe waiting to happen, nor does it have a massive re-pricing catalyst to trigger selling in the near term. But the firm clearly has a broken business model at any plausible price assumptions, and with minimal growth prospects, and consensus estimates far too high. A gradual re-rate in the multiple and reduction in cash flow expectations over the next 6 months is likely to grind the stock lower over time, especially relative to other peers in the space that have already sold down. With a ~0.6% dividend yield, it's also not that expensive to take a position and hold it short.
Risks to My View
Accretive Buyer
The worst outcome for a short seller is to get negative on a firm that gets acquired. This can happen with the firm has strong assets that are being mismanaged, or when the firm is generally unloved to begin with. None of these criteria seem to be in play for Cimarex. Well results and management communication have generally been ok. The firm runs a reasonably tight ship in terms of G&A and other overhead. It's just that their assets simply don't make enough money to fund growth, and require a boatload of replacement wells, while the company holds a multiple reflecting good growth prospects. The company is richly valued, and with a ~$10B market cap at time of writing, it is so large a company that only the very biggest players would realistically bid. With so many cheaper distressed firms this seems unlikely.
Accretive Target
The second potential negative outcome is that Cimarex cuts a good accretive deal to acquire a distressed competitor. While this is possible, given Cimarex's size, I don't see many distressed firms being materially large enough or accretive enough to cause anything more than a few percentage points of gain. Also, given the substantial drilling inventory in the multi-stacked Permian - which require reasonably expensive wells - why would Cimarex pay up for additional drilling locations which it can ill afford to develop? Cimarex also has a balanced oil/gas portfolio, and can easily shift its product mix between oil and gas by simply allocating capital to either the Permian or Woodford as it sees fit. Furthermore, a deal to acquire acreage in a new region would cast doubt onto the quality of its existing position, raising questions about management's views of reservoir quality of its existing assets.
Commodity Price Rally
A substantial increase in either oil or gas pricing would have a material impact on the company. However, I believe that because of its 'safe-haven' status, the firm has attracted an otherwise unjustified premium. In the event of a price rally to moderate levels (of say $70-80/bbl), decent oil prices may kill the 'safe-haven' benefit, with many other cheap and levered firms attracting more investment dollars.
Disclosure: I am/we are short XEC.