I am going to attempt a weekly series highlighting some of the latest stories in the muni market, general muni market commentary, as well as reviewing some of the upcoming muni deals. I say attempt because life might get in the way from time to time.
Puerto Rico Files for Title III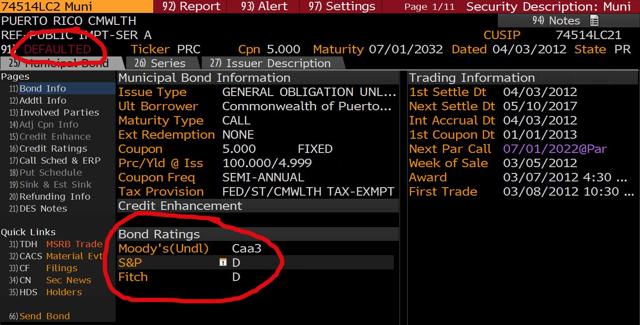 Last week, the big story was Puerto Rico filing their version of bankruptcy called Title III. Until Congress passed the PROMESA law last year, Puerto Rico had no path to file bankruptcy or restructuring their debt. An oversight board was assigned to solve what Puerto Rico's own government could not - $70b in debt and $50b in unfunded pension liabilities. I outlined some of the the pension problems in this article.
After Governor Ricardo Rossello failed to come to an agreement with bondholders, the fate of bondholders will be decided by U.S. District Judge Laura Taylor Swain who was appointed by Supreme Court Chief Justice John Roberts on Friday.
Read the full article here
Disclosure: I/we have no positions in any stocks mentioned, and no plans to initiate any positions within the next 72 hours.