The global financial markets are experiencing a turmoil this year, with major stock indices around the world taking turns to display crazy gyrations. The biggest rooting cause of the concern for all participants of financial markets is the mounting trade war between the world's two biggest economies. Making things more complicated, the trade war has evolved into a full-blown tech war in which the two giants are launching all firearms at their disposal to try to seize the technology high ground that may give them the sole global tech leadership position for the following decades and huge economic benefits accompanying that position.
President Trump and his team have been vigorously selling the thesis that China has been stealing U.S. technologies for decades and that all technologies Chinese firms possess now are the fruit of illegal theft of U.S. technologies. Although we find this argument a little bit too extreme and evidences supporting that claim are insufficient to put the claim beyond reasonable doubts, it is not important for our investment strategy to say which country is completely right or wrong in the past. The important thing for investors in the U.S. to remember is that Chinese firms and people do file tons of technological patents every year now and that there are countless highly educated PHDs in China who are trained by the world's top institutions in China and abroad. In addition, China possesses a quite complete supply chain to support materials, skilled labors, and machineries required to bring almost all new innovations and technologies coming up each year into real life fairly quickly. So, going forward not only will Chinese government and firms continue to be eager to get holds on new technologies developed by American companies, U.S. government and firms likewise should pay close attentions to new technologies developed in China and be eager to get holds on these technologies if they can.
One technology that is of great importance for people's life in the future is superconducting. For readers who have no knowledge in this field, Superconducting is a technology that will greatly improve the efficiencies of energy transfer between materials. One of its applications is super high-speed charging while consuming amounts of energy that are considerably less than chargers most people use today consume. Another application is ultra-high temperature heating of metals again with a very low level of consumption of energy. In a super conducting machine very high magnetic field is produced otherwise impossible in a conventional machine; this is the main characteristic of super conductors. High magnetic field results in lesser motor volume and ultimately more power density.
Because the building of superconducting machines require extremely high level of cutting-edge technologies in materials and magnetic fields, very few firms in the world have been able to successfully come up with commercially usable products so far. Two companies in China (listed on Shanghai stock exchange) and two companies in the U.S. are the front-runners in superconducting. We'll quickly go over the two Chinese companies for investors who know how to buy/sell stocks listed in China through Mainland-Hong Kong stock connects, QFII, or specialized brokerage firms in the U.S. (e.g. interactive brokers as we heard). Then, we'll spend more time and dig deeper for the two American superconducting companies.
The first Chinese superconducting company in is Western Superconducting Technologies Co.,Ltd. (WST Shanghai stock exchange number 688122). This firm is the purest play in superconducting in the world (one can just tell buy the name) and are generating sales in tens of billions of RMB each year on superconducting related products. This company is very research oriented. WST currently hires about 800 employees, among them 26% are PhDs or master degree holders. Therefore, the good thing about investing in WST is that it is the purest play in superconducting in China with clear technological superiority, first-mover advantages, and brand reputation. These advantages are putting daunting barriers in front of the company's competitors and will give the company some secured market shares over the foreseeable future. A minor short-coming for the stockholders of the company's is its not-so-impressive revenue and net income growth rates. In 2018, the company grew its revenue by just 12.5% and actually saw its net income dropping 6.3% (according to data from Sina Finance, the biggest investment portal in China). To investors, another drawback in the company may be its valuation. The stock has been hotly chased after by investors in China following its IPO in July. At its peak, the company was valued at about $4.5 billions with a P/E ratio of 160! As of today, its P/E ratio still stands at almost 110. So, investors who are interested in the company might want to wait a little bit for dusts to settle and hypes to subside in order not to overpay.
The second Chinese superconducting company in is Lianchuang Optoelectronics (Lianchuang, Shanghai stock exchange symbol 600363). Lianchuang Optoelectronics is a technology company that has been established and publicly traded for 20 years. Its technologies, products and profit-generation capabilities have all been tested and verified by the market for a long time. The company has nearly 200 advanced technical patents. Its primary technologies and products include superconducting machines, LED/OLED components and machines, electronic chips and ICs (the heart of the battle ground between the U.S. and China right now), electronic components with advanced AIs for home appliances, optical and electric cables, components for military units and aero-space departments, electronics for 5G communication. The company is the market leader or among the top-tier providers in most of the aforementioned fields and has long demonstrated a top-notch capability of non-stop innovations and inventions of new technologies and products.
For superconducting, Lianchuang just announced the approval of new patents for break-through high-temperature superconducting (HTS) technologies that can tremendously save costs and improve efficiencies of power-generation and manufacturing of industrial products. An authoritative government agency in China formally reviewed, tested, and highly appraised the technologies and said that these technologies had a very high feasibility of mass-production and very high market values. The company estimated that the new patents could generate 6-7 billions of RMB in incremental net profits per year in the coming years basing just on products that could be most easily produced and sold. In the future, the technologies can be used in additional applications and bring in even more incremental profits (see news release in Chinese here). Last week, the company announced that it had successfully built the first mega-watt heating machine based on its new super-conducting technology; the machine's performance was satisfactory, and the company is ready to build this product in volume and sell the product to many clients. Such quick time of bringing a newly developed technology to market is another testament to the company's exceptional capability of execution and generating profits in the tech sector.
Contrary to WST, Lianchuang's stock has not been pushed up by the market, and its P/E ratio is only about 25, well-below its competitors. Therefore, it is currently both a value and growth play. Readers who are interested in this stock can read our detailed analysis in our last company analysis report.
Now, let's turn our attention to the U.S. side. The first American company in superconducting industry that we want to talk about is American Superconductor Corporation (AMSC, NASDAQ: AMSC) . AMSC provides wind turbine electronic controls and systems, designs and engineering services that reduce the cost of wind energy. The company also provides the engineering planning services and advanced grid systems that optimize reliability, efficiency and performance for electricity networks. The superconducting part of its businesses is mostly related to transmission of electricity, power-generation, and warship defense.
For transmission of electricity, its proprietary high temperature superconductor (HTS) wire can transmit up to 10 times more power than traditional aluminum or copper wires with the same voltages or carry equivalent power at much lower voltages. This physical trait gives power-grids and systems that employ its HTS wires superiority in energy efficiency and cost savings. With the best of our knowledge, AMSC is the only manufacture of HTS wires today that can make those wires in significant volume.
For defense, the company's degaussing systems with advanced superconducting technologies are utilized in most naval ships to cloak their magnetic signature, thereby making them much more difficult to be "seen" by magnetic sensors and magnetically activated mines.
For power generation, the company's proprietary superconductor systems make marine motors, generators, and propulsion systems incredibly compact, efficient and power dense. AMSC's superconductor generators and motors hold strong advantages over traditional ones. For example, a typical 10 MW superconductor generator is 10 meters long by six meters high, with a total weight of about 420 tons. In comparison, a conventional direct drive machine, scaled up to the same capacity, is about 13 meters long and 12 meters high, weighing some 800-900 tons. In other words, AMSC's superconducting machines trump traditional counterparts by over 100% in terms of the amount of power generated per cubic meter or per ton.
Although the company has cutting-edge superconducting technologies and strong portfolio of products, for years it struggled to transform these advantages into solid profitability. However, the company finally turned the table and became profitable in fiscal year 2018 (ending March 31, 2019). Its revenue reversed a declining trend and increased 16% year-over-year from fiscal year 2017 to 2018. The table below shows the company's revenues and net incomes for the past three complete fiscal years. As we can see, the company earned a net income of about $26.7 million, or $1.32 per share last year.

Another good thing is that the company has about $75 millions of cash on its balance sheet and is burning just $7.5 million per quarter under the status quo. If the operational results improve gradually in the coming quarters as the management team foresee, the cash burn rate will drop quickly. Therefore, there is likely no need for the company to worry about running out of cash and go the capital market for more fund raising in the future. In other words, dilution, the typical biggest concern for early-stage investors of a high tech company with explosive revenue expansion potential yet require huge amounts of capital expenditures and R&D expenses in early years, is not present. During the last conference call the CEO and CFO said that they expected the total expenses to drop in coming quarters as the management team continue to rein in expenditures. As the stock currently trade at just 6 times of its 2018 EPS, it is a great value plus growth investment at this point in our opinion.
The second American company in superconducting industry that we want to talk about is Superconductor Technologies Inc. (STI, NASDAQ: SCON) . While AMSC is a diversified power solution provider with some products using superconducting technologies, STI is a pure-play superconducting company that focus solely on superconducting technologies and products. We can treat it as the micro version of Western Superconducting Technologies Co.,Ltd. in China that we went over in the earlier section. Since its formation, STI has pioneered the development of superconducting materials and manufacturing processes, developing numerous patents as well as proprietary trade secrets and know-hows. On its website, this is what the company describes its business:
Over the last decade, STI has manufactured and sold over 6,000 superconducting systems that have been deployed in tier one wireless networks, thereby providing commercial deployments of its superconducting technology. Now, STI is applying its proven and proprietary superconducting deposition techniques and manufacturing experience to the development of cost effective, high performance superconducting wire for emerging large market opportunities with superconductor magnet applications such as Tokamak Fusion devices and Next Generation Electric Machines.
A graphical illustration of the company's development is shown below.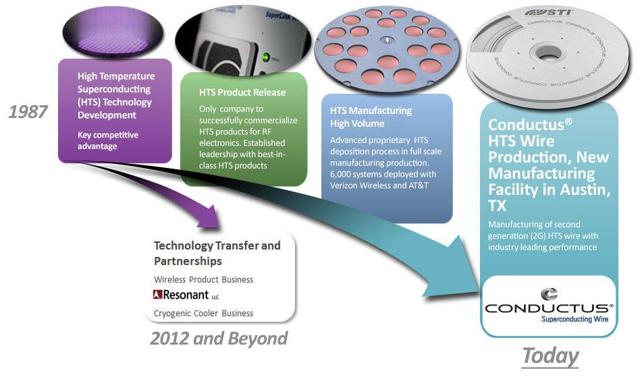 Since about 10 years ago, STI has been putting its focus mainly on inventing and producing top-of-the-line high temperature superconducting (HTS) wires. HTS is said to be the next big thing in material science because it not only trump traditional copper and aluminum energy-transformation materials by ten folds in terms of performance but also beat its closest competitor LTS hands down. Unlike LTS wires, which are commercially available today, HTS wires are still in the process of being fully developed and manufactured in volume. As we said earlier, AMSC is the only company that can make HTS wires in commercial-scale volume today; STI is the only other company that has come close to do mass-production of HTS wires. There is one important advantage STI holds over AMSC in HTS wire business. STI has made second generation (2G) HTS wires using its proprietary technologies. 2G HTS wires have even higher performance than first generation (1G) HTS wires. A detailed descriptions of various types of superconducting wires can be read on the product page of the company's website. If STI successfully bring 2G HTS wires to mass-production, some of AMSC's customers may jump to STI's boat.
All the excitements of STI's breathtaking and groundbreaking technologies seem to be wonderful, but it does take a lot of effort to bring products using these technologies to real life. For the past few years, the company has been creating and fine-tuning its production lines to make high-quality 2G HTS wires in commercial volume to supply an array of eagerly waiting, first-class customers such as Department of Energy (DOE) and Institute for Plasma Research in India. As a result, the company has spent huge amounts of R&D expenses over the past few years and resulted in huge net losses.
Fortunately for STI, the table seems to have finally turned now. One good thing is that the company did see a multi-fold increases in sales from 2016 to 2018 (see the table below for details). In the last conference call, the CEO and CFO expressed extremely bullish view over the second half of this year. They estimated that there was a good chance for the company to enjoy a multi-fold growth burst in revenue after its key clients tested its products with satisfactory results and after the company complete ramping up the capacity of its production line for 2G HTS wires. In addition, the management team said that they expect the expense run rate to drop significantly in the following quarters. So, this year may very likely be the fruit harvesting time at last for STI's long time shareholders.

As we can see, the four companies mentioned in this article have very diverse geographical footprints and strengths of their technologies and products. Moreover, they vary widely in terms of market capitals, revenues, net profits, and stages of their life cycles. Because superconducting is such an important tech field, we expect seeing a lot of M&A activities in this industry over the next several years. The thing that concerns us is that the two Chinese companies are much bigger than the two American counterparts. Therefore, it is easy for the Chinese companies to buy out the American companies, thereby "stealing" precious American IPs, the thing that president Trump and his advisers are the most worried about.
One solution to deal with this threat is for some American tech companies such as GE or Intel to buyout AMSC and STI now before Chinese firms move first (GE attempted to develop its own superconducting products decades ago but failed). In addition, big American firms can fight back by buying out Chinese companies WST and Lianchuang Optoelectronics and absorb their IPs, products, and market shares in China and in the world. By "stealing" back some precious new technologies and products developed by Chinese, the U.S. will move one step ahead of China in technology competition. As we can see, both of the two Chinese companies discussed in this article possess scary capabilities to innovate and execute. It is especially important for American tech companies, especially those who are doing superconducting or related businesses, to take a serious look at these two companies and consider swallowing them either through negotiated buyout or hostile takeover while it is still feasible (before their market capitals become too big).