If you got in ISIS Pharmaceuticals about a year ago, kudos. If you're trying to get in now, I'd urge you to wait. I think that while the long-term prospects are still bullish, right now the technicals say otherwise. (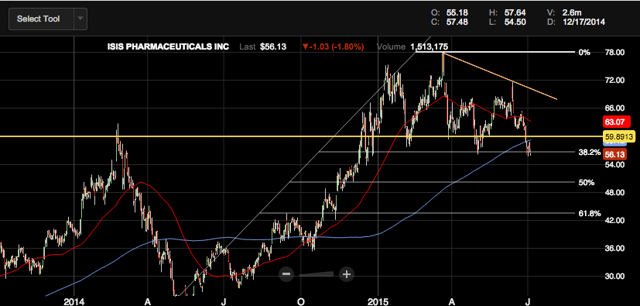 I drew a horizontal line from the previous high in early 2014 until present. This has acted as a support level for ISIS in recent months, but was just broken through. That's the first bearish signal.
The second is that ISIS failed to find support at its 50 and 200 day moving averages. The final one is quite easy to see. ISIS has been making lower highs and lower lows, which is a textbook bearish chart. The question is now how far this stock will fall. Seeing as it has found support at 38.2% (a Fibonacci ratio), some may think that the falling is done. However, seeing as ISIS failed to hold two key moving averages, I think it won't stop declining until 50%, or a price of roughly $50.25. This is a volatile stock, so it is very possible for it to bleed 10% over the course of just a few days.