Apple (NASDAQ:AAPL) didn't do so hot in 2015; the stock's rollercoaster ride amounted to nothing of substance for shareholders. Despite some promising quarters and a dirt cheap valuation, it seems as though Apple investors are still not pleased. While no one knows for sure what the fundamental future looks like for Apple, traders are pointing to the technicals and making a pretty sure bet that it will be gloomy.
Over the last year or so, the only thing that Apple managed to do was carve out a textbook head-and-shoulders chart pattern. In November and December of 2014, Apple traced -- what we now see as -- the left shoulder of this bearish chart pattern. From February to July of 2015, Apple failed to breakout above $135 and completed the head of the pattern. Then, Apple proceeded to shape out the right shoulder from April to December of this past year, completing the ominous head-and-shoulders pattern. An annotated picture of the pattern is shown below.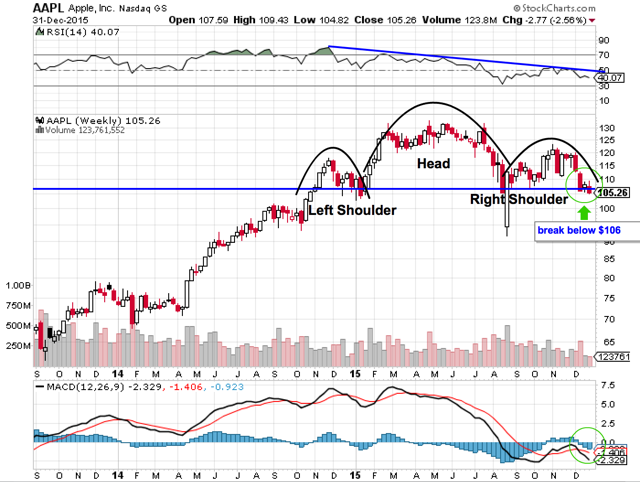 Notice the symmetry on this weekly chart. AAPL was consistently bouncing off a floor of $106, with the exception of the flash-crash in August. The symmetry lends itself to the strength and reliability of the chart. Because AAPL bounced off $106 numerous times, we know that this is a strong floor of support and will prove to be a strong ceiling of resistance going forward.
It is worth noting that the MACD is suggesting that you sell the stock, and the RSI is still trending downward. These indicators suggest that negative price action is on the horizon. While we may see APPL trade sideways or even go a little higher in the near future, I still think that the chart points downward. I suggest staying... read the rest of this article on my website, absolutely free.
Additional disclosure: I am long AAPL puts.