When the tape is as red as today's, it's often hard to find stocks that can carry their upside momentum. However, I have come across 3 that are well worth a look. Amidst the turmoil that has been the last few trading days, these names have held up remarkably well.
The first momentum stock is Nvidia (NVDA), which I recommended in a previous article. Nvidia just found support at a longterm trend line, and I believe that this will hold going forward. It is worth noting that holding this support also meant finding support at the post-earnings high of $32.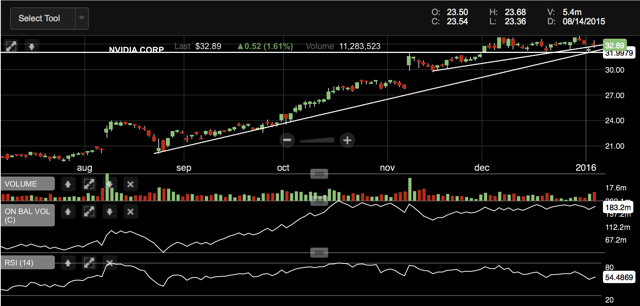 Relative strength is incredibly strong, but is not signaling that the NVDA is overbought. Furthermore, the On Balance Volume has been trending higher along with the stock, which confirms the upward price movement. I would be a buyer at about $32.5; I wouldn't be surprised to see NVDA testing $34 in the near future. ​
Another momentum stock I've had my eyes on is General Electric (GE) -- you know, that super boring company that makes everything. Without even marking up the chart you can see that... read the rest of this article, for free, on Money Charts.