This article first appeared on StockEthos.com.
On Friday, February 12, the markets rallied strongly. The Dow closed up 2%, the S&P 500 advanced 1.95%, and the Nasdaq climbed 1.66%. But don't get used to this. I believe that a lot of the price action in today's session is actually attributed to short covering before the long weekend (the markets are closed for Presidents' Day).
Markets open back up on Tuesday, February 16, allotting a great deal of time for news to shake the waters of the financial markets. And, as if this wasn't risky enough, China's stock market reopens on Monday after being closed for the Lunar New Year. The Chinese markets will trade through two full days before the U.S. markets reopen, and given some of the lackluster economic news out of Japan, it's possible that Chinese stocks may continue to selloff, dragging us lower when our markets reopen.
Investors initiating new positions the day before a long weekend are asking for trouble. With respect to this long weekend in particular, I'd say that they're outright gambling; no one knows what the direction of the markets will be after three days off (it's hard enough to predict movements day-to-day). It's for these reasons that I call Friday's performance a short covering rally.
But this cuts both ways. On the one hand, many sustainable rallies/bounces begin when shorts cover. On the other hand, short covering doesn't show strong conviction by buyers. Rather, it just shows that sellers aren't looking to press their bets -- a rational move after the gains they've seen from betting against the market.
In my opinion, we can't start to form an investable bottom until buyers start coming into the market with conviction. I'm still sticking with my 1700 target on the S&P 500, which I will reexamine if the index nears my target.
And I think it will. Despite the strong market-wide rally, the technicals are still bearish. Below is a daily chart of the S&P 500 with superimposed resistance lines. The downward sloping resistance line has come into play three times in the last two months, and I suspect that the S&P will have a date with this line again in the near future. To get here would mean that the S&P would rally approximately 1%. However, should we come in contact with this resistance line again, I don't think that we have any reason to break through it, and we will keep trending downward. In other words, sell any upcoming rallies.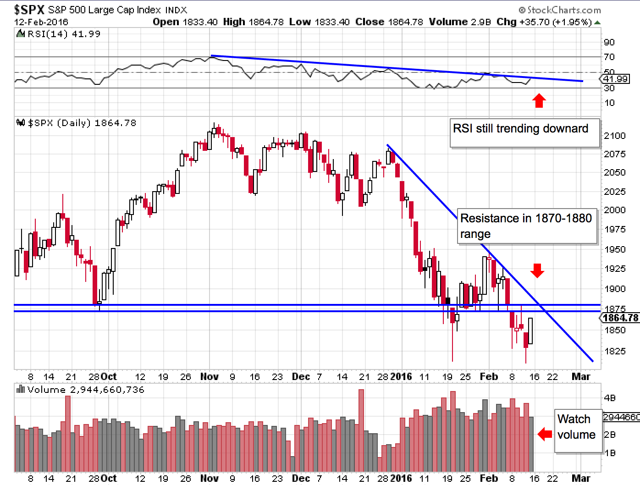 (StockEthos.com)
It's also worth noting that the relative strength index, or RSI, has been fighting its own downward sloping resistance line since November of 2015, and at the time of writing the RSI is brushing up against this line once again. We could be at a point of inflection, but it's too early to make any calls for sure. I'll be watching this indicator closely over the coming days to see if we break decisively above it or continue to flounder beneath it.
Moreover, I've been watching volume and will continue to watch it very closely once the market reopens. The SPY (the primary ETF that tracks the S&P 500) is my favorite way to track the volume of the S&P 500 because it's very liquid and often trades upwards of 150 million shares per session. Volume during Friday's session was below average, which is especially significant on a day in which the indices rallied around 2%. To me, this seems like a bearish/negative divergence, and, as with the RSI, I will be watching volume in the coming days to see if I can confirm my notion.
Lastly, there is overhead resistance in the 1870-1880 range that was strong support in September 2015 and powerful support and resistance in recent weeks. The sloping resistance line intersects this resistance area in the coming days, which will make it even harder for the S&P 500 to breakout above it.
Again, I currently see no fundamental reason for the S&P 500 to break through this resistance. However, as I previously stated, long weekends are risky because they allow more time for news to break. A string of positive headlines can turn the entire bearish thesis around overnight -- literally. Until then, though, I remain bearish.
Disclosure: I/we have no positions in any stocks mentioned, and no plans to initiate any positions within the next 72 hours.