This article first appeared on my personal website, StockEthos.com.
Twitter (TWTR) has had a rough time as a public company. Since the company's IPO in 2013, it has basically looked like this: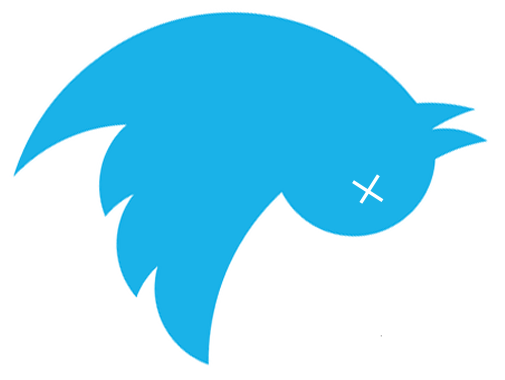 TWTR saw massive volatility after its Q4 earnings report, ultimately closing relatively flat on the day. Twitter earned $0.16 per share (NYSEARCA:EPS) on $710 million in revenue, compared to consensus estimates of $0.12 in EPS on revenue of $710 million. In the same period a year ago, Twitter posted EPS of $0.12 and revenue of $479.08.
The more important metric to investors, monthly active users (MAUs), came in at 320 million in the fourth quarter, a 9% increased year-over-year. All in all, Twitter's quarter wasn't really a hit or miss. With that said, at one point in the after-hours session the stock dipped by 11% before rebounding.
That was on Wednesday. The more interesting price action occurred this past Friday, January 12, when the stock soared 11% in a single session. Given the price action throughout the day, it's pretty obvious that this rally was due to a heck of a lot of short covering. And there's nothing wrong with that; in fact, many rallies begin with short covering, and Twitter's technicals suggest that a short-term rally may be coming soon.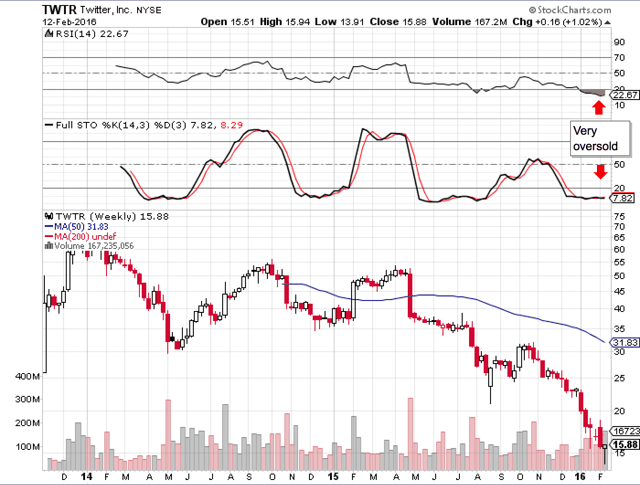 25% Upside For This Little Blue Bird | StockEthos
On the weekly chart (shown above), TWTR appears to be very oversold. At 22.67, the RSI is as low as it has ever been. Similarly, the stochastics indicator is flirting with historical lows. These suggest that the stock is due for a bounce - and a strong one at that.
More important, however, is the hammer doji that just formed. (If you're unfamiliar with hammer doji, I just wrote a piece that's all about them). This candle formed with incredibly strong volume, which tells me that there was strong accumulation during the week.
So where do we go from here? Take a peek below.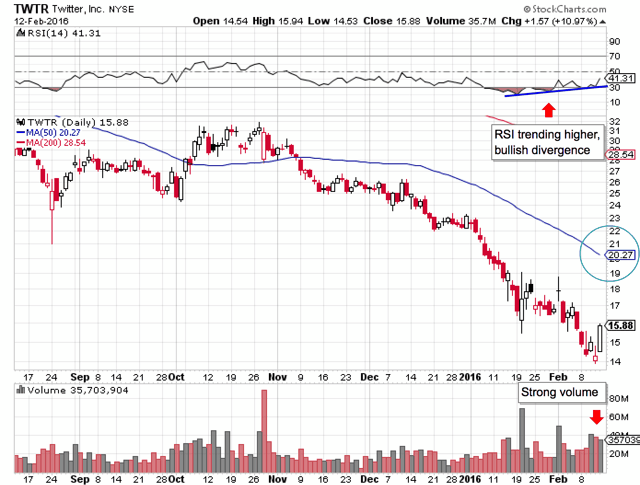 25% Upside For This Little Blue Bird | StockEthos
On the daily chart (shown above) we have started to see signs of a near-term bottom. As TWTR has been trending lower the RSI has been making its way higher, a bullish divergence. This means that even though the stock has been going lower, its performance relative to the market has actually been getting better.
My 25% upside target is representative of a $20 handle on TWTR. The downward-sloping 50-day moving average will serve as upside resistance if TWTR makes its way toward $20. The 50-day currently sits at $20.27, and will continue to make its way lower because of TWTR's floundering price over the last few months.
A good entry point for this trade is around $15.50 with a stop at $14.75. Keep watching the 50-day moving average and use it as your exit point. If you're looking for a safer trade altogether, here's a place to hide in this rough market.
Disclosure: I/we have no positions in any stocks mentioned, but may initiate a long position in TWTR over the next 72 hours.