This article first appeared on StockEthos.com
Arguably the most important part of stock trading is knowing when to exit your trade. While it's no easy task to predict a stock's future movement, there are reliable candlestick patterns that act as warning signals and represent good times to take profits. Here are five of the most reliable bearish reversal candlestick patterns:
---
Bearish Abandoned Baby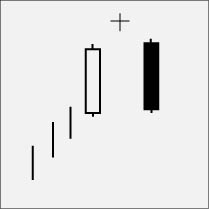 The Bearish Abandoned Baby pattern is characterized by a large and hallow candle (signals that the stock closed near the highs of the day) that is followed by a doji whose body and shadows stand alone. These two candles precede a large down candle that closes within the body of the first candle.
---
Dark Cloud Cover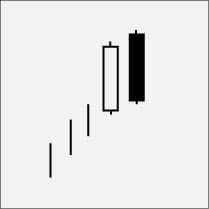 The Dark Cloud Cover reversal pattern is a two-step pattern. The first candle is large and hallow while the second candle has a strong opening, but closes near the lows of the day and well into the first candle.
---
Bearish Kicking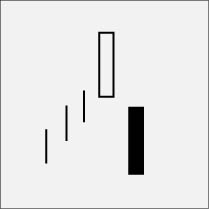 This pattern is characterized by a long bullish candle that is followed by a gap down in price and a close near the lows of the day. The bearish kicking pattern becomes more reliable when it occurs after several days of an uptrend.
---
Three Black Crows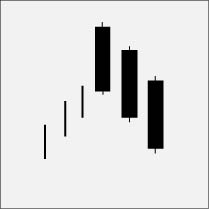 As the name suggests, the Three Black Crows reversal pattern contains three candles. The first long down candle is followed by a second that sees a gap-up in price near the middle of the first candle, but a close below the first candle. Similarly, the third candle in the pattern gaps-up near the middle of the second candle, but closes below it.
---
Three Inside Down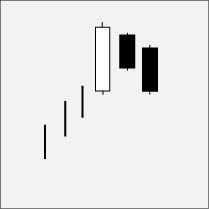 This candlestick pattern beings with a long up candle. The next candle entirely resides within the first candle (including the shadow), and the second down candle closes below the first candle's low.
---
Some of these patterns are the opposite of bullish reversal candlestick patterns, which signal great times to enter new trades. Also, remember that it's important to confirm these patterns with indicators - such as volume.