Note about Technical Analysis
I was not a profitable trader until I learned technical trading techniques from the James16 Group. I am currently a lifetime member there, and I have been with the group for about 2.5 years.
Trading is always variable. Meaning, losses are inevitable. I am human, and I make mistakes like anyone else.
Elevator Pitch
Will the gaps stop the downward pressure?
Price is showing extreme downward pressure, as of yesterday. However, it faces interesting opposition in the gaps below.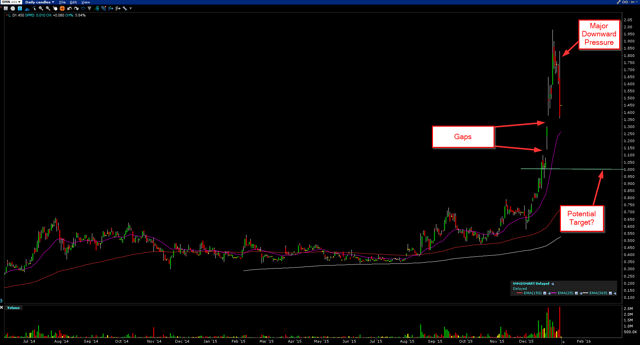 (click chart to enlarge)
Company Description
Structural Monitoring Systems plc is involved in the development of a technology which monitors and tests the structural integrity of various materials and products. The tests are done on structures such as aircrafts, ships, power plants and rolling stocks.
Thesis & Catalyst For SMN.AX
Good news arrived in December for SMN. On 12/20, positive news sent the stock shuttling upward, and this caused 2 gaps. Price is now approaching these gaps on the D1 chart and is showing substantial downward pressure. In addition, price is currently being rejected off of former highs made in 2007.
Valuation
If the gaps are no obstacle, price seems likely to reach 1.00 Australian dollar, or near there.
Variant View
The gaps may bring substantial support. These may be the major turning point for the bulls. Therefore, look to tighten stops as price rejects or breaks-through these areas.
Note
At the time this article was published, I am not, nor intend, to take any position in SMN.AX. Furthermore, I am not compensated by anyone associated with the sale or purchase of any stock in the company. I also am not compensated by the James16 Group.
If I do decide to take a position in SMN.AX in the near future, I will post an update to this article. (This is highly unlikely.)
Disclosure: I/we have no positions in any stocks mentioned, and no plans to initiate any positions within the next 72 hours.