Note about Technical Analysis
I was not a profitable trader until I learned technical trading techniques from the James16 Group. I am currently a lifetime member there, and I have been with the group for about 2.5 years.
Trading is always variable. Meaning, losses are inevitable. I am human, and I make mistakes like anyone else.
Summary
Riding on the back of landmark settlement news from Friday, 2/19, IMF seems likely to head higher. (The settlement was A$200M.) The chart indicates upward pressure, and it seems likely that the 1.40 area will be tested. In the chart below, 3 target areas are presented, ~1.40, ~1.75, and ~2.05. As price rises, if it makes it above an area and holds, it will be likely to test the next area.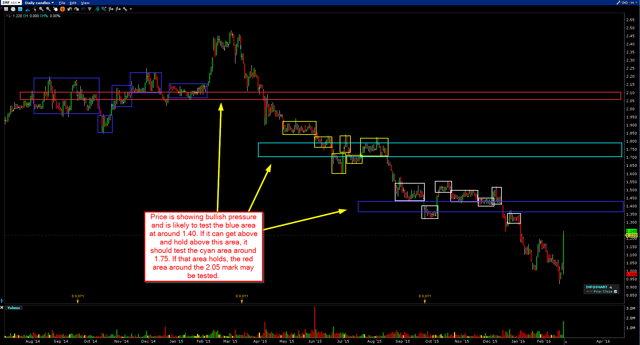 Devil's Advocate
Price could reject off of the 1.40 area and head back down. If it gets below 1.08, the best move is likely to exit, as the lows will probably be retested.
About IMF.ASX
IMF trades on the Australian Stock Exchange.
Description from Reuters:
www.reuters.com/finance/stocks/companyPr...
IMF Bentham Limited is an Australia-based company engaged in investigation, management and funding of litigation. The Company operates in the United Kingdom, mainland Europe, Canada, New Zealand, Hong Kong and Singapore. The Company offers services, including funding for litigation, factual investigations preliminary to litigation, appeal funding, payment of adverse costs orders, strategic planning, monitoring and managing of litigation, and assistance in facilitating settlements and maximizing the value of each claim. The Company offers funding for commercial litigation, insolvency and arbitrations, class actions and public interest. It also offers funding for lawyers. It funds single party and multi-party claims. The Company is engaged in discussions and seeks feedback from law firms and government.
Disclosure: I/we have no positions in any stocks mentioned, but may initiate a long position in IMF.ASX over the next 72 hours.