The future of Apple (NASDAQ:AAPL) stock is once again becoming a hot topic in the market. The stock's recent price decline has reminded investors of 2013 when the price tumbled from $700 to $400. Could this be a similar opportunity to buy? In my opinion, this time is different. Although Apple is currently trading at a multiple similar to the 2013 trough, the drivers behind the stock have completely changed. Since 2013, the deal with China Mobile, the introduction of a bigger screen, and the focus on the 64G version have pushed the iPhone to its market limit and helped the stock price to almost double. In 2013, the stock's investment success mainly depended on Apple executing obvious strategies to capture a clear market and this gave the investors free options on new product categories. However, as Apple has pushed iPhone sales to the extreme for the past three years, the future stock price will be all about new product categories as the company's risk-return profile has significantly changed.
Push iPhone to Its Limit
Impact from China Mobile deal is one-time: Market has still not fully understood the importance of the deal and why the success of the past two years cannot be repeated. China Mobile is the most important carrier in the country because it controls the market for a large group of people who work for state-owned companies or government entities. These people receive full reimbursement for their monthly mobile bills and so they pick the best phone in the network. This was Samsung prior to Apple's deal. Then most of the people in this group chose to pick their iPhone freely in the past two years (well, some people may argue about their phone choice if both phones are free). The exciting growth from this source is more like a binary shift than an indicator of potential growth in China. To some extent, the Chinese government became one of the biggest paying customers for Apple and recently this customer has not been in a good financial condition.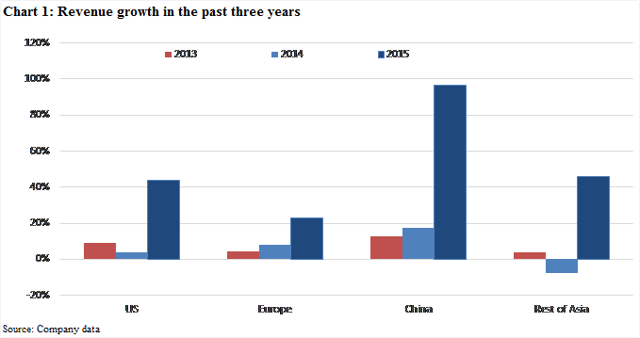 Bigger is better but further upside is limited: Besides the China Mobile deal, the introduction of a bigger-screen iPhone and the elimination of the 32G version helped to maximize Apple's market share and profitability. One big advantage Samsung had three years ago was the bigger screen. But there is nothing preventing Apple from making a bigger phone (except some words from Steve Jobs), so the short-term competitive advantage was completely unsustainable for Samsung in 2013. In the past three years, Apple has used very effective strategies to grab the pieces it left on the table, both dominating the high-end market and squeezing every possible dollar by pushing customers to the 64G version. It is very easy for analysts to project an ever-rising revenue, but it will be very hard for Apple to achieve significant growth from 231 million units of iPhone sales at $670 each in 2013.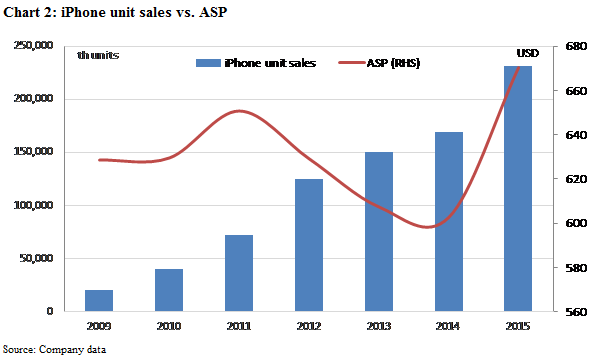 Valuation and Buyback
Apple has been increasing cited as a value investment because of its low valuation. Current EV/FCF of ~6x is close to its trough level in 2013, but there was also a clear trend of a declining multiple as iPhone sales grew. With EV/FCF at 5x-6x, the market is again saying that the iPhone's growth has peaked. While the multiple may not have been justified in 2013 with potential customers from China Mobile and Samsung Galaxy users, Apple completely dominates the high-end global market now.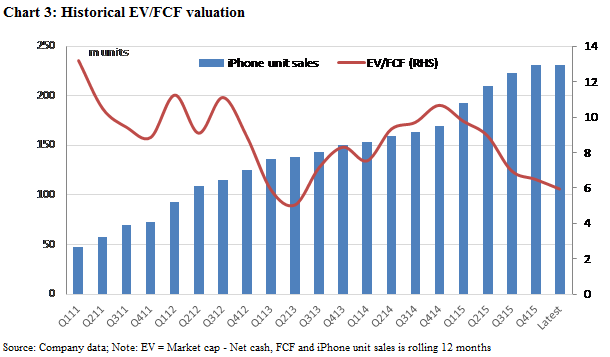 For buyback, Apple started this program in 2013. The initial signs of a buyback can be traced to March 2013 when Luca Maestri joined Apple from Xerox. If you looked at his experience, you would know that he was famous for his dedication to stock buybacks. But good capital allocation requires more. The program has been successful in the past three years as Apple optimized its iPhone market. Whether it will be a good choice is still a question when the company's growth depends on its success in the new product categories.
Recommendation
In 2013, seeing Apple's low multiple, investors could argue that the market was wrong. There existed a clear group of customers that Apple could reach with relatively simple strategies like dealing with China Mobile and a bigger screen. But when the iPhone reached market domination in 2016, the prolonged upgrade cycle and pressure on ASP provided a headwind for the next several years. Although Apple has repeatedly reinvented itself with new product categories, people should keep in mind that Steve Jobs was there every time. Investors should avoid the stock at the current level as its upside potential is not large enough to justify taking the downside risk. A much larger invention is needed to move the biggest company in the world forward now.
Disclosure: I/we have no positions in any stocks mentioned, and no plans to initiate any positions within the next 72 hours.
I wrote this article myself, and it expresses my own opinions. I am not receiving compensation for it. I have no business relationship with any company whose stock is mentioned in this article.