DISCLAIMER: This article is not directed at, nor intended to be relied upon by any UK recipients. Any information or analysis in this article is not an offer to sell or buy any securities. Nothing in it is intended to be investment advice and it should not be relied upon to make investment decisions. Cestrian Capital Research Inc or its employees or the author of this article or related persons may have a position in any investments mentioned in this article. Any opinions or probabilities expressed in this report are those of the author as of the article date of publication and are subject to change without notice.
In January and February of this year, Boeing (BA) was lauded widely as a juggernaut stock. Whilst en route to peaking at around $440/share in early March, analysts fawned over the company. "Next stop $500" was the cry. Well, as we all now know, that didn't happen. The Lion Air and Ethiopian Airlines tragedies and - even more so - the subsequent investigations into who did what, who knew what when, and who told what to whom at the FAA, have taken their toll on Boeing's stock price. (Although Boeing's stock remains irrationally high in our opinion - it currently sits just 16% below its peak despite all the uncertainty ahead of the company).
Having been dragged through the halls of the Capitol for a drubbing, having restructured parts of its senior management team and board of directors, having penalized its CEO financially, you would expect Boeing to be playing nice with the federal government in order to demonstrate renewed good corporate citizenship.
You would think.
But that's not what's happening.
Instead, Boeing is playing offense, and aggressively.
---
In July this year, the company announced in public that it was withdrawing from the competition to be the Air Force's prime contractor in the huge, $63bn+ 'Ground-Based Strategic Deterrent' (GBSD) project - this is the project to replace the aged Minuteman III nuclear arsenal. Boeing said they were pulling out because the tender process favored Northrop Grumman (NOC) . This was odd. Certainly Northrop has a margin advantage over other primes, because it owns one of the two US-based solid rocket booster manufacturers - OrbitalATK (former ticker OA), which Northrop acquired in 2018. But part of the antitrust condition of that acquisition was that Northrop make the boosters available to other customers on the same terms as to its own divisions. Also, the other supplier of such rocket motors, Aerojet Rocketdyne (AJRD)  is perfectly well placed to serve Boeing's needs on this front.
Now, we don't suppose that this enormous tender process is a simple, down-the-line competition. With that large a contract at stake it's reasonable to expect some shenanigans from potential bidders. But normally such high jinks take place in smoke-filled rooms. Not on the public stage. Because whatever the merits of Boeing's argument - and perhaps it does have merit, we don't know - Boeing looks petty as a result of throwing its corporate toys out of the stroller in public. And again, in the current context of Boeing's corporate purdah, you would expect the company to play its cards in private. Since that time, an FTC investigation has commenced at Northrop Grumman, concerning whether Northrop has in fact complied with its deal-time promises about solid rocket motors. A coincidence, of course.
---
Another example of Boeing's questionable government account handling surfaced yesterday in the OIG report on NASA's Commercial Crew contract with the company.
Now, the relationship between Boeing and NASA has seemed odd to us for a little while. When NASA put its 'Commercial Crew' contract out to tender, there were two winners - SpaceX (SPACE) and Boeing. Each was contracted to fly American astronauts to the International Space Station from American soil on American rockets, or so the oft-repeated catchphrase goes. Boeing was awarded an initial $4.2bn contract and SpaceX, an initial $2.6bn. To do essentially the same thing. Odd in itself.
The Commercial Crew program is behind, a surprise to nobody. This is difficult stuff to do. There's about a decade of cobwebs to dust off of American human spaceflight missions, a result of the Obama administration cancelling the Shuttle and its replacement in the midst of the 2008-9 financial crisis. Both SpaceX and Boeing are months behind plan and both have had off-nominal tests along the way. Boeing's pad abort test recently saw one of three capsule parachutes fail to deploy correctly; and SpaceX's pad first abort test saw the destruction of the Dragon capsule following a propellant system failure. (The second SpaceX pad abort test appears to have been successful - the report is due with the detail).
So you would expect more testing, right? Well, only from SpaceX apparently. Boeing's abort tests have been deemed acceptable, parachute issue notwithstanding. SpaceX, as part of its contract conditions, is required to conduct an inflight abort test, firing the capsule escape system at or close to max q atop a Falcon 9. Boeing, no inflight abort test. The pad abort test is deemed sufficient.
NASA, in its official podcasts, is so defensive of the test arrangements with Boeing that it has the air of protesting too much. One can only assume that they know they are taking a risk. Why NASA is on the defensive and not Boeing, we don't know. In fact it appears from reports yesterday that the grounds upon which Boeing was paid a $287m element of its Commercial Crew contract are murky indeed. (See the Reuters report here: https://www.reuters.com/article/us-space-exploration-boeing/boeing-received-unnecessary-contract-boost-for-astronaut-capsule-watchdog-says-idUSKBN1XP05A)
---
We don't know what's eating Boeing. Perhaps this is all business-as-usual in federal contracting, but the spotlight on the company right now sees every misdemeanor under the spotlight. In which case we would expect some sort of mea culpa response from the embattled corporation, and there are no signs that such an overture is forthcoming.
So we're fascinated to see how this plays out.
We cover Boeing in our space-sector equity research service. We'll continue to monitor Boeing's handling of the Air Force GBSD and the NASA Commercial Crew arrangements.
Cestrian Capital Research, Inc - 15 November 2019.
Boeing and SpaceX Commercial Crew Capsules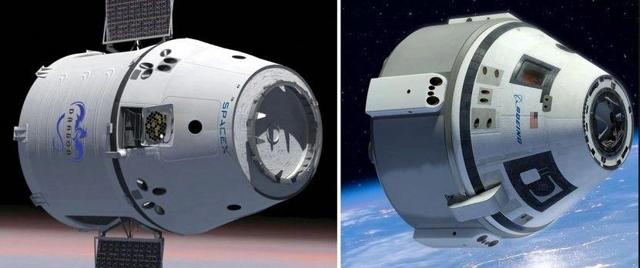 Disclosure: I am/we are long AJRD, NOC.
Additional disclosure: We are long AJRD and NOC on a personal account basis.