Fundamentals 1, Horsemen Of Postmodernity, 0
Please Note: Blog posts are not selected, edited or screened by Seeking Alpha editors.
Long/Short Equity, Growth, Tech, Registered Investment Advisor
Seeking Alpha Analyst Since 2015
Cestrian Capital Research, Inc has a team of senior investors contributing work managed by founder-CEO Alex King, a three-decade pro investor.  We're a fiercely independent, very serious SEC-regulated research firm.  On Seeking Alpha we publish a handful of public articles, but our best work here is in our subscription service, Growth Investor Pro.  We provide market-neutral research with ideas that can make money if the market is going up, down or sideways.  We cover a wide range of individual stocks and ETFs, options strategies, macro insight, hedging, risk management and more.  Learn more >> https://seekingalpha.com/checkout?service_id=mp_1221 .
Summary
Aerojet Rocketdyne delivered a great quarter's numbers yesterday after the close, and the stock responded in kind today.
The stock was up on that most outmoded of things, numbers.  Lots of them.  Backlog, revenue, earnings, cashflow, all up.
We called Buy in postmarket yesterday and we signalled "take profits now if you want to" at 16% gain in the early session today.
The Enlightenment continues for awhile yet.
DISCLAIMER: This note is intended for US recipients only and in particular is not directed at, nor intended to be relied upon by any UK recipients. Any information or analysis in this note is not an offer to sell or the solicitation of an offer to buy any securities. Nothing in this note is intended to be investment advice and nor should it be relied upon to make investment decisions. Cestrian Capital Research, Inc., its employees, agents or affiliates, including the author of this note, or related persons, may have a position in any stocks, security or financial instrument referenced in this note. Any opinions, analyses, or probabilities expressed in this note are those of the author as of the note's date of publication and are subject to change without notice. Companies referenced in this note or their employees or affiliates may be customers of Cestrian Capital Research, Inc. Cestrian Capital Research, Inc. values both its independence and transparency and does not believe that this presents a material potential conflict of interest or impacts the content of its research or publications.
Unreason Has Yet To Achieve A Complete Victory
If you read our work you know we cover cloud software and space stocks.  Two different worlds.  Cloud stocks we cover, like CrowdStrike (CRWD), Slack Technologies (WORK) and PagerDuty (PD) are all high-octane, fast twitch stuff.  Catch the wave and you bask in glory.  Miss a beat and you're toast.  Space, which is really defense but it sounds cooler, less scary and crucially more ESG-investor-friendly if you call it space, is old fashioned stuff where folk still look at something called a ... balance sheet?  Cloud tends to give you big ups and downs, space a slow burn.  Both markets are growth markets and so you have the wind at your back the whole time in case you mess up.  That's why we choose those sectors to work.
That said, every now and then a defe... sorry, space stock gives you a little fast-twitch gift.  If you comb our archives you'll see we've picked up some free money along the way from Science Applications International Corp (SAIC), Iridium Communications (IRDM) and Aerojet Rocketdyne (AJRD) over the years.  The story has been the same each time one of our Mouse Raids (T.M.) has succeeded.  That, in essence, the market has bored of the stock because, well, it's a boring stock, fundamentals have quietly improved when no-one was looking, and oops, on earnings day everyone who wasn't looking is surprised and gets their checkbook out.
Today we had the latest in a series of Mouse Raids on AJRD.  We've been flagging for weeks that the stock was undervalued - they won a huge NASA order for a set of huge rocket motors to power the huge SLS rocket.  (Actual name - Space Launch System.  Space Twitter (yes that is a thing) name - Senate Launch System on account of the quantum of federal spending it is soaking up).  That win came after the Q1 earnings and was slotted into backlog which sure as clockwork showed up in Q2.  Over and above that win, the company continued to quietly chop wood, delivering solid growth in revenue, earnings, cashflow and deleverage.
Here's the boring part - the numbers.
(If you're a cloud lover you can skip this part.  Nothing for you to see here.  We'll have exciting tales of 50%+ revenue growth and almost-breakeven when we report on cloud earnings in the coming days.  What you see below is a paragon of old-line virtue.  If however you're an old-timer, check AJRD's leverage through the pension obligations.  Now that's the kind of boring we get excited about!).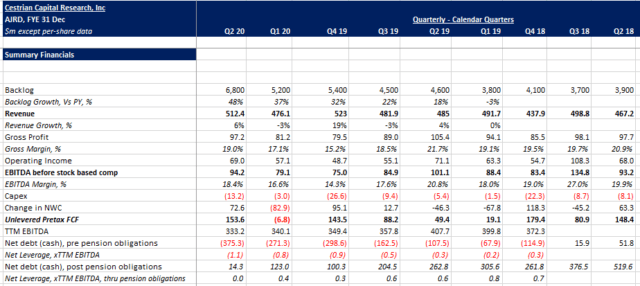 Source: Company SEC filings, Cestrian Analysis
Here's something everyone can appreciate, which is how it played out for our subscribers.  (We've been at Buy for a long time, not just for the earnings play.  We've been averaging down for some time. But on earnings day itself ... here's how it went down.)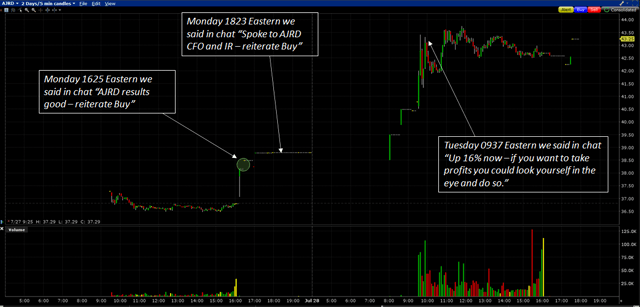 Source: Interactive Brokers LLC, Cestrian Analysis
The pop came on the back of those numbers.  Good old fashioned numbers.  Those fundamental building blocks of the Enlightenment, in the last throes of relevance as the postmodernist tsunami hurtles toward us.  But still with us long enough to generate a little of that lovely free money.
We said last night in our subscriber-only real-time chat service that we thought the stock was worth $50-something after earnings but would likely reach low-mid $40s today.  As it got up to that level early in the session today we said to our subscribers - we plan to hold, but if you want to take profits you could look yourself in the eye and do so.  We said this from 13% up to 17% overnight gain.  These kinds of pops can easily fade and although we ourselves are happy to hold long on AJRD, because we see the defense sector like those stonks which only go up, we have subscribers who prefer a Mouse Raid to a long term hold.  And we think it right to be able to flag Buy and Sell moments to our subscribers whatever their strategy.  We always flag our own intentions for staff personal accounts ahead of time, so our subscribers get to trade before we trade.
We remain at Buy on AJRD.  And we remain a growing service seeking new subscribers.  If you'd like to try out our work - there's a LOT of content right now as we cover Q2 in the cloud and in space - take a 2 week no-obligation free trial. Like it?  Stick around.  Hate it, bored by it, find it useless, overpriced?  Walk away without a backward glance.  As for us - we'd love to have you on board.  We have a blast running the service and we get great reviews from our members.  Hope to see you this side of the Matrix soon.
Cestrian Capital Research, Inc - 28 July 2020.
Thanks for reading our work!
Want even better quality and actionability?
Try our SeekingAlpha subscription service, The Fundamentals.
Here's what you get:
Deep sector expertise in cloud, tech, space and defense.
Continuous coverage of all the top stocks in the New Cloud Generation.
Pro-grade analysis, easy-to-understand presentation.
100% independent, clear and direct opinion of stocks' prospects.
Long-term investment picks, short-term trading ideas and a lively chatroom.
A real-money portfolio. If we're at Buy, we own the stock personally. Any trade we make, you get to trade first.
We speak directly to our companies, from CEO level down.

Analyst's Disclosure: I am/we are long AJRD, CRWD, PD, WORK.
Cestrian Capital Research, Inc staff hold personal account long position(s) in AJRD, CRWD, PD and WORK.
Seeking Alpha's Disclosure: Past performance is no guarantee of future results. No recommendation or advice is being given as to whether any investment is suitable for a particular investor. Any views or opinions expressed above may not reflect those of Seeking Alpha as a whole. Seeking Alpha is not a licensed securities dealer, broker or US investment adviser or investment bank. Our analysts are third party authors that include both professional investors and individual investors who may not be licensed or certified by any institute or regulatory body.