Please Note: Blog posts are not selected, edited or screened by Seeking Alpha editors.
Summary
Normally we put out this kind of note when our prices are about to rise for new members, saying, prices are going up, join us now!
This isn't that note.  We aren't raising new member prices again, yet.  We will, but not yet.  (Existing members never pay more. The sooner you join, the less it costs).
What we are doing is adding a slew of new cloud stocks to our coverage, starting next week.
We've made some very strong calls on cloud since we commenced the sector on 1 July. This isn't our first rodeo in software, and we think it shows.
Sign up with us now to get the benefit of our new name coverage, in the run-up to Q3 earnings.  Take a two week free trial - stick around if you like it, or if not, walk away without a backward glance.
DISCLAIMER: This note is intended for US recipients only and in particular is not directed at, nor intended to be relied upon by any UK recipients. Any information or analysis in this note is not an offer to sell or the solicitation of an offer to buy any securities. Nothing in this note is intended to be investment advice and nor should it be relied upon to make investment decisions. Cestrian Capital Research, Inc., its employees, agents or affiliates, including the author of this note, or related persons, may have a position in any stocks, security or financial instrument referenced in this note. Any opinions, analyses, or probabilities expressed in this note are those of the author as of the note's date of publication and are subject to change without notice. Companies referenced in this note or their employees or affiliates may be customers of Cestrian Capital Research, Inc. Cestrian Capital Research, Inc. values both its independence and transparency and does not believe that this presents a material potential conflict of interest or impacts the content of its research or publications.
Everything To Play For, And Nothing To Lose
Back in June we sent out a blog post flagging two things, firstly, that we were adding cloud software coverage to our roster come 1 July, and secondly, that prices would rise. You can read that note here (it does include some other stuff worth reading).
Software, be it cloud, client-server, mainframe, AS/400 or anything else in acronym soup, is in our blood.  It's second nature. Be it professionally or personally, we've invested in software companies since long before anyone realized that the stuff was eating the world.  Back when we started, software investors were the strange folk in the basement with no windows, getting all excited about the latest implementation of something called MQ Series or how this exciting new publish/subscribe model was going to change the world.  And no they didn't mean our Fundamentals subscription service, they meant something far more obscure and less interesting.  The point being, we were doing this stuff when cloud wasn't called cloud and when the whole world was telling Salesforce.com that their business model wouldn't work, their revenue recognition was illegal, that nobody in their right mind would put corporate data in a shared datacenter, much less in a multi-tenanted database.  And so whilst we've only been covering cloud stocks in our Seeking Alpha subscription service for a few weeks, what you get as a subscriber is the benefit of many decades of investing experience in the sector.
This has helped us come up with some pretty good calls in the last few weeks.
Our work starts with fundamentals, as the name suggests.  We pick stocks we like, work through the numbers, look at the fundamental valuation, then turn to stock chart performance to see what Wall St makes of any particular Main St name.  To our endless amusement internally there is very rarely any consistent relationship between what Wall St thinks and what any given Main St cloud company is actually doing.  And this lends itself to multiple ways to win.
Long term buy and hold - core to what we do.  Find great company with a stock beaten down for no particular reason (there's a lot of these in cloud where you can be So Hot Right Now this week and Like, Who? next week), move to Buy - Long Term Hold, watch closely in case something changes and profits ought to be taken, take them if need be and move on, or continue to hold.
Short-term trade - in the current environment where the market is even more a reality distortion field than normal (thankyou, Mr Powell, and thankyou, absolutely everyone in Washington DC), we find company after company in cloud where the business is rock-solid predictable but the stock is very volatile.  That's a wonderful place to play short-term trades.  We'll give you just one example - Dynatrace (DT).  This is a superb business that provides systems monitoring software to large companies - it helps them keep the lights on.  It has a recurring revenue model, and predictable costs, meaning, predictable earnings and cashflows.  A veritable steady-Eddie.  Despite which the stock lurches around like an inebriated aviator.  Which leads to opportunities like this one: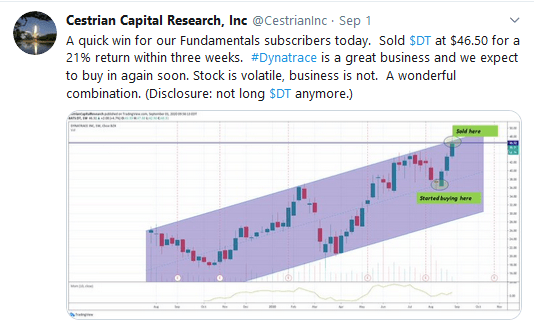 A small tasty morsel of cheddar; free money, if you will.  Our "Mouse Raid" short-term trades are much liked by our subscribers and have spawned many dairy-, rodent-, and feline-based metaphors and emojis in our chatroom.  Which keeps it light.  As it should be.  (Lactose-free and vegan choices are also available).
On the subject of our subscribers-only chatroom (we run a public room and you can also chat with us one to one in real time), here's a comment one of our members made recently that made us very happy.

We have three simple rules in chat.  One, keep it clean. Two, there are no dumb questions (anyone who has ever worked anywhere near an investment firm will know that usually the very best questions are asked by the strange folk emerging from the basement, blinking, saying, "this is probably a dumb question but ...").  Three, leave your personal politics at the door (we do care about how politics impacts stocks a lot - we just don't care what anyone's personal politics are, assuming they are legal).
Chat's a great part of our service, it has plenty of new ideas bubbling up all the time, some from us, some from our member community.  During your two-week free trial you get full access to the chat service - you can see for yourself.
Cloud Q2 earnings is drawing to a close now.  We have Slack Technologies (WORK) coming up next week, which will be a defining moment for the stock we think.  Then it's heads down, do the work, talk to the companies, watch the market, work out what's likely to happen stock by stock in Q3 earnings. 
Join us now and you get to build up your knowledge of the key cloud stocks running into earnings.  Get ahead of the game - get the numbers and the sentiment and understand how earnings could play out stock by stock and how you might want to try to gain from that.
Some of our best Q2 earnings calls were to not play earnings at all.  We posted strong gains in PagerDuty (PD) and SmartSheet (SMAR) by buying in during the quarter, adding on weakness and selling right before the print.  We watched Salesforce blow the doors off its Q2 (shame on us, we were at Neutral going in) and said in chat that we thought this would push all cloud stocks up in the next few days.  It did - especially when Workday (WDAY) numbers were also taken as a big win by the market.  (We beg to differ.  Check the stretch in receivables.  Some of that "revenue" they are clicking in?  Some of it isn't going to turn out to be "revenue".  It's going to be "writeoffs".  But that's not what we're here to discuss).  So as that CRM tide lifted all boats, we took our gains in PD and SMAR and others, and headed to the beach.  A good call as it turned out.  PD was down 25%+ come earnings time, SMAR down 15%+.  We'd already banked great gains.  And that's because we'd done the work beforehand and had a feel for whether holding into earnings was a good idea or not.
We don't get everything right.  But when we mess up it tends to be sins of omission - like not buying CRM going into earnings - than commission.  We've had some losers but that's generally been taking modest losses when calamity hits and we've moved hard to cash, as we did in the very early days of the Covid crisis.  Never one to lick our wounds, we kept our head about us and got back on the horse.  And we've so far managed to call the market and single stock names reasonably well - on 26 March this year we published a note in our service entitled, just, "Buy".  Three days post the low as it turned out.  We posted this public blog on 30 March saying that, in essence, since the November election turns on the stock market, count on it going up till November.  Which, so far (today notwithstanding!) it has.  We make no special claims to macro genius or anything else so grand - but we've had a good run and we hope it can continue.  We do have some pretty smart macro folk in our chat community by the way.  Who chime in at key moments.
Our subscribers say it best.  Here's a couple reviews.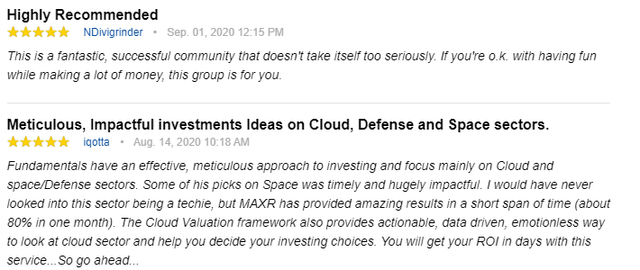 Back To Those New Cloud Names
We'll be adding the following names to our subscriber-only coverage from next week.  The sooner you join us, the faster you can build up your understanding of these important cloud stocks - partly from our work, and partly from our chat community of investors, traders and industry folk.  Multiple different perspectives on the same set of stocks, everyone helping each other to win.  These are the new names the group will be working on (note, ideas for this list came from the community as well as our own thoughts). 
Blackline (BL)
Dropbox (DBX)
DocuSign (DOCU)
nCino (NCNO)
Cloudflare (NET)
Okta (OKTA)
Palantir (a new IPO yet to start trading)
Snowflake (ditto)
We have two or three others also under consideration.
We already cover a good selection of the key names, from CrowdStrike (CRWD) to Fastly (FSLY) and Twilio (TWLO), on to Salesforce (CRM) through DataDog (DDOG) to Slack Technologies (WORK) and beyond.  That will continue.
So what more can we say?  Join us. Take that two week free trial.  You have the world to gain!
We hope to see you soon.
Cestrian Capital Research, Inc - 4 September 2020.

Our "Fundamentals" subscription service here on Seeking Alpha provides:
Real-time coverage of the key cloud software and space stocks.
Long-term hold fundamentals-based investment ideas, short-term "Mouse Raid" chart-based trading ideas.
Vibrant, friendly chatroom of investors, traders and industry experts working on stock ideas - join in, or just sit back and read the live chat, whichever you prefer.
Real-money commitment. We invest personally in every pick in the service. We tell you before we trade, so you can trade first.
Two-week free trial always available.
Analyst's Disclosure: I am/we are long CRM, CRWD, FSLY, TWLO.
Cestrian Capital Research, Inc staff hold personal account long positions in CRM, CRWD, FSLY, TWLO.
Seeking Alpha's Disclosure: Past performance is no guarantee of future results. No recommendation or advice is being given as to whether any investment is suitable for a particular investor. Any views or opinions expressed above may not reflect those of Seeking Alpha as a whole. Seeking Alpha is not a licensed securities dealer, broker or US investment adviser or investment bank. Our analysts are third party authors that include both professional investors and individual investors who may not be licensed or certified by any institute or regulatory body.