Communism For Capitalists
Please Note: Blog posts are not selected, edited or screened by Seeking Alpha editors.
Summary
Our 'Fundamentals' subscriber community chalked up another win this week.  Maxar Technologies (MAXR) hit the ball out of the park.  Again.
We called it ahead of time and flagged an opportunity to start a new position in the stock, or add to existing allocations.  Worked out great.
We'd love to say this was all a result of the great intellect and hard work here at Cestrian Capital Research.  But it wasn't.
'Fundamentals' community, take a bow.  Not a community member yet?  Read on.
DISCLAIMER: This note is intended for US recipients only and in particular is not directed at, nor intended to be relied upon by any UK recipients. Any information or analysis in this note is not an offer to sell or the solicitation of an offer to buy any securities. Nothing in this note is intended to be investment advice and nor should it be relied upon to make investment decisions. Cestrian Capital Research, Inc., its employees, agents or affiliates, including the author of this note, or related persons, may have a position in any stocks, security or financial instrument referenced in this note. Any opinions, analyses, or probabilities expressed in this note are those of the author as of the note's date of publication and are subject to change without notice. Companies referenced in this note or their employees or affiliates may be customers of Cestrian Capital Research, Inc. Cestrian Capital Research, Inc. values both its independence and transparency and does not believe that this presents a material potential conflict of interest or impacts the content of its research or publications.
In Which We Cut To The Chase
It's Friday, nearly the weekend, and nobody wants to read about stocks.
So we'll keep it short.
Our subscriber community is working together super-well right now.  We have a positive, mutually supportive group of investors, industry folk and traders all working on the same set of cloud- and space-sector stocks, bringing different perspectives on old names and new name ideas too.
It just paid dividends, again.  We'll bore you with this sporting victory tale in a moment.  But since it's Friday, here's the main message:  if you invest in or trade cloud software or space stocks, or you think you might like to, then check out our Seeking Alpha subscription service, "The Fundamentals".  We get fantastic reviews, we're chalking up the wins, and we have a community that is a pleasure to work with.  We offer a two-week free trial at all times, so you can try out the full service with no risk.  We're growing week by week, and we love to have new folks join us.
You can learn more by clicking here.
Here's one of our more recent reviews, by the way:

Now, on to our latest victory yawn, sorry, yarn.  This stuff is made to bore people at bars with.
We had another win with Maxar Technologies (MAXR) this week.  We've lauded the name for some time - on the public side of SA you can see our calls as follows:

Those early 'Neutrals' in 2019 were a result of major short-term balance sheet pressure on the company.  We heard the chorus of "everything will be alright" from many quarters, but our service isn't called 'Fundamentals' for nothing.  Huge leverage and negative cashflows give us the shivers, and not in a good way.  So we stayed clear.
In April we called "we think everything will be alright".  Here's what we said on the public side of SA.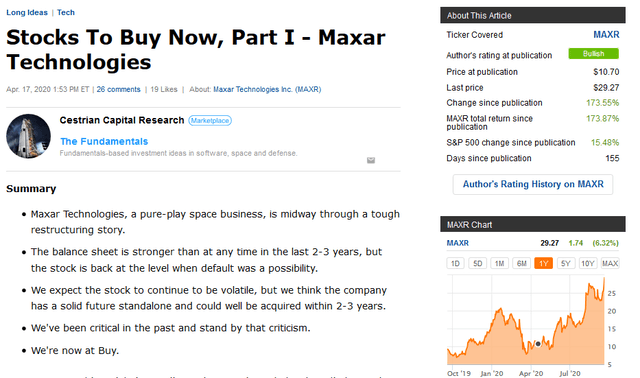 It was a pretty good call as you can see.  Stock up 174% since then, vs. the S&P500 up 15% and NASDAQ up 24%.  Not too shabby. 
The stock moved up quickly after that note. We stuck to our guns. In August, with the stock around $20 (double where it was in that April call above), we said: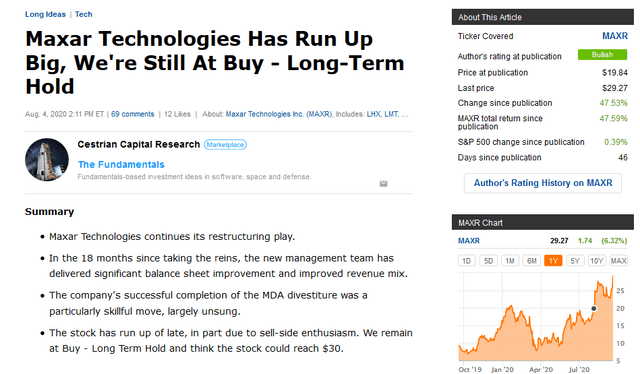 Buy, we said.  $30 target. 
Well, today, just six weeks later, that $30 was hit.
The stock closed at $29.27 having briefly topped $30 during the day.  We can tell you there was some cheering in our chatroom at that point, and not just from ourselves.
Now, within our service we cater for the long-term and the short-term, since we have members from all walks of life and all methods of investing.  Some have held MAXR since $10 and below and hold big big stakes.  Some trade in and out with small small stakes. 
But we ought to draw your attention to how the group played MAXR this last two weeks.
We moved to Neutral in the service as the stock hit $25, reasoning that this close to our price target of $30, not much room for error there, ease up on the gas a little.  With our own staff account positions we said we were realizing some gains at $25 and keeping the rest till $30.  (We flag all staff account trades in our covered names ahead of time, so our members can trade before we trade.  We publish all our positions in covered stocks be they long or short, and we publish all yet-to-be-filled orders.  We run a real-money service; it's important to us that our members know what our staff accounts are doing in our covered stocks).
But then a couple weeks back, one of our eagle-eyed members spotted that the Maxar CEO had bought stock in an open market transaction.  You can see that here.  Said member posted that golden nugget in our chatroom.  Ever eager to read SEC filings, we took a look.  It was a $60k-ish purchase.  That seemed rather odd.  Why would the CEO of a $2bn-ish company, already making big money from the options he has been picking up since the stock was worth $5-and-change, pay $60k cash to buy his own stock?  We figured, could be a corporate scandal.  Prop up the stock.  Except, you do that after the scandal is all over Twitter and you're being Muddy Waterboarded.  Not before.  We checked.  No Muddy Waters. No Citron Research. No young pretenders to their crowns. Hm. So the only reason we could think the CEO would spend this money was ... to make ... a LOT of money?
We flagged a buying opportunity, and subsequently bought with staff accounts too.  We paid a little more than the CEO but we figured he wasn't buying to make $2/share, he was playing bigger and probably longer than that.
The stock did its usual two-step for the next ten days or so.  Up, down, sideways, lurch here and there, all on no news.
Then this on Wednesday this week.  Board of directors member.  Grownup.  All scary CIA thing going on.  Bought stock in the open market.
Well, what could we do, dear reader?  We repeated the above.  Flagged the buy.  Stock was down due to some market hoopla.  One of our members uttered the soon-to-be retired phrase, "BTD".  Reader, we did.  We donned our forest folk outfits and we Bought That Dip.
And today that paid off.  Here's the change in the stock price since that 1 Sep CEO buy.  Up 24% in a little under three weeks.  We compare the S&P500 (down 6%) and the Nasdaq (down 11%).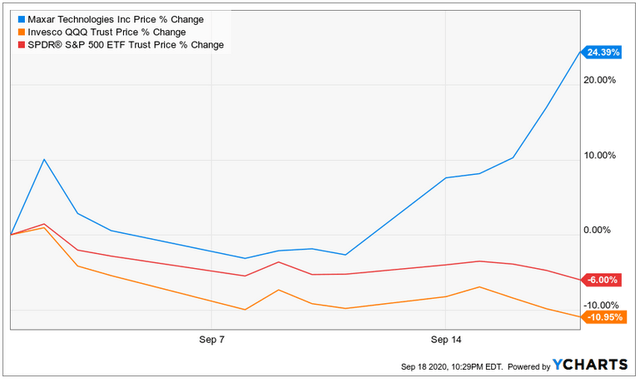 We'll claim credit for doing some of the past legwork, and for having worked with enough CEOs to know that they don't tend to waste their own money buying stock when mainlining stock options is an alternative.
But credit to our members for spotting that open market buy.  And for publicizing it in chat so everyone can win together.  This, believe it or not, is a frequent event in our service.  (You can check, of course, just take that free trial.).  All very socialist.  Except it's in pursuit of shamelessly capitalistic gains.  (You can still buy collectively-farmed root vegetables with your gains if you want to - keeping it real, and all).
So - MAXR hit our target.  We're not done with this one yet.  We think it can keep going.  We have a little work to do yet to figure out our next price target, but we're not planning on selling anytime soon and we don't think the CEO or board member bought stock for a quick twenty-something percent gain.  Since that would be about $12k for the CEO.  $12k is $12k and not to be looked down upon, but that's not a meaningful contribution to his wealth in the context of his overall equity position in MAXR.  So we think there's a longer game here.  We'll be playing it along with our community.
In case we weren't clear in our relentless pitch: you might like to join us!
Cestrian Capital Research, Inc - 18 September 2020.

Thanks for reading our note.
To learn more about us and our popular, growing SeekingAlpha 'Marketplace' service, click here.

Our service provides:
Real-time coverage of the key cloud software and space stocks.
Long-term hold fundamentals-based investment ideas, short-term "Mouse Raid" chart-based trading ideas.
Vibrant, friendly chatroom of investors, traders and industry experts working on stock ideas - join in, or just sit back and read the live chat, whichever you prefer.
Real-money commitment. We invest personally in every pick in the service. We tell you before we trade, so you can trade first.
Two-week free trial always available.
Analyst's Disclosure: I am/we are long MAXR, QQQ.
Cestrian Capital Research, Inc staff hold personal account positions in MAXR (long) and QQQ (long).
Seeking Alpha's Disclosure: Past performance is no guarantee of future results. No recommendation or advice is being given as to whether any investment is suitable for a particular investor. Any views or opinions expressed above may not reflect those of Seeking Alpha as a whole. Seeking Alpha is not a licensed securities dealer, broker or US investment adviser or investment bank. Our analysts are third party authors that include both professional investors and individual investors who may not be licensed or certified by any institute or regulatory body.