Our 2021 Challenge Is Off To A Blistering Start
Please Note: Blog posts are not selected, edited or screened by Seeking Alpha editors.
Summary
In a curious twist to the capitalistic spirit that fills the halls of our subscription service, a collective self-organized towards the end of last year.
No community parsnip farm this, instead, a stock picking challenge, at the instigation of a longstanding subscriber.
Simple rules: buy 31 December 2020 and be judged on 31 December 2021.  No horse trading, averaging up or down, or fancy options talk.  One regular equity buy and sell.
We ourselves bought in, with actual money.  And we track performance daily.  The picks are off to an awesome start!
DISCLAIMER: This note is intended for US recipients only and in particular is not directed at, nor intended to be relied upon by any UK recipients. Any information or analysis in this note is not an offer to sell or the solicitation of an offer to buy any securities. Nothing in this note is intended to be investment advice and nor should it be relied upon to make investment decisions. Cestrian Capital Research, Inc., its employees, agents or affiliates, including the author of this note, or related persons, may have a position in any stocks, security or financial instrument referenced in this note. Any opinions, analyses, or probabilities expressed in this note are those of the author as of the note's date of publication and are subject to change without notice. Companies referenced in this note or their employees or affiliates may be customers of Cestrian Capital Research, Inc. Cestrian Capital Research, Inc. values both its independence and transparency and does not believe that this presents a material potential conflict of interest or impacts the content of its research or publications.
Hopefully This Collective Won't End The Way Collectives Usually End
Committed capitalists, us here at Cestrian Towers.  You know this from our many posts on the topic.  Capitalism being the worst form of economic organization, apart from all the other forms of economic organization.
Now a curious thing happened in our subscription service right at the end of last year.  Be it a result of excess holiday conviviality, the binding effect of a global pandemic, or simply the opportunity to both show off and humiliate fellow subscribers, many of our group leapt at the opportunity to join the 2021 Challenge, a clarion call issued by one of our longstanding members.
The rules were simple.  Pick a stock or an ETF.  Has to be a regular equity, no options or other complex instruments.  Has to be traded on a US main market.  Has to have a stock price of over $3.  (Yes that was arbitrary).  You can buy the stock once, on 31 December 2020 ... and sell the stock once, on 31 December 2021.  Make your best pick.  Biggest gain percentage over the year wins. Winner gets 6 months free access to our Seeking Alpha subscription service (that's about $1k at our current prices).  Also ... because we're always picking stuff ... we bowed out and made no house picks. 
Which is just as well because we definitely would not be top right now, and that would be plain embarrassing!
Here's how subscriber picks have fared since 31 December.  We show this in two charts else it gets messy, but they are the same measurement - stock price change from inception.
Group 1 - Stock Price Change Since 31 Dec 2020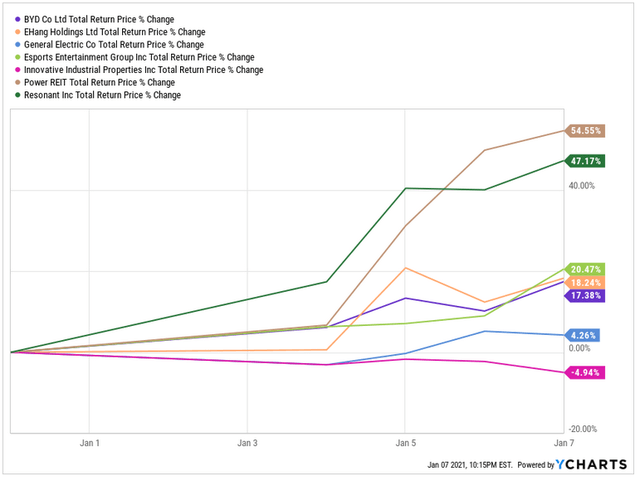 Group 2 - Stock Price Change Since 31 Dec 2020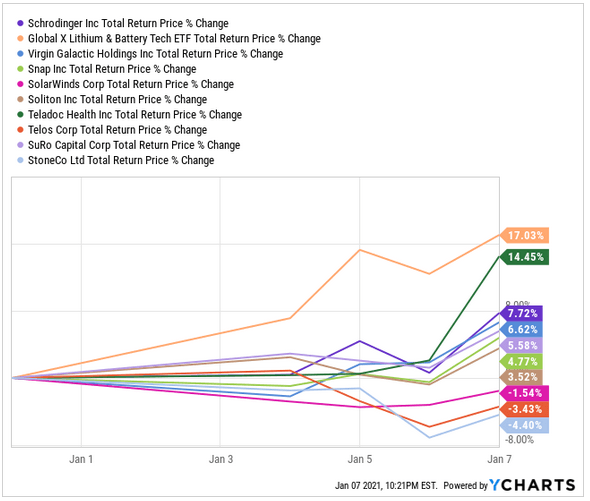 So far PowerREIT (PW) leads the pack followed by Resonant (RESN) at 47%.  Save for the ADRs we have ourselves either bought all the above names as they were included in the Challenge, or will shortly do so.  We trust our subscribers' judgment and don't mind putting personal account money behind that judgment.  And so far ... that's working out pretty well.
We'll run another such challenge soon, likely something involving more frequent opportunities to trade in and out of your pick.  Want to join in?  Take a free trial to our service, see if you like it, stick around if so.  We're growing well and getting great reviews, so we assume we're doing something right.  But that's for you to judge, not us.  You can sign up here for that free trial.  We look forward to seeing you in chat soon!  (Of course, by the time you sign up, you could find the collective has turned inward on itself, some members making unilateral declarations of independence, and the parsnip harvest failing.  You never know). 
Cestrian Capital Research, Inc - 7 January 2020
To learn more about our popular 'Marketplace' service The Fundamentals, click here.

Our Marketplace service provides:
'CyberSecurity-36' medium-term 3-year horizon investment portfolio.
'Cloud Decade' long-term, 10-year-horizon investment portfolio.
'Mouse Raid' and 'Tealeaf Technicals' short-term trade ideas.
Extensive investor education content.
Vibrant, supportive chatroom featuring subscribers from many walks of life.
We run a real-money service publishing the research we conduct to invest personal account funds. Subscribers get alerts on any planned buy or sell order in covered stocks, ahead of time. You get the opportunity to buy or sell before we do.

Analyst's Disclosure: I am/we are long All stocks in article.
Cestrian Capital Research, Inc staff personal accounts hold long position(s) in all stocks named - or will place Buy orders for those stocks in the next 72 hours. The 2021 Challenge represents subscriber picks, not Cestrian house opinions.
Seeking Alpha's Disclosure: Past performance is no guarantee of future results. No recommendation or advice is being given as to whether any investment is suitable for a particular investor. Any views or opinions expressed above may not reflect those of Seeking Alpha as a whole. Seeking Alpha is not a licensed securities dealer, broker or US investment adviser or investment bank. Our analysts are third party authors that include both professional investors and individual investors who may not be licensed or certified by any institute or regulatory body.