Please Note: Blog posts are not selected, edited or screened by Seeking Alpha editors.
Summary
From The Trough Of Despair to the Heights Of Elation, Part One.
DISCLAIMER: This note is intended for US recipients only and in particular is not directed at, nor intended to be relied upon by any UK recipients. Any information or analysis in this note is not an offer to sell or the solicitation of an offer to buy any securities. Nothing in this note is intended to be investment advice and nor should it be relied upon to make investment decisions. Cestrian Capital Research, Inc., its employees, agents or affiliates, including the author of this note, or related persons, may have a position in any stocks, security or financial instrument referenced in this note. Any opinions, analyses, or probabilities expressed in this note are those of the author as of the note's date of publication and are subject to change without notice. Companies referenced in this note or their employees or affiliates may be customers of Cestrian Capital Research, Inc. Cestrian Capital Research, Inc. values both its independence and transparency and does not believe that this presents a material potential conflict of interest or impacts the content of its research or publications.
This post was first published in Cestrian Stocks Bulletin.
Buy The Neutron Bomb, Sell The Joy
As you know, in traded securities, it's always Opposite Day, at least if you're doing it right. Everyone around you all jazzed about stock A or bond B? Hurry to your screen and sell it. Friends and colleagues given up on stock C or option D ever making a move up ever again? Quick - load the Super Duty!
For those of us who like to invest like we're dead inside, who like to measure emotion rather than engage in it, a handy tool is at the ready. It's called the Fibonacci series. No, don't click on a more interesting thing over there. You don't need to lose any belly fat. Stick with this one old trick right here. It's really not difficult, and it might prove useful.
A million places that aren't this newsletter can tell you what the Fibonacci series is. Investopedia is always a good place to check up on definitions thus enabling you to style it out when next pressed on the question. You can find a note of theirs on Fibs here. It's mercifully short and worth reading.
Now that you are a bar-stool expert on Fibs, we can cut to the chase. The Trough of Despair, the Pit of Doom, the Abyss Of All Things Once Good Now Fallen Into Disrepute? You don't need to emote or feel it. Because you can measure it. It's called a 0.786 retracement. Specifically that means that your security of choice has given up nearly 80% of all the gains it chalked up in its last up-move. In other words, folks have all but given up on this loser. Sounds bad. Until you think, hm, put Opposite Day hat on. This must mean that almost everyone who wants to sell it has finished selling it. And that could mean there is a shortage of supply for those miscreants who may want to buy it. And - now just a moment, what was it in Economics 101? Oh - that's right - short supply, increasing demand, means … higher prices! And what happens when a security starts moving up? Other folks pile on. (Which leads to the Height of Elation - we'll deal with that in our next issue. For now keep focused on Despair).
Now, to take advantage of this emotometric chicanery, get yourself signed up to a free (or, if you dislike your money and want to share it around, paid) membership of whichever charting tool you prefer. TradingView or Barchart work well for retracements. The tool is built in, you don't need to calculate anything, just drag the icon and the site does the rest. And then go hunting. 0.786 hunting. When you learn to spot them, you keep spotting them. Here at Cestrian Towers we are this close to being able to spot them with the naked eye at 100 paces. You think we're joking? We're not joking. We can also call a 0.618 from across the room but that's another story for another day, if you can bear the suspense.
Anyhoo. Here's a couple examples. You know the End of the World that happened in the market when Covid first hit? Securities fell off of the edge of the planet until they were caught by the we're-doing-it-for-the-American-People-it's-definitely-not-our-own-brokerage-account-meltdown-we-have-in-mind-here unholy alliance of Messrs. Powell, Trump, Pelosi and others? Well, we have news. It wasn't the end of the world. It was just a 0.786. And if you see a 0.786, your presumption should be, aha, Buy. (Do more work of course. Prove it out. But your starting assumption, before you prove yourself wrong? 7-8-6 = B-U-Y).
Here's that apparently apocalyptic drop in SPY (fullsize chart here).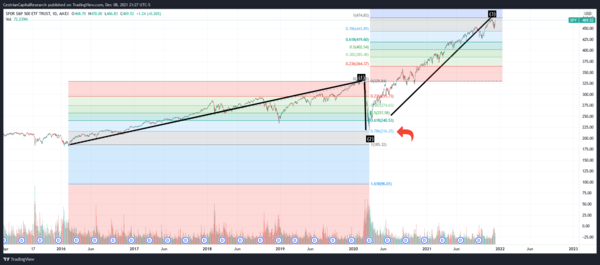 Source: TradingView, Cestrian Analysis
Holy Wall Street Voodoo!!
OK. Coincidence. Right?
Nope. Here's QQQ. (Full page chart here.)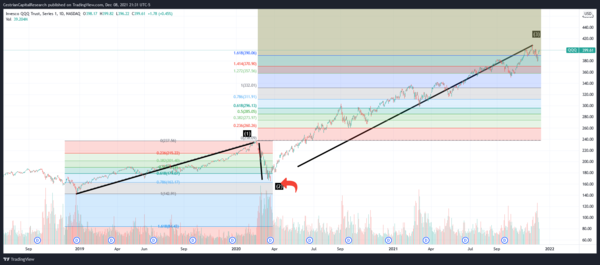 Source: TradingView, Cestrian Analysis
So you can see the kind of violent reversal that can happen at these 0.786 retracements. And you can find them in all sorts of places. Here's Zoom (ZM) which we can all agree is So Over Right Now. And indeed So, Like, 2020.
Er, maybe. Because look where it just threatened to reverse.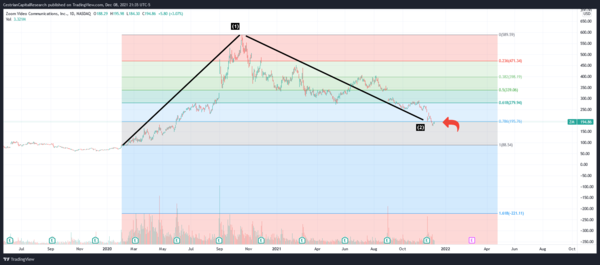 Source: TradingView, Cestrian Analysis
No way!
What about everyone's favorite Ghost Stock Of Fintwit, Fastly (FSLY) - you know the one that's been made to look dumb by Cloudflare (NET), where every FinTwitter that sang its praises in 2020 is now claiming they never even heard of that stock, man, and if I had I would short that sucker, er, not that I know anything about it - that FSLY? Well, it hit the deck already. Three times. But look where it stopped digging. Three times. You guessed already, right?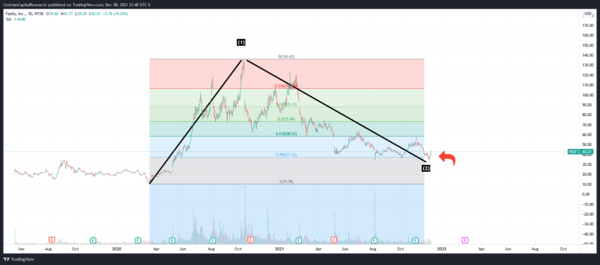 Source: TradingView, Cestrian Analysis 
Now this is getting silly. If this isn't some Deus Ex Machina hedge-fund-juju going on right here, then it might be … a tradable, repeatable pattern? A way to … increase your probability of making money? A way of … finding a place to put your stops in case you make the wrong call?
If you lack the time or inclination to spend your days scanning for 786s, it probably means you have yet to join the rest of the educated West in quitting your job in order to create that YOLO NFT. You still have things to do, other people to consider, you can't just be jamming on TradingView all day and night.
So we have two ideas for you, if the idea of finding free money amidst the rubble of other investors' broken dreams appeals.
One - and this is free - join our fancily-titled-but-actually-rather-down-to-earth stocks board, Cestrian Stocks Symposium, lurk in the .786 channel (yes there really is one!!) and see if you find anything you like there. It runs on Slack, the multi-user dungeon dressed up as a chat service. You can join by clicking HERE - it runs 24/7 on any device.
Or, two, not-free, join our Growth Investor Pro service right here on Seeking Alpha, where we'll lay out the ideas for you as we see them. Just this week we highlighted two new 786 opportunities for our membership, together with low-risk "buy zone", suggested stop-loss levels, and price targets for the cautious and aggressive investor alike. It's a real money service. If we say something is a good idea, we're investing in the idea in staff personal accounts - only after we flag the idea to our members, who always get the opportunity to trade before we do. If you have too much money, and want to give us some of it for no reason, just CLICK HERE to pay full price for Growth Investor Pro. Or, alternatively, if you love money and be stacking it up, email your Seeking Alpha username to us at minerva@cestriancapital.com and we'll apply a coupon for half-off your first year.
So. Club 786. The most miserable dive bar in town. Which, given that it's always Opposite Day in this town? Is the best bar around.
Stay tuned for the next issue in this two-part blog series, where 4-2-3-6 spells S-E-L-L.
Cestrian Capital Research, Inc - 9 December 2021.
Analyst's Disclosure: I/we have a beneficial long position in the shares of NET, FSLY, ZM either through stock ownership, options, or other derivatives.
Cestrian Capital Research, Inc staff personal accounts hold long positions in, inter alia, NET, FSLY, ZM.
Seeking Alpha's Disclosure: Past performance is no guarantee of future results. No recommendation or advice is being given as to whether any investment is suitable for a particular investor. Any views or opinions expressed above may not reflect those of Seeking Alpha as a whole. Seeking Alpha is not a licensed securities dealer, broker or US investment adviser or investment bank. Our analysts are third party authors that include both professional investors and individual investors who may not be licensed or certified by any institute or regulatory body.