That's It - I've Had It With Stocks!
Please Note: Blog posts are not selected, edited or screened by Seeking Alpha editors.
Long/Short Equity, Growth, Tech, Registered Investment Advisor
Seeking Alpha Analyst Since 2015
Cestrian Capital Research, Inc has a team of senior investors contributing work managed by founder-CEO Alex King, a three-decade pro investor.  We're a fiercely independent, very serious SEC-regulated research firm.  On Seeking Alpha we publish a handful of public articles, but our best work here is in our subscription service, Growth Investor Pro.  We provide market-neutral research with ideas that can make money if the market is going up, down or sideways.  We cover a wide range of individual stocks and ETFs, options strategies, macro insight, hedging, risk management and more.  Learn more >> https://seekingalpha.com/checkout?service_id=mp_1221 .
Summary
Small money has had it with stocks. Big money? Not so much.
Want to make like big money?  Then learn to run with the big dogs.
DISCLAIMER: This note is intended for US recipients only and in particular is not directed at, nor intended to be relied upon by any UK recipients. Any information or analysis in this note is not an offer to sell or the solicitation of an offer to buy any securities. Nothing in this note is intended to be investment advice and nor should it be relied upon to make investment decisions. Cestrian Capital Research, Inc., its employees, agents or affiliates, including the author of this note, or related persons, may have a position in any stocks, security or financial instrument referenced in this note. Any opinions, analyses, or probabilities expressed in this note are those of the author as of the note's date of publication and are subject to change without notice. Companies referenced in this note or their employees or affiliates may be customers of Cestrian Capital Research, Inc. Cestrian Capital Research, Inc. values both its independence and transparency and does not believe that this presents a material potential conflict of interest or impacts the content of its research or publications.
This blog post was first published in Cestrian Stocks Bulletin.
Running With The Big Dogs
It's a fairly reliable rule in financial markets that big money makes money, and small money loses money. This is because big money operates to longer timeframes, with less emotion, more visibility and more guile than does small money. In addition, big money tends to not lever its last dollar up 3x for a YOLO play right before options expiry and then wonder why Wen Lambo turned into, Wen Bailiff.
You can mutter, "manipulation", if you like, or you could just say, big money plays the game better.
If you want to improve your chances of making consistent money over time in financial markets, we suggest you learn to run with the big dogs. You don't have to get a job at a hedge fund; you don't have to inherit Mom and/or Pop's life savings; you don't have to first YOLO. You can run any regular brokerage account to big-money rules.
Rule Number One is: prepare to be bored. Retail thinks that investing is exciting. That couldn't be more wrong. It's only exciting if you are doing it wrong. You know what a consistently successful pro investment firm looks like? Bunch of boring people doing boring things day in day out. The best of them can afford to buy a Lamborghini any day of any week - actually the very best of them can just buy Lamborghini itself - but they don't. Buy one. Too noisy, too ostentatious, too exciting. They likely drive a three-year-old Model S. A white one. With regular plates. If you want to be consistently successful at investing? Learn to love boring. Better still, learn to not even notice whether you are bored or not. Invest, as we exhort our subscribers, like you be dead inside.
Rule Number Two is: learn how big money runs, and study what big money is doing at any particular time. And then do that. Learn what retail is doing at any particular time. And don't do that. Most often, big money is doing the opposite of retail. If big money is on CNBC telling you hey wow this is going up and this is going down, do you really think they have your best interests at heart? If the financial and/or regular press is full of how the next trend is down, is it really likely to be down? Really? Why would anyone care to give you a heads up like this? In financial markets, the game is simple. You are trying to take money off of other people, and all the other people are trying to take money off of you. Big money has learned how to take a lot more money off of the little people than the little people take off of it. If institutions are selling short dated SPY puts? You probably don't want to be loading up on them. Funds are buying ARKK when Cathie is all out of fashion? Why would you sell your ARKK to them?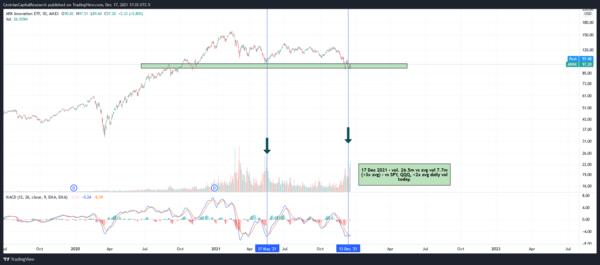 Source: TradingView, Cestrian Analysis (full page chart here)
Rule Number Three: find some like-minded people to hang out with. You don't have to copy them, best you don't in fact, best you develop your own methods and your own ideas. But develop them alongside others where you can discuss them, compare notes, swap ideas, without fear of being stock-shamed by small money. You know what big money does when small money is stock-shaming it on Twitter? It doesn't even know it's being stock-shamed. Because it is too busy doing something boring in Excel or maybe considering what kind of vegetables to pick up for dinner on the way home.
If you want to learn to run with the big dogs? Join us. Our Growth Investor Pro service can help you invest like a pro. Which is to say, invest boring. Invest carefully. Our goal is to help you become a better investor. We cover a large range of stocks and ETFs; we use fundamental and technical analysis; we run a grownup chat service in which other boring people work together to try to make money together. Just like big money. Unlike big money, we tell you what we're doing in staff personal accounts, before we do it. So you get to trade before we does. Very much not like big money.
And right now? After these last few weeks of a minor correction in some markets?
Retail thinks it's all over for stocks.
Big money thinks that it can keep making money quietly and boringly.
We agree with big money.
Read all our reviews, and learn all about how to run with the big dogs, here:
I Want To Invest Boringly Like A Big Dog
Then join us. Send your Seeking Alpha username to us at minerva@cestriancapital.com - we'll give you 50% off your first year with us. You can still cancel in month one if you don't think the service is for you. And if you only stay a month? It'll cost you about the same as a generous trip to Starbucks.
Cestrian Capital Research, Inc - 20 December 2021.
Analyst's Disclosure: I/we have a beneficial long position in the shares of TQQQ, TNA, ARKW either through stock ownership, options, or other derivatives.
Cestrian Capital Research, Inc staff personal accounts hold long positions in TQQQ, TNA and ARKW.
Seeking Alpha's Disclosure: Past performance is no guarantee of future results. No recommendation or advice is being given as to whether any investment is suitable for a particular investor. Any views or opinions expressed above may not reflect those of Seeking Alpha as a whole. Seeking Alpha is not a licensed securities dealer, broker or US investment adviser or investment bank. Our analysts are third party authors that include both professional investors and individual investors who may not be licensed or certified by any institute or regulatory body.