Please Note: Blog posts are not selected, edited or screened by Seeking Alpha editors.
Summary
The Rug Pull Update for Today is, er, the Rug Got Pulled.
Want to know how to make it Not Always Opposite Day?  Read on!
DISCLAIMER: This note is intended for US recipients only and, in particular, is not directed at, nor intended to be relied upon by any UK recipients. Any information or analysis in this note is not an offer to sell or the solicitation of an offer to buy any securities. Nothing in this note is intended to be investment advice and nor should it be relied upon to make investment decisions. Cestrian Capital Research, Inc., its employees, agents or affiliates, including the author of this note, or related persons, may have a position in any stocks, security, or financial instrument referenced in this note. Any opinions, analyses, or probabilities expressed in this note are those of the author as of the note's date of publication and are subject to change without notice. Companies referenced in this note or their employees or affiliates may be customers of Cestrian Capital Research, Inc. Cestrian Capital Research, Inc. values both its independence and transparency and does not believe that this presents a material potential conflict of interest or impacts the content of its research or publications.
The Only Surprise Today Was Surprise Itself
Want to know why it always feels like Opposite Day in financial markets?  Is it some weird emoto-fundamentalist-technical-trickery that can be solved if you just concentrate harder and pick those hidden stocks that nobody knows about yet or follow another thirty-four Lost Geniuses Of Fintwit?  It is not.  It is because in public securities markets you are very much not in control.  Big Money is in control.  And Big Money knows this.  Big Money is like a mean ol' alley cat whilst you be the honest mouse just trying to pick up a little cheese here and there, no harm to anyone sir.  The alley cat doesn't need to hunt for mouse, not with all the tasty fresh fish sat around within its reach.  Indeed it could go feast on the fish hoarded by some of the other, smaller alley cats a little further down the alley.  But no.  Hunt mouse it does.  Know why?  Because it's a mean ol' alley cat.  And that's what mean ol' alley cats do for kicks.  Hunt mouse.
If in life you're the hunted, it's always Opposite Day because you never have a Scooby's what's going to happen next.  Suddenly feel safe?  Time to worry.  Starting to worry? Talk yourself down off a ledge.  And so on.  This is a very stressful kind of existence and it's a reason why meeces don't last so long in the alley.  They tend to either get caught, which never ends well, or to give up and move onto an easier life in a field, where there is a lot less cheese but at least there are no dang alley cats.  The occasional kestrel.  But no alley cats.
The constant bursts of corticosteroids administered by your adrenal system if you live like this are fundamentally performance draining.  Short term stress is a good thing as we all know.  Invigorating.  Long term stress, the kind that comes with trying to dodge that dang cat every single trading day - that's destructive.  And this is the kind of stress you want to avoid in financial markets, because if you're worn down like that, you can't think straight and that means you can't do your best work.
Our goal in our members-only service, Growth Investor Pro, is to do exactly what it says on the tin.  We'd like to call it Alley Cat Investing or Mean Ol' Tomcat Trading but it would take some explaining around here and we're busy and all. 
We're very focused on helping you think not like a mouse, but think like a cat.  A mean ol' cat.  Because if you think like Big Money, and move like Big Money, then whether you have Big Money money in your brokerage account, or just a little spare cheese, doesn't matter.  You can learn to quietly and consistently make money, just like Big Money does.
We have been flagging for some time that the selldown in stocks lately was just a fakeout.  Doesn't mean brokerage accounts aren't declining, doesn't mean no stops are tripped, but does mean that this correction is just that, a correction like any other, not The Big One triggered by inflation or Omicron or stalled legislation or because it rained in Columbus, OH.  Just a correction.  Down, then up.  We've been flagging this for as long as the correction was ongoing because the relevant stock charts were shouting "not The Big One".  Whether you looked at SPY or QQQ or IWM or any of the individual charts we cover?  By the end of last week they were almost all shouting "time to move back up soon". 
But small money - mouse money - was still selling.  Panic selling.  Why?  Because of the uninformed nature of small money coupled with the huge adrenal corticosteroid load applied - on purpose!! - by Big Money for the last couple weeks. 
Today Big Money figured, all the meeces were exhausted and had mainly abandoned their pursuit of cheese and could be found lying around in the alley in an act of self sacrifice.  At least the ones who hadn't mustered the energy to bail and move to a field.  So Big Money went hunting.  And lo did all the stocks move up, and bigly, to the surprise and dread of meeces everywhere.
This wasn't a surprise if you were thinking like Big Money.  Remember - doesn't matter how much money you have.  If you have Wolf Of Wall Street Money or if you have Newborn Fieldmouse money you can still think and act like Big Money. 
Last week we said this in The Big Dog Dealing Room (no, don't suppose we can call it that either):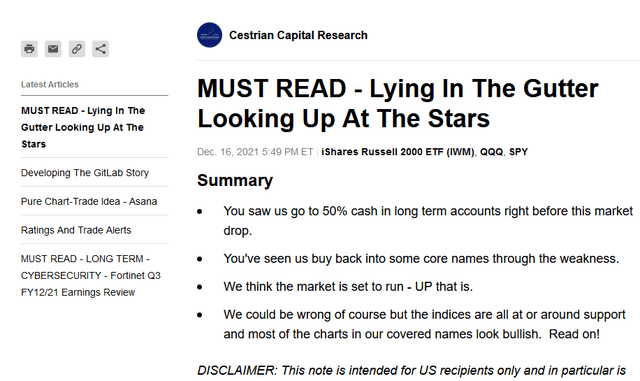 That was after we had updated our fundamental financial analysis, and technical chart analysis, on each and every one of the stocks we cover - and there are a lot of them - to take account of the correction.  We post those in the service for all to see 24/7.
And so it was not a surprise to us that when the White House press conference yesterday started to tell everyone that it wasn't the Big One, SPY futures started to move up convincingly - followed by the stocks today.  Which stocks moved up?  Like, ALL the stocks. 
"Attention Alley Cats! Time To Buy!"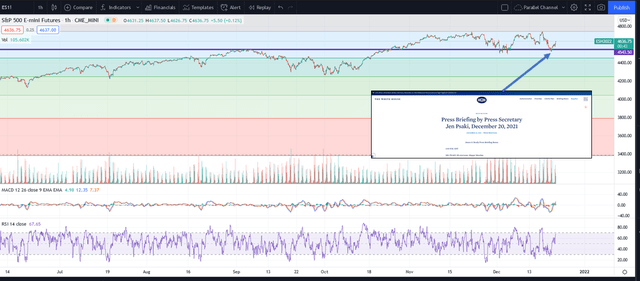 Tomorrow we would expect to see a whole lot of people in a tailspin once more.  Buying at a much higher level than that at which they sold.  Big Money will find this highly amusing and may therefore sell a few stocks, just for yucks.  Causing small money to then sell at a loss, again.  (By the way, SPY futures are telling you right now that this could happen).  Cue more autonomic steroid dosing and a final surrender of even the most committed mouse.  Aaaand then more buying by the senior members of Cats' Council.
If you want to learn how to think like Big Money, and play your brokerage accounts like Big Money - very specifically to adopt Big Money methods in your long term investing and/or trading so that your win rate can improve whilst your stress level falls?  Then join us in A Streetcat Named Lenny ... sorry, Growth Investor Pro.  Right now you get 50% off your first year with us if you email us at minerva@cestriancapital.com & tell us your Seeking Alpha username so we can send you a coupon.  Join up; stick around for a month and if you hate it, Seeking Alpha will refund your unused 11 months' fee.  Your maximum downside risk is $67 for the month. 
Think $67 is a lot of money?  It's likely you gave more than that to Big Money in the last couple weeks.  For no reason at all.
Stop giving money to Big Money.  They have enough.  Join up with us, learn how to play the game the Big Money way.
Ways To Join Us
Click HERE to pay full price for the service because you like giving money away for no reason.
Or email us at minerva@cestriancapital.com with your Seeking Alpha username so we can send you that half-off coupon.
Or post a comment to this blog post saying, please send me a half-off coupon.
Assuming you go the coupon route, we'll assign the discount, let you know when it's done, and you're good to go.
Remember: you're here to make money for yourself, not give it to Big Money.
So join us!
Cestrian Capital Research, Inc - 21 December 2021.
Analyst's Disclosure: I/we have a beneficial long position in the shares of TQQQ, TNA either through stock ownership, options, or other derivatives.
Cestrian Capital Research, Inc staff personal accounts hold long positions in, inter alia, TQQQ and TNA.
Seeking Alpha's Disclosure: Past performance is no guarantee of future results. No recommendation or advice is being given as to whether any investment is suitable for a particular investor. Any views or opinions expressed above may not reflect those of Seeking Alpha as a whole. Seeking Alpha is not a licensed securities dealer, broker or US investment adviser or investment bank. Our analysts are third party authors that include both professional investors and individual investors who may not be licensed or certified by any institute or regulatory body.