Port Wren Capital, LLC
"Investment Research Experts."
First off, we would like to express our gratitude to all of you who have decided to follow us on Seeking Alpha. To that end, we would to like to provide you, the individual investor, a better understanding of how your investing needs align with our research to help you achieve a higher rate of return on your investments.
Our Objective and Who We Are
Our objective is the same as yours: to pick stocks, at an undervalued price, wait patiently, sell them at a gain.
We use a value approach to our investing strategies to achieve above average returns.
We invest our own money in these ideas.
We only invest long and in US stocks
We invest in any and all sectors. Including but not limited to: financial, technology, healthcare, oil & gas, basic material and others. We invest in large caps to small caps. Basically any US stock (includes ADS) that is undervalued.
We do not seek dividend & income
We are not guided by macroeconomics
We do not invest in Shorts.
We do not invest in International stocks.
We do not invest in Mutual Funds, ETFs, or Index Funds
We do not invest in IPOs
Similarities and Track Record
We started out just like you. We tried investment houses, financial and wealth planners, index funds, etc and never felt they had any real skin in the game or really cared about our best interest. Thus, we decided to go it alone. To date we have achieved an above average record, as noted here, and we figured we would offer this same level of opportunity to others who have the same objectives as ours.
Performance

| Ticker | Company Name | Market Cap ($) | Price Paid ($/Share) | Price Sold ($/Share) | Realized Gain% | Date Bought | Date Sold |
| --- | --- | --- | --- | --- | --- | --- | --- |
| MHP | McGraw | 18.2B | 44.26 | 73.98 | 67.15 | 2/6/13 | 11/21/13 |
| GLF | GulfMark | 274.5M | 34.25 | 50.32 | 46.92 | 12/21/12 | 3/6/14 |
| SYA | Symetra | 2.86B | 13.74 | 20.58 | 49.78 | 3/11/13 | 5/14/14 |
| SD | Sandridge | 345.03M | 4.82 | 5.98 | 24.07 | 6/11/13 | 12/31/13 |
| IDIX* | Idenix Pharmaceutical | 3.71B | 4.44 | 24.50 | 451.80 | 12/31/13 | 8/4/14 |
| OABC** | OmniAmerican | 303.34M | 21.30 | 24.98 | 17.28 | 12/20/13 | 9/29/14 |
| BP | British Petroleum | 121.36B | 42.03 | 45.21 | 7.57 | 8/7/13 | 9/9/14 |
| TM | Toyota | 206.93B | 74.09 | 127.60 | 72.22 | 2/17/10 | 1/8/15 |
| MEG | MediaGeneral | 2.13B | 7.53 | 16.95 | 125.10 | 4/13/13 | 2/20/15 |
| TEVA | Teva Pharmaceutical | 52.05B | 39.29 | 56.56 | 43.96 | 3/18/13 | 2/20/15 |
| MU | Micron Technology | 19.00B | 18.80 | 32.02 | 70.32 | 9/17/13 | 2/20/15 |
| NFBK | Northfield Bank | 731.03M | 11.64 | 14.85 | 27.58 | 5/23/13 | 3/20/15 |
|   |   |   |   |   |   |   |   |
* IDIX was bought out by Merck (NYSE:MRK).
**OABC was bought out by Southside Bank (NASDAQ:SBSI).
To help us select undervalued stocks, we employ many different methods to determine that a company's stock is indeed undervalued. We look at P/E, P/B, Free Cash Flow, market conditions, technology, Market Cap, EBIT, EV/EBIT, Revenue Growth, Book Value Growth and many others. We conduct extensive research looking mostly at the facts and numbers reported in the SEC documents, earnings reports, news reports, press releases, sector trends, special events and others. Very little of our determination is based on opinion. Opinions don't put money in your pocket, facts and numbers do.
The Pool Approach
Currently we offer a pool of undervalued investment ideas that you have at your disposal. Each research report is designed to meet your needs and ours. Each identifies the undervalued stock, the undervalued buy price, the estimated fair value price, how it compares to other in its sector using over 30 value indicators, the thesis of the investment, why it is an opportunity, what are the company's strengths, its weakness and its threats. All backed up and based on facts and the numbers, not someone's opinion who may have an agenda. You can see an example here in our HP report.
We believe we are making a difference based on some of the comments we have gotten from our work on Seeking Alpha, here are a few noted here:
" I appreciated the perspective your research shared. I'm looking forward to future contributions from your group." Brando S.
"Regarding HP, what's not to like? Low debt, decent fundamentals, steady management, nice dividend. Now's the time to buy this one, IMO. Thanks." Stan F
"Valuable information US Steel. Thanks." Kartik S.
"Insightful information by Port Wren in this research. Please share with us whenever you decide to initiate position in this company." Hussein H.
Some Numbers
We develop around 20 to 24 reports on individual undervalued companies per year. With our subscription service, you are in total control. You can access each and everyone. Then you can decide to invest in one, two, all or none. We are independent researchers trying to find undervalued stock to achieve above average returns, just like you. We don't make money on which stock you buy, or sell, nor do we sale any funds, or products. We only offer the research. You can have total access to our independent investment research that promises to save to hours of your time, cuts through all the noise, opinions, and market clutter and that helps you make better more informed investment decisions. Typically, we write research reports on 20 to 24 companies in a given year, based on the number of undervalued stocks we find and feel are worth investing. Thus you are paying in the neighborhood of $20.00 per report. That is less than most people spend on coffee in one week, or it's about $1.30 a day, which is less than a cup of coffee. Not to mention the return potential. When was the last time you coffee house earn you any income? For only $475, you have total access to 20 to 24 exclusive independent research on promising stocks, an ongoing stream of new investment ideas,using distinct contrarian strategies, with buy and sell recommendations with a proven history of above average returns. So, what are you waiting for? Sign up today for a better financial future tomorrow.
In Summary
We offer this insight to help clarify our purpose and hopefully to help you in your investing goals. We have reached out to some of our followers to try to gain additional information as to your needs. Thus, we are offering a single research report on a covered stock. This is a higher price per report. But it is an option that might serve your needs better. It helps you confirm your thoughts on the stock before you put real money down. Also, some have indicated a need to have research conducted on a single stock of their own selection that they wish us to conduct the research prior to their investment to ensure the buy price is below the fair value price. Please feel free to send us a message with your thoughts, suggestions and recommendations on either the "Covered Single Research Report" approach, or the "Self Selected Stock Research Report" approach and any other aspects we could provide that would help you in meeting your investing objectives. We are very interested in your thoughts, questions, comments and want to hear from you. So, send us a message with your questions or comments.
Best Regards,
Michael
Michael Osteen, MBA
Chief Investment Research Officer at Port Wren Capital, LLC.
Additional Disclosure:
Port Wren Capital members receive exclusive independent research on numerous value investing opportunities. The same ones we invest in ourselves. Port Wren Capital only focuses on undervalued US stocks seeking above average returns, using distinct contrarian strategies and margin of safety. Michael Osteen is Chief Investment Research Officer at Port Wren Capital, LLC.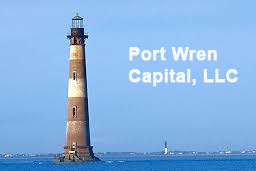 While every effort has been made to ensure accuracy in this document, no responsibility can be accepted for errors or omissions. You understand and acknowledge that this is not to be intended as investment advice, it is solely for general information and you are advised to perform your own research and due diligence prior to making any type of investment and that investing in stocks involves risks that could result in part or all of your capital invested.
Contact Information
Electronic mail: info@portwrencapital.com
Web Site: http://www.portwrencapital.com
Twitter: twitter.com/portwrencapital
Additional disclosure: We have positions on some, but not all, of these tickers covered in this specific blog.