Summary
Leading indicators are still showing bullish future
Recovery of US economy with less potential of rising interests rates in near future is a good sign for housing market
Rising willingness of banks to lend money seems like a good indication of further market expansion
All the companies earnings are beating market expectations
The worst thing about investment in housing market is the competitiveness of the industry. All the companies are heavily pressured to build with low costs which makes their profit margin much lower. It´s also hard to get any competitive advantage in sector where people really don´t care about the brand or anything else. They only thing that they care about is the price. For those reasons it is always harder to find some good buyers. But once you see building permits rising as they do you should definitively consider to check out for some buyers.
Permits Authorized
This leading indicator is one of my most favorite. Not only it predicts the return of housing stocks, but it also shows willingness of banks to lend money. I always like to think of the guys in the banks as smart ones. If the banks are actually lending money its a very good sign for economy overall. And as you can see from the chart banks are lending the most money since 2007.
The other question is: Why would a homebuilder or a construction company bought a building permit (which costs thousands of dollars) unless they think that there is going to be a demand for it?
Building permits (NYSE:BP) is a very powerful indicator of housing sector and health of US debt market. As you can see BP is in a very strong uptrend and crossed its own linear average after last survey. This should give you enough confidence to start looking for some buyers.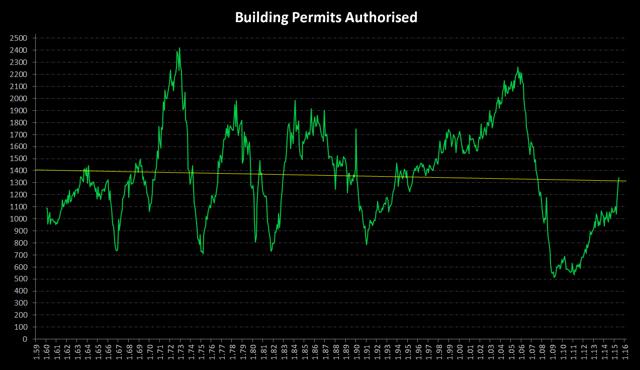 Housing starts
This indicator is helpful to insure that the idea is worth committing capital. Housing Starts follows BP and confirms if all the permits were any useful. HS is still in strong uptrend getting closer to the linear average after the last report which ended up 1174 from previous 1036.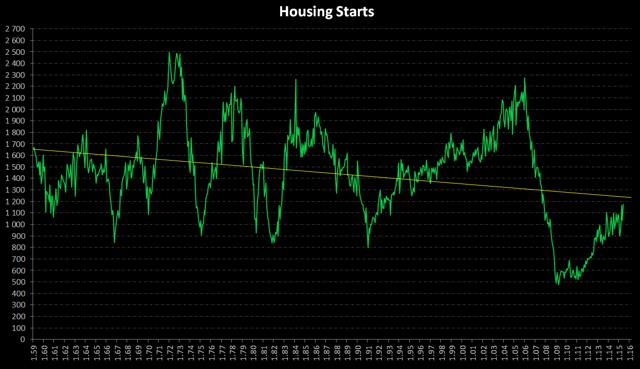 Disclosure: I am/we are long DHI, TOL.