Summary
Iranian nuclear deal attracts investors to the oil industry again.
XOM has the capacity to lead the industry.
Even with the recent drop in oil prices, XOM still beats its competitor CVX.
XOM, a powerhouse of a company, has seen decent volatility in its price due to the given financial environment surrounding the price of oil. Oil is much cheaper now compared to this time last year.
Due to the new nuclear deal reached, Iran will now start exporting much of their oil that has been in storage. They rank 4th in the world for crude oil reserves: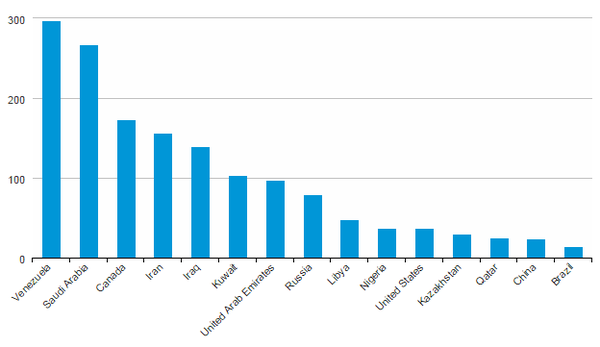 (SOURCE: EIA)
We can expect the price of oil to substantially rise finally as oil companies have started to show an interest in Iran which could yield significant investments. With the price of oil looking to recover, all signs point to an increase in the price of XOM and rival company CVX.
XOM has more capacity to keep dominating the oil industry. With a market cap of $344.61B compared with Chevron's $177.89B and earnings of $4.9B, there is a bullish sentiment ahead for Exxon Mobil.
Here is a breakdown of how they match up to CVX:
| | | | | |
| --- | --- | --- | --- | --- |
| Company | Gross Income | Market Cap | EBITDA | EBITDA Growth |
| XOM | $78.97B | $344.61B | $51.38B | -15.71% |
| CVX | $20.04B | $177.89B | $36.86B | -11.36% |
With the recent volatility in oil and struggle for the price of oil to recover, XOM has seen a less of a percent drop compared to CVX.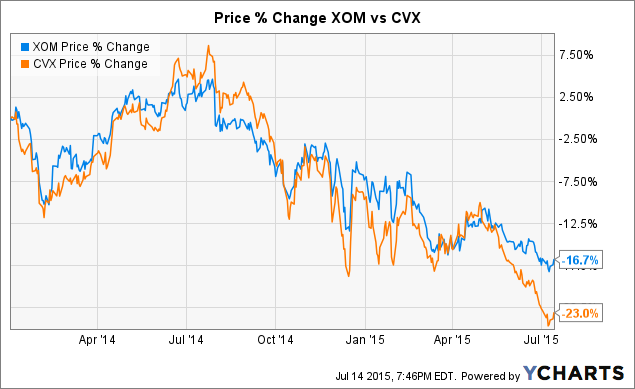 In conclusion, Exxon Mobil is a titan and an oil giant, and as the oil industry starts to grow again, Exxon Mobil is going to continue to take the lead. Both XOM and CVX have adopted long-term growth, but XOM has more capacity surge ahead. With the Iran nuclear deal, as Iran is now able to export its oil, hopefully we can expect there to be more of an interest from investors in the oil industry and thus an increase in the price of oil.
Additional Disclosures
I am a finance student, not a financial advisor so please do your own research and consult your own financial advisor before making any investments or financial decisions.
Disclosure: I/we have no positions in any stocks mentioned, and no plans to initiate any positions within the next 72 hours.