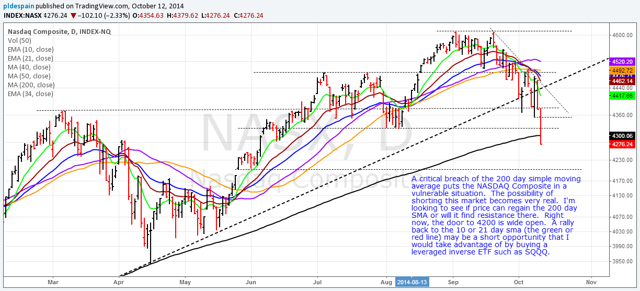 I wrote a blog post earlier this week explaining that I'm not ready to short this market until we get a close below the 200 day moving average on the broad indexes. The NASDAQ did that Friday on increasing volume showing institutional selling and forcing me to entertain the idea of making some short plays. I'm not a frequent short player and only do so in bear markets. I'm not making a prediction on where the market is headed but all corrections no matter how deep begin the same way; a cluster of institutional selling sessions which is what we've had over the past two weeks. Considering this and the fact that the NASDAQ hasn't closed below the 200 day SMA since December 2012, Its time for me to have a plan to profit from a weakening market.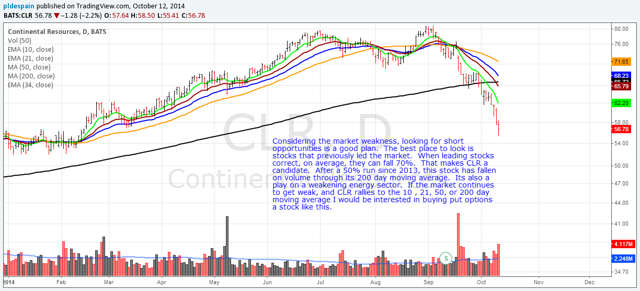 This is a pivotal moment for the market. If we can find support here and get some big volume up days, I'll continue with my long strategy of buying leading stocks such as GILD and using leveraged index ETF's. If we can't find support here and actually find resistance at the 200 day simple moving average I will buy put options on former leading stocks that are breaking down such as CLR and SWKS and buy leveraged index ETF's such as SQQQ on rallies to the 21,50, or 200 day moving average. I also find the rally in bonds interesting and may use the ETF TLT to take advantage.
I have been raising cash for about 2 weeks now waiting for the market to show what trend it will take next. It seems that we are at a key moment heading into next week and should get some indication on the markets next move. Up or down, whichever direction the market looks like it will mostly take, I will have a plan to profit from both.
Disclosure: The author has no positions in any stocks mentioned, and no plans to initiate any positions within the next 72 hours.