Everyone knows the U.S. Treasury and Federal Reserve have created billions of dollars out of thin air and pumped up banks and insurance companies and auto makers and many other areas of the economy with those billions of dollars in stimulus and bailout programs. Furthermore, they are trying to get other nations to make similar stimulus efforts.
That's a widely accepted established fact as nearly every business and government unit seems to be coming up with ways to get their hands on a piece of the action. 
Everyone knows that so many new dollars and such reckless spending will lead to higher inflation and interest rates. Well, that's not a fact – yet. But for anyone who can connect the dots, it seems like a logical outcome. 
If recoveries in the stock market usually lead recoveries in the economy by 6-9 months, as commonly believed, then it appears the economy should start becoming healed this fall following a rise of 35% in key stock indexes since the lows in March. If that is the track the economy is on, then perhaps it's time to start looking at VantagePoint charts with an eye on a possible shift from the recent focus on deflation to the anticipated inflation scenario. 
It seems unlikely that the current stock market rally can continue without some kind of setback, and there are plenty of potential catalysts for a sharp down draft that could sidetrack thoughts of a bull market or economic recovery in the near term. We tend to look at the shorter-term trading picture, but for those who look further ahead, it may be prime time for intermarket analysis to provide clues about the investment climate for the next few years.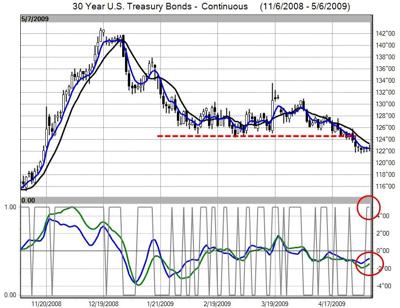 Let's start with interest rates. After unprecedented intraday volatility last fall, 30-year T-bond futures fell from above 140 into a trading range between roughly 125 and 130 from February to April. In the last week or so, however, bond futures have dropped through the bottom of the range (red dashed line) to below 122.
For those not comfortable with bond futures and the expiration cycle of futures, the iShares TR Lehman 20+Year Bond Fund (NYSEARCA:TLT) is an exchange-traded fund with a similar looking chart.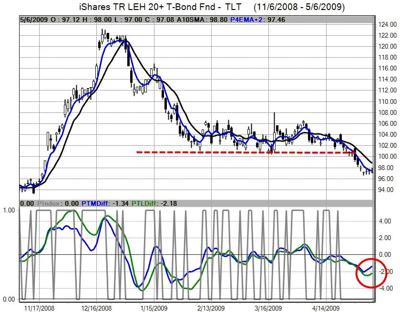 If these charts continue lower, it means higher interest rates, and bonds are showing signs of being ready to crack despite the Fed's involvement in buying $300 billion of long Treasury instruments. VantagePoint's predicted medium-term and long-term moving average differences have turned up and the neural index reading for bond futures is 1.00 (red circles), indicating these markets could be ready to turn back higher. 
One ramification of higher interest rates is that they could put pressure on other investments such as stocks if investors opt for the safer, higher fixed-rate instruments rather than take the risk of stocks. Meanwhile, the stock market advance, represented by the E-mini S&P 500 Index futures chart below, shows little sign of letting up after a VantagePoint predicted moving average crossover indicated the start of the uptrend in March (red circle).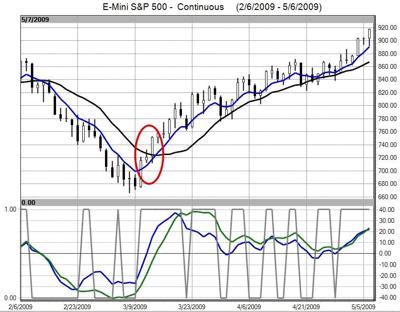 There are other signs that higher inflation rates may be on the way. After its astounding peak above $147 a barrel last July, crude oil futures have spent most of 2009 floundering between $35 and $50 a barrel. But crude oil has stepped up to a higher plateau, with the VantagePoint chart below showing an upside moving average crossover and the predicted moving average differences pointing upward (red circles) and prices breaking above highs for the year (red dashed line) Wednesday.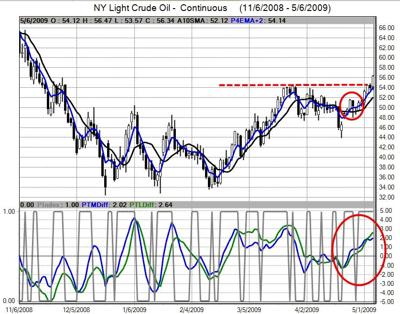 Another example is copper, one of the best commodity gauges of economic activity. Copper futures prices have risen 67% since the first of the year. But gold and silver prices, while moving up this week, aren't in that crowd yet. 
Now, we are not beating the inflation drum and suggesting everything is ready to jump on the bull ship. There are still too many obstacles ahead to jump to that conclusion. But it is an eventuality for which a trader must be prepared.
 
Disclosure: No positions