Bottom Line:
The market is closed today but there's always something to look at. Here's a brief update of some of the data points I've been talking about recently.
NAAIM:
In my last article one of the sentiment data points I mentioned was the NAAIM survey. In this week's most recent survey professional money managers have gotten even more bullish.
NAAIM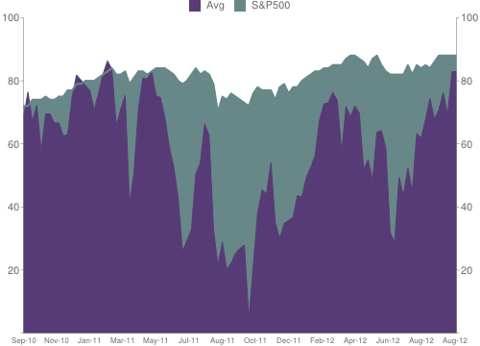 This week's average jumped to 82.89% fully invested (up from 69.21%). This was most extreme readings since late April of last year, which also happened to be the head in a head and shoulders formation.
DJIA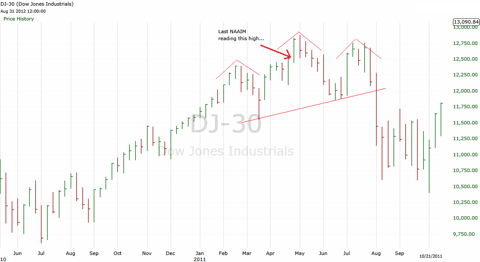 According to the survey the largest net long position(s) was 200% long (long and employing leverage), while the smallest short position was only 10% short. The first quartile was 60% long the market. They didn't think so initially (when the market was low), but now managers are convinced the market is going higher. Similar statistics in a survey have almost always led to immediate or near term corrections.
VIX Futures
I also recently discussed the low VIX reading as well as the skewed put call ratio and how in recent history similar situations have led to immediate or near term corrections.
From last week's updates, the S&P vs VIX cash: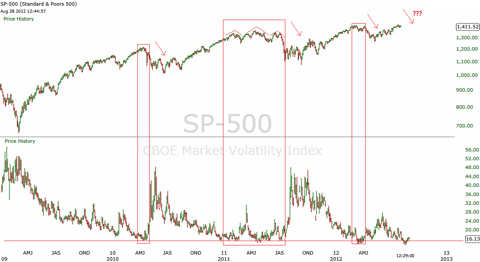 This week's most recent COT report seems to confirm the view that volatility should be picking up.
VIX, September contract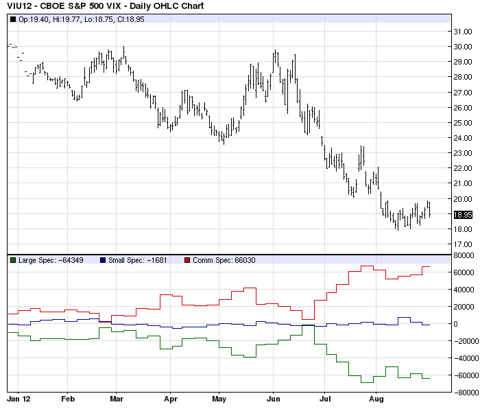 The last several weeks commercial hedgers, or the smart money, have been consistently building on a huge net long position in VIX futures. Conversely speculators have been building a huge net short position,which seems pretty dumb to me considering that spot VIX hit around 13 about a week ago. I suppose it can always fall more, but history has shown that a spot VIX in the low teens has consistently been a floor for volatility (BTW, VIX related ETFs are terrible instruments for playing volatility... Yes they can spike quickly, but due to the large carrying costs associated with contango in the terms structure, these ETFs are almost always intermediate/long term losers).
In fact looking at the broad spectrum of equity index futures it appears to me that commercial hedgers have been building large net short positions, while speculators continued to add to longs. Historically this has almost always been a negative for the equity markets 3,6 and 12 months out. I'll continue to watch to see if their net positions in the equity futures becomes even more extreme.
Good luck trading this week, we'll talk again soon.
-Bill L.
Disclosure: I am long SPXS.