Bottom Line:
Obviously I've been wrong in my thinking that the rally off the June 4th lows was a retracement rally within a larger topping pattern. That said, the Fed/ECB liquidity fueled rally has pushed nearly everything I look at to overbought or near overbought levels.
Indicator Score:
Bullish: 5%
Neutral: 10%
Bearish: 85%
Aggregate Interpretation: Nearly every short/medium/long term technical indicator I watch is now overbought or nearly so, with a few stragglers that have to do with volume (see Thursday's update). The only indicator that is currently positive is price momentum.
Indicator Snap-Shot:
Percentage of Stocks Above Their 20 DMA: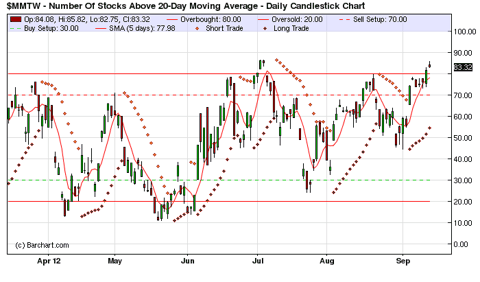 Notes: One of the most overbought readings since the early July.
NYSE McClellan Oscillator: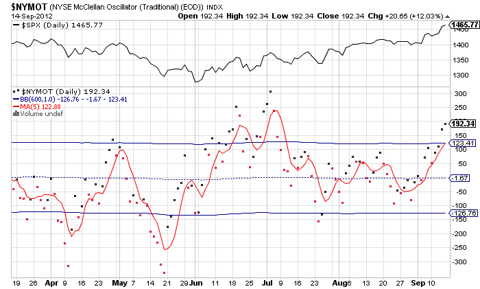 Notes: Reaching overbought today (> 1 standard deviation).
NYSE New Highs - New Lows: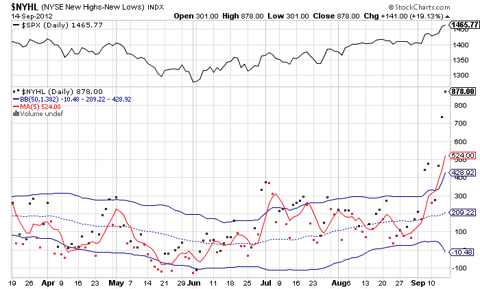 Notes: New Highs - New Lows has exploded past the 1 standard deviation mark, which has in the past has served as an "overbought" reading mark.
Notes: The 5 DMA is just under the overbought level. This level is likely to be exceeded Monday as drop off effect removes the low reading from September 10th.
NYSE Up-Down Volume: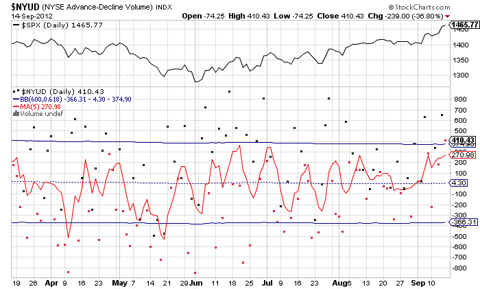 Notes: Similarly, up-down volume is right at overbought levels.
NYSE TICK: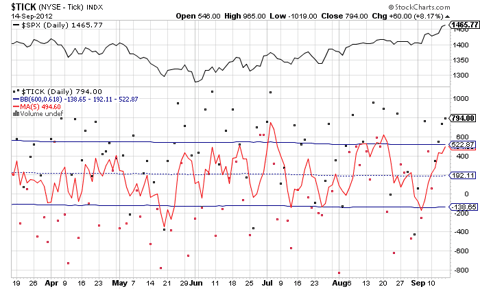 Notes: The same can be said for the NYSE TICK.
NYSE TRIN: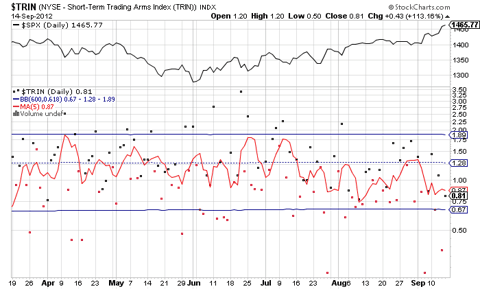 Notes: The TRIN is also flirting with overbought levels. The last time it was at such levels was August 9th, and before that, late March, where the S&P was about to enter a multi month correction that took the S&P from 1420 to 1280 over the next 2 months.
NASDAQ McClellan Oscillator: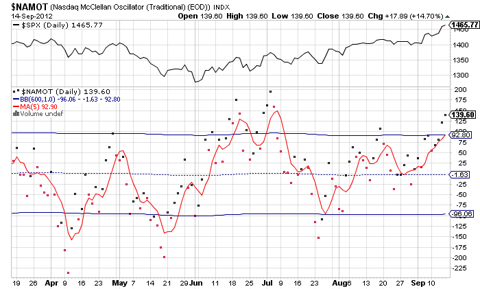 Notes: Like its NYSE counterpart, the NASDAQ McClellan is now overbought.
NASDAQ TRIN: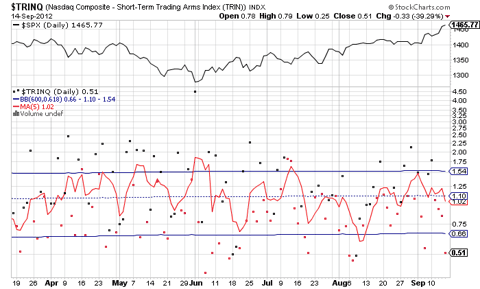 Notes: The indicators that are straggling have been volume related, such as the NASDAQ TRIN, meaning while more stocks are making new highs compared to lows, the stocks that are declining are doing so in a disproportionately large amount of volume.
Put/Call Ratio: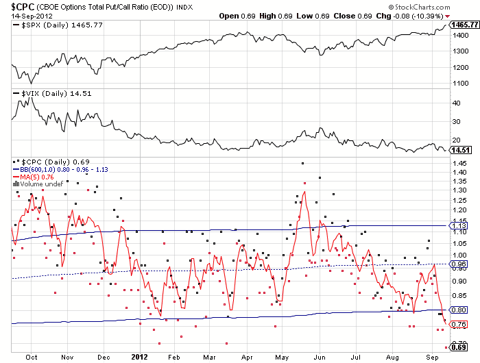 Notes: The 5 DMA for the put/call ratio has once again dropped to levels indicating an abundance of optimism among option speculators. Meanwhile, looking at this week's COT report, commercial hedgers have built a huge net long position in VIX futures, indicating they expect the VIX to rise. Generally that's a negative for equities.
Price Action:
Dow Jones Industrial Average: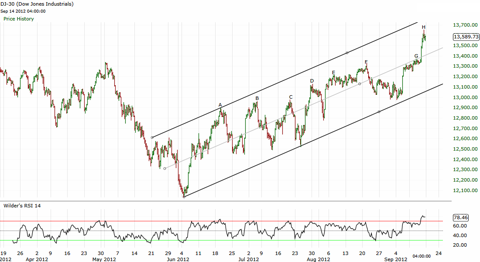 Notes: The DJIA is at new highs but is coming close the top of the upward sloping trend channel. So far the other Dow indexes are not confirming. Dow theorists would note this as a bearish non-confirmation though this condition has been going on for months now. So while it may be foreshadowing something, for now, Charles Dow isn't saying much about immediacy.
Dow Jones Transport Index: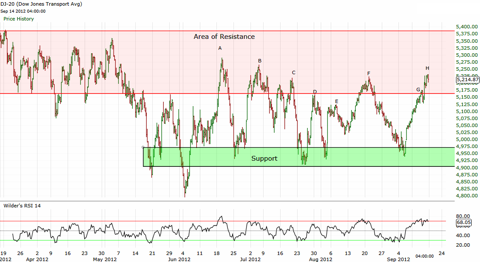 Notes: The transport index has risen back into it's zone of resistance. Intra-day RSI is at overbought levels. This area has turned back prices several times since the index peaked several months ago (February closing high, or in March on an intra-day basis).
Dow Jones Utilities Index: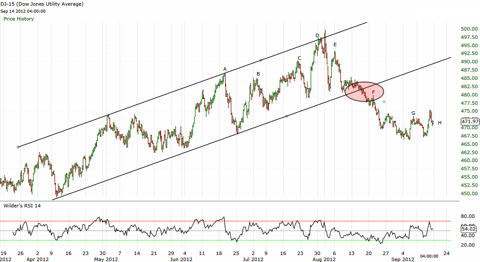 Notes: The Utilities index has been leading most of the year, but has in the last few weeks broken down out of its upward sloping trend channel. Furthermore, Friday, the index retraced about half of it's post Fed pop. Whether this index will continue to lead, or this is the safety trade unwinding, we can say that both indexes are not confirming the industrial's move, which I grade as a negative.
Others Notable Notables:
According to both www.insiderscore.com and www.insiderinsights.com insiders are selling into the rally, this week selling outpaced buying by about 2to1 in terms of dollar amount.
Looking at this week's COT report, Commercial hedgers (generally considered the smart money) added to their net short position. Looking at the full and mini sized contract for the Dow, NASDAQ, Russell and S&P, they've built of the largest short position in over 4 years, approximately $30,000,000,000 worth of contracts...
According to www.trade-futures.com and their Daily Sentiment indexes, public sentiment for the US Dollar has dropped to extreme levels. Since the bottom for equities in 2009, this has almost always coincided with a bottom for a dollar and a top for equities.
Summary:
Like I said in Thursday's update, the big picture in my opinion is far from being bullish. That said, I have to wonder if the Fed has completely changed the playbook. Do valuations matter? Revenues? Income Statements? Technicals? It seems right now the market only cares about "when is the next bailout?"
In my opinion it's a tactical mistake on the Fed's part to announce an easing when the market is at a peak. In the past they've always made such announcements when the market was threatening to break down. Should the market drop now, when they've effectively announced the Bernake put will never expire, it could shatter the illusion the Fed has control of the market. Imagine if we have a 20% correction right after they've announced QE3, it could shatter confidence and lead to something much more prolonged.
In my experience moves like this tend not to end on a spike, but rather a lower powered move higher that produces many visible divergences. I'll be on the lookout for such a move, and I'll of course update the blog should this happen.
Talk again soon,
-Bill L.
PS - I'll officially be an uncle, most likely tonight, and I'm driving back home for the occasion, the next blog entry may be delayed a few days. Have a good weekend, and good luck trading next week.