Bottom Line:
The last time we spoke the market looked setup up to rally; indicators were very oversold, sentiment had dropped off a cliff, and seasonal patterns were generally positive. But that was then, and this is now. Now, the situation has almost completely reversed.
Short Term Indicator Summary:
Bullish: 0%
Neutral:15%
Bearish: 85%
Aggregate Interpretation: Indicators have gotten extremely overbought, sentiment has recovered (according to some indicators, covered below), and seasonally, we're in a sort of gray area until closer to Christmas. In short, the exact opposite situation from one that prompted me to get bullish just a few weeks ago.
Indicator Snap Shot:
Percentage of Stocks Above their 20 DMA: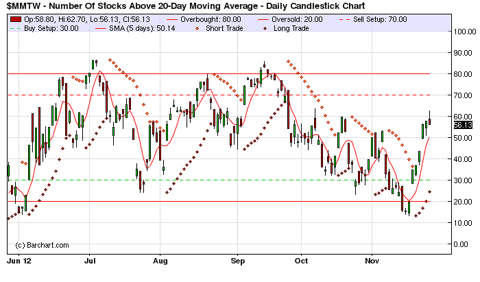 Notes: Not quite overbought yet, one of the few "neutral" readings.
NYSE McClellan Oscillator: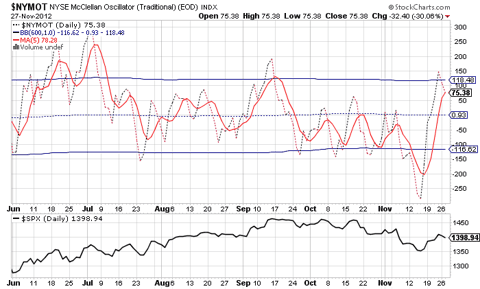 Notes: From very oversold to overbought in just a few days.
NYSE Advance - Decline Line: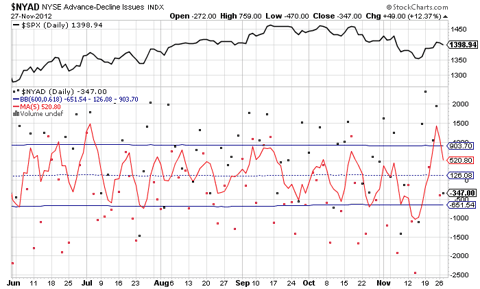 Notes: The most overbought reading since early July. While that didn't lead to a long term decline, the SPX did fall nearly 5% in 5 days.
NYSE Up - Down Volume: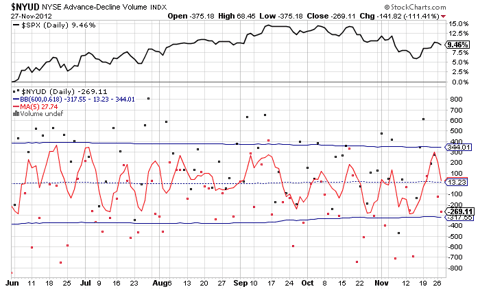 Notes: Peaking; near levels where most short term reversal occur.
NYSE TICK:
Notes: Similar to the AD line, the TICK has a very overbought reading. The last time the TICK was this high, the SPX fell from 1375 to 1325 in 5 trading days.
NYSE TRIN: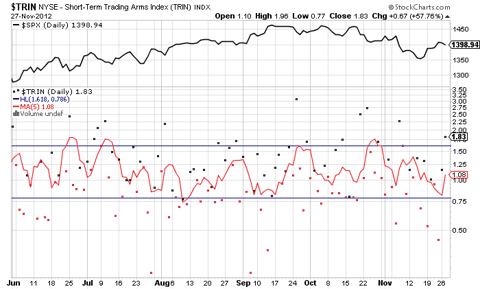 Notes: A very overbought TRIN.
Put / Call Ratio: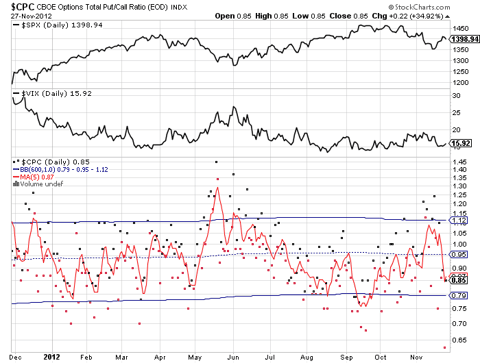 Notes: From scared witless to complacent in just a few days.
SPX: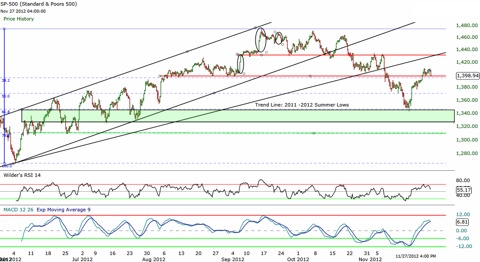 Notes: The MACD and RSI both look negative. Furthermore we're right under two important psychological levels; the EU "we will do anything takes" remarks, and the QE Infinity announcement. If we break lower from these levels, that could really shatter the confidence the market has in the Fed's ability to manipulate the market higher.
Good hunting!
-Bill L.
Disclosure: I am long SPXS.