Trading deals with probabilities, not certainties, and while it is possible that the failed head and shoulders pattern may morph into a complex head and shoulders pattern (more than one shoulder), it is more likely that with today's strong price action (with curiously lacking volume) the pattern has been invalidated. Part of the complexity or trading a head and shoulders pattern is that traders are at risk in assuming a breakdown because a failed pattern essentially is a descending triangle break out, one of the most bullish break out patterns.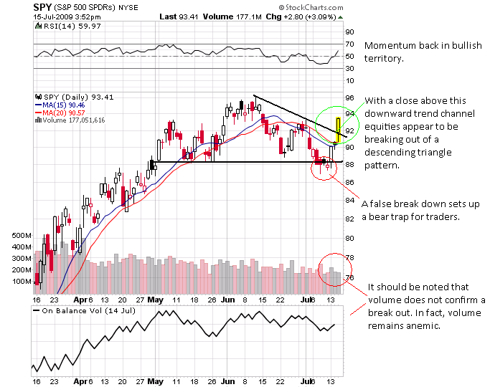 The target for this pattern, the height measured form the base to the top of the pattern, would put the SPY over the previous high somewhere at the 102 level.
On another note, the overall pattern of this over market resembles the market gyrations to the great depression almost to a t. In fact, without labels one could easily mistake the movements of the Dow during the great depression to its behavior now. After the crash, the market rallied 46%, then fell 10% (the correction we just had?), then rallied again 26%, before falling 26%. This behavior pattern concurs with the triangle breakout…
I've been using the 15/30 exponential cross as a signal (due to a 60 day cycle I believe I've isolated) and that looks like it's about to cross to the upside. This signal has had only two whipsaws this year but also allowed the most profitable trends to have been captured this last year. Overall however, I have to admit that I'm largely confused with this most recent upside thrust. The lack of volume, catalyst, and perhaps logic have left myself and many other perplexed. But for now, for whatever reason, it looks like the markets want to go higher.
Disclosure: no current position in the SPY.