Housekeeping:
First of all, happy new year! Personally, I spent new year's eve in bed with the flu, a high fever, chills, and a dog that wanted to be walked more often than usual despite the 20 degree weather. Anyway, I've been searching for hosting and working on the new website. If anyone has any recommendations on hosts, I'll be glad to hear your thoughts and experiences with different hosts.
The tentative schedule for 2013:
A long term update will be put out on the first of the month discussing the long term trend and long term indicators.
Short term updates will be published on Mondays and Wednesday discussing the short term indicators and price action.
A short comment will be published on Tuesdays and Thursdays.
Friday's will have a short market update, as well as a full sentiment update and review for the week.
A possible laid back weekend podcast where I and some other traders will take your questions, discuss current financial conditions and other things on our minds.
When the website goes up I'll start to slowly move the posting to the new site.
Bottom Line:
Congress has fixed everything. Right. If you believe that, I have a bridge I'd like to sell you. The manner in which these "leaders" handled the situation is shameful. Term limits anyone? How many times are we going to be taken to the brink? Anyway. Before my influenza induced break I noted how the indicators had gotten overbought, and the market subsequently pulled back. That all ended abruptly as congress finished procrastinating and put forward a bill averting the fiscal cliff. The problem is, that whether we "go off the cliff" or a deal is done, taxation in one way or another is going to go up.
Price Action:
SPX: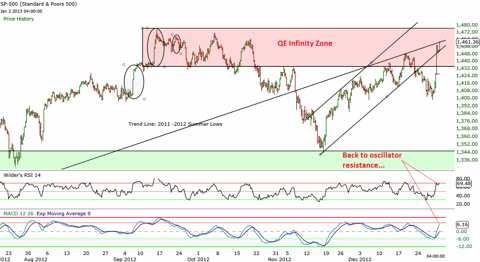 Notes: Stocks rallied sharply back into QE-Infinity zone. Psychologically, this area is very important as a breakout from this area means yet another round of QE is going to "work." If the market breaks down here, that would in my opinion be the first sign that the Bernake put has expired.
Indicator Summary:
Bullish: 10%
Neutral: 55%
Bearish: 25%
Aggregate Interpretation: The last two days have propelled everything upwards, though not to a point that I would expect a reaction. There's no real strong consensus among the indicators, thus there's no real strong trade.
Indicator Snap Shot:
Percentage of Stocks Above 20 DMA: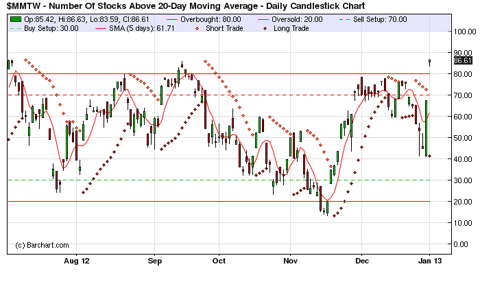 Notes: Wow. This indicator has definitely been pushed into overbought territory, but this isn't a clear signal to short. I've not seen a move like this in the indicator since some of the crazy swings in late 2008. Looking at the 20 DMA's older longer term brother (% of stocks above the 50 DMA), the market on a longer term basis is also approaching a frothy state.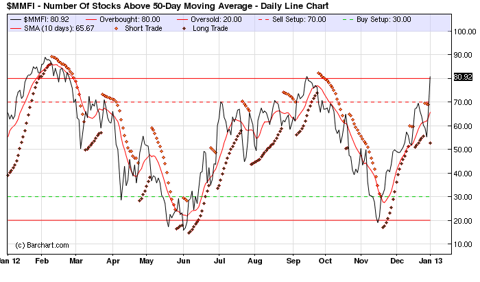 NYSE McClellan Oscillator: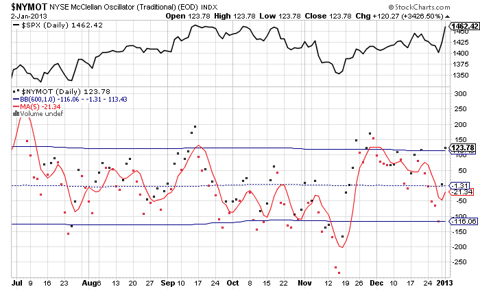 Notes: The one day close was over the one standard deviation mark, though it's the 5 day moving average I pay attention to. Thus, this important short-to-medium term indicator is in neutral territory.
NYSE Advance - Line: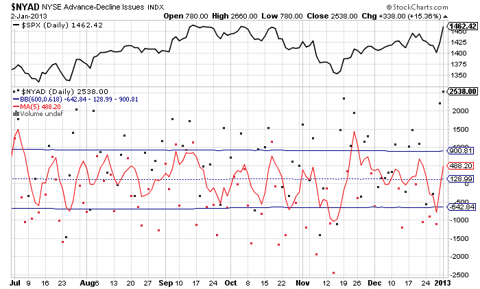 Notes: An extreme one day close though the five day moving average is just in the "high neutral" range.
NYSE Up - Down Volume: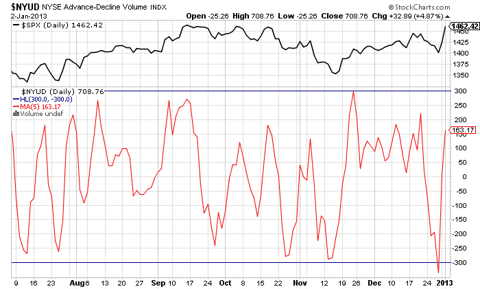 Notes: Again, the 5 day moving average has moved up sharply, though it's not in the extreme range. This could easly change tomorrow from the drop off effect or another big upday.
NYSE TICK: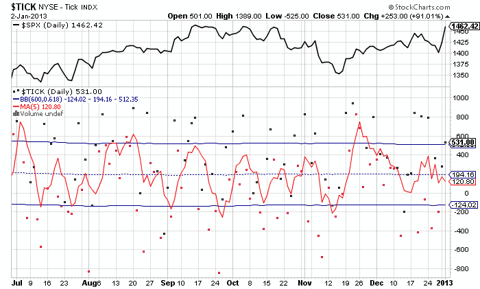 Notes: Curiously the TICK's close wasn't nearly as extreme as the other short term indicators, and the NASDAQ TICK was actually negative. The 5 DMA is again, in the neutral territory.
NYSE TRIN: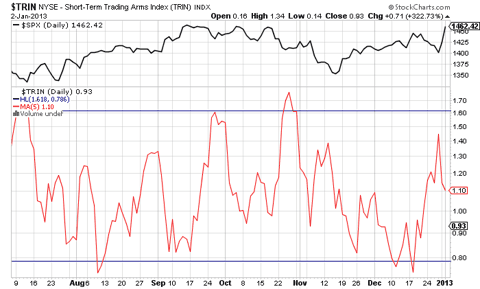 Notes: The TRIN has been one of the best performing indicators as of late, so I've been paying extra attention on it and placing more weight on it when making trading decisions. That of course can change, but it always pays to know what's working and what's not.
Put/Call Ratio: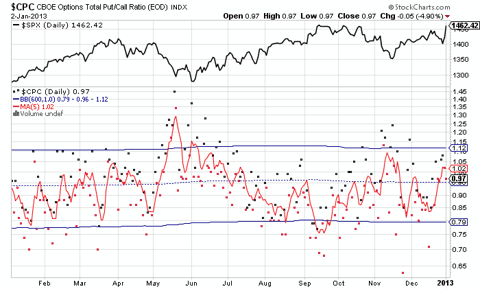 Notes: It may have been a huge day of the indexes, though you couldn't tell if you were just watching the put/call ratio. A mild call side bias today. The VIX on the other hand has absolutely collapsed, falling over 18% in back to back sessions, something that has never happened before as far as I can tell.
Summary:
Well we've had an exciting start to 2013, but this blog is all about finding low risk, high reward opportunities and right now, based on where all the indicators are at, one does not exist at the moment. I'm not willing to risk my money betting on either direction. Time for the boring part of trading; watching and waiting.
Good Hunting,
Bill L.