Housekeeping:
Results are in, I'm pleased to report I've passed the CMT III exam. In other news, www.youtube.com/watch. All hope abandon ye who enter here. So this is the new fix? Really? *Gulp*
Bottom Line:
Despite the modest down day, most of the short term indicators I watch have reached extremes. Over the next several days I would expect the upside to be limited, with it being more likely that we see more of a drifting sideways to lower.
Price Action:
SPX: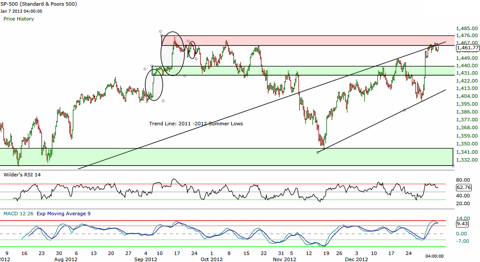 Notes: So the SPX is coming up against some resistance that was set back when the Fed agreed to prop up the market until they were satisfied. What ever that means. I think Junker already let the secret slip that they'll say whatever they think will have the most positive effect. What they're doing however... well, that may be something else. And no one has ever explained how the Fed is going to unwind its balance sheet without causing an equal and opposite reaction in rates.
I do believe however that this level is psychologically important to the market; people are waiting to see if the market can get past this area before deciding whether to commit new money. The market has taken a few stabs and failed, and based on how overbought everything looks, I don't think we'll manage this time either. Honestly, I think it's pretty amazing that the ECB, the Fed, and the BOJ (the three circled areas) all came out in a very short amount of time and pledged an unprecedented amount of stimulus, and the market 4 months later is basically unchanged.
Indicator Summary:
Bullish: 0%
Neutral: 5%
Bearish: 95%
Aggregate Interpretation: The VIX has set a new records in terms of back to back to back declines in volatility. Typically, such collapses in the VIX to such low levels result in poor market performance over the next 1 week to 1 month. The indicators hitting extremes at the same time adds to this message.
Indicator Snap Shot:
Percentage of Stocks Above DMA: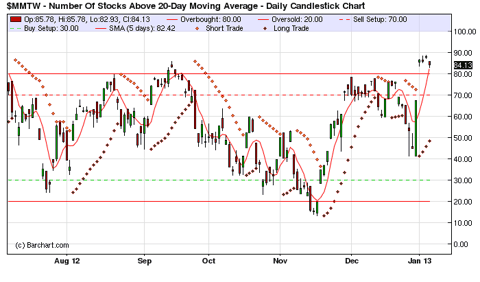 Notes: Continues to be register overbought. This level is reached infrequently, perhaps 3-5 times per year.
NYSE McClellan Oscillator: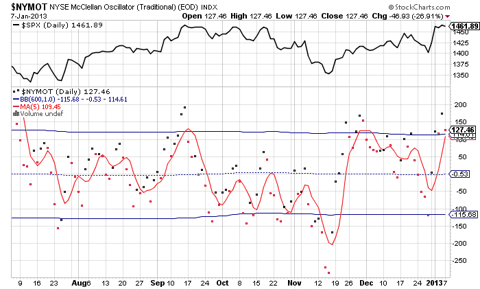 Notes: The 5 DMA has reached the 1 standard deviation mark, which I consider overbought. I never listen to any single indicator, and typically I'm looking for a strong consensus, which is what I'm seeing now.
NYSE Advance - Line: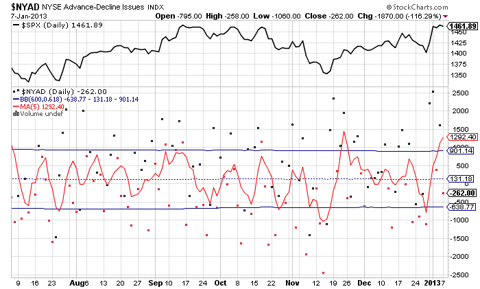 Notes:The AD line has also reached overbought status.
NYSE Up - Down Volume: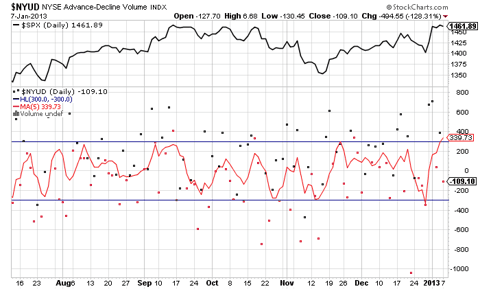 Notes:Again, overbought.
NYSE TICK: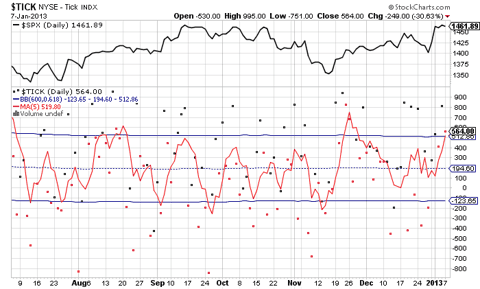 Notes: Overbought as well.
NYSE TRIN: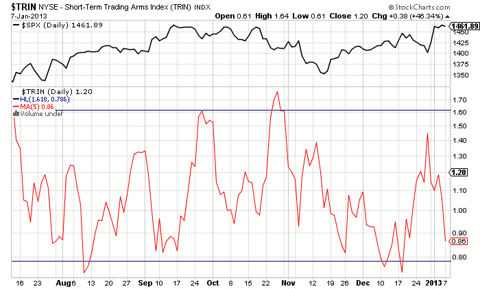 Notes: The TRIN has been one of the more consistent indicators the last few months. While this can always change, it pays to know which indicator has the hot hand. It's not quite extreme, but close...
Summary:
Historically when the VIX collapses like this, it has been a headwind for the market for weeks lasting up to a month. Combined with the overhead resistance, and the overbought short term indicators I'm not seeing a whole lot of upside at the moment. That said, we're still in a cyclical bull phase which has carried on longer than I imagined, which is why I'm not getting more bearish. Over then next few days I might fire off a small short or two, or I may look at some SPY puts. I don't expect this position to stay open for more than a few days if triggered or to be very large. Those playing longer term bullish positions should use the low VIX to purchase cheap protection while it's on sale or reduce longs.
Good Hunting,
Bill L.
Disclosure: I have no positions in any stocks mentioned, but may initiate a short position in SPY over the next 72 hours.