Bottom Line:
The short term indicators as well as the VIX continue to suggest that stocks should struggle over the next 1-2 weeks. If the market takes out the 1,360 November 2012 low (and has a monthly close below 1,360), my long term trend model will have been tripped and switched back "bear" mode. If the market is mostly just sideways, and the overbought conditions are alleviated, I would look at this as more of a "recharge" and another leg up would be likely. The best stance to take here is neutral on stocks.
Price Action:
SPX vs VIX: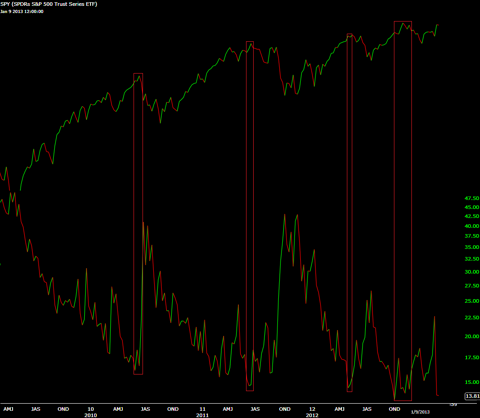 Notes: In my previous update I mentioned the low levels in the VIX were a headwind to further gains. In the chart above I've circled the other instances of weekly closes below 15 (and one below 16) and how such instances have almost always corresponded to near future weakness. While these declines don't look impressive when hidden within a recorded breaking rise, these declines were large (nearly -20%), multi-week declines.
$DJT: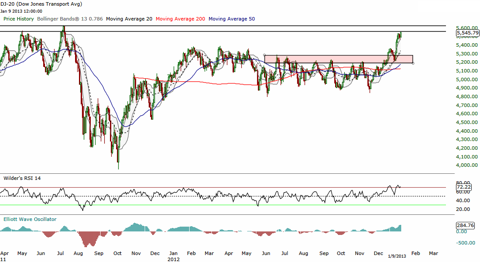 Notes: In the December 5th update I wrote "Should the transport index break out of this range, it's been consolidating for so long that the move out of this zone should be quite large." Since breaking above the top end of the range, the move has been swift and nearly vertical. According to Dow Theory, this is a positive, and new highs would once again confirm the long term bullish trend. That said, in the era of light speed HFT, and central back intervention, etc, I'm not sure how relevant this method of analysis is.
Indicator Summary:
Bullish: 5%
Neutral: 30%
Bearish: 65%
Aggregate Interpretation: The sideways action has somewhat alleviated the overbought indicators, though most indicators are still overbought.
Indicator Snap Shot:
NYSE McClellan Oscillator: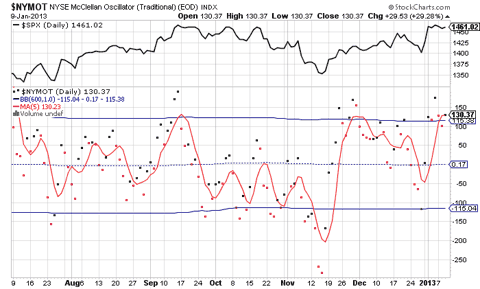 Notes: I've only included two indicators since they represent the group so well. On one hand the short/medium term indicators such as the McClellan remain overbought. On the other hand, most of the short term indicators such as the AD line (shown below) have pulled back somewhat to the "high/neutral" area.
NYSE Advance - Line: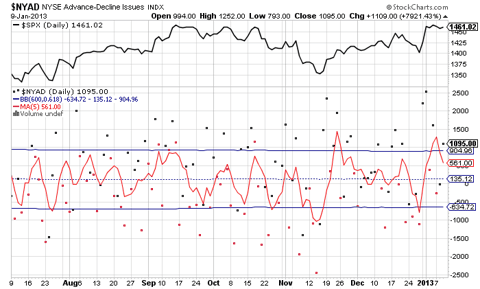 Good Hunting,
Bill L.