Bottom Line:
After another flat day, the SPX finally broke out of a tight range to new highs. That said, as Dave Landry likes to say, overbought markets create a "damned if you do, damned if you don't" type of situation. If you short an overbought market, it gets even more overbought. If you buy an overbought market, it immediately corrects.
The best course of action that I've learned (through pain) is just to sit and wait it out. An opportunity will present itself. Usually immediately after you're convinced that it will never happen again. In cases like this boredom is a major enemy of the trader. Good thing it takes a lot of repetitions to teach Shogun new tricks. Fun fact. Shih Tzus rank 70th (out of 1 being the smartest, 79 being the dumbest) in terms of dog breed intelligence, taking >80 repetitions to learn something new, and respond to the command the first time it is given less than 30% of the time.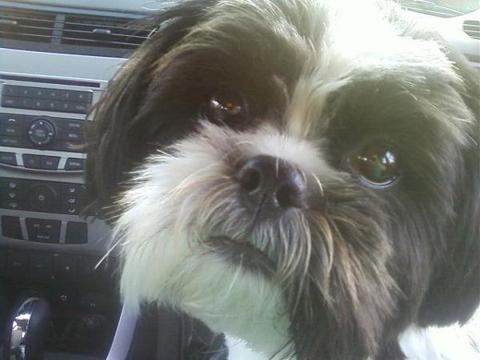 Sorry Sho. You're a dummy. But I still love you.
Price Action:
SPX: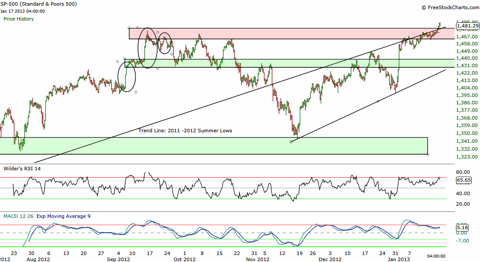 Notes: So today the SPX managed to just poke it's head above the zone of resistance set way back when the Fed announced QE-Infinity. Still by many measures the market is overbought, so in my opinion there's not a whole lot to do here but sit on your hands. At the risk of beating a dead horse, the VIX has absolutely collapsed and has even set a record for back to back declines. This has typically lead to very poor returns over the next few weeks. Furthermore, Rydex inflows have gone parabolic (especially in the Transports), which typically has lead to very poor performance near term. Caution is the name of the game.
Indicator Summary:
Bullish: 4.7%
Neutral: 33.3%
Bearish: 61.9%
Aggregate Interpretation: The last few sideways days have moved some more short term indicators towards the neutral area. Even with today's breakout, most of the indicators haven't moved much from yesterday's "luke warm" reading.
Indicator Snap Shot:
A quick snap shot of the most representative indicators out of the lot...
NYSE McClellan Oscillator: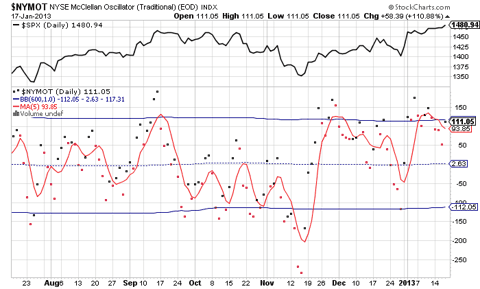 Notes: Still high...
NYSE Advance - Line: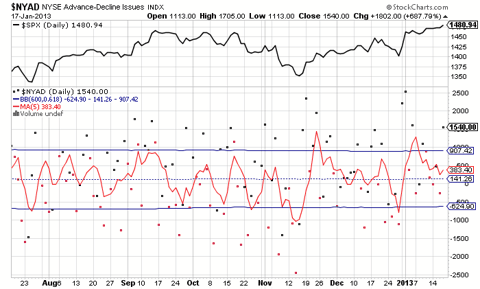 Notes: Neutral...
Summary:
It's a bit boring when my job is to find high probability setups and there are none currently on the horizon. The short side has not been paying off so I'm dabbling less and less there. So what would be a high probability setup that I'm referring too look like? A spike in the VIX, oversold indicators across the board with bullish divergences in the NYMOT, tanking sentiment etc. Get greedy when everyone is fearful. Right now however, according to several measures of sentiment (sentiment update tomorrow), fear is absent.
Good Hunting,
Bill L.
Disclosure: I have no positions in any stocks mentioned, but may initiate a short position in SPY over the next 72 hours.