Bottom Line:
New highs has gotten everyone in a good mood it seems. Most of the indicators of market sentiment I look at have become very elevated. While the aggregate message is not screaming "SELL!" it looks fairly obvious to me that caution here is warranted.
The Put/Call Ratio ($CPC):
Analysis: The VIX has recently set a record for back to back large percentage declines and the related put/call ratio indicator is exhibiting an extreme call side bias. Not a great recipe for near term gains. In fact these are indicating the opposite is much more likely.
Grade: Bearish
Investors Intelligence: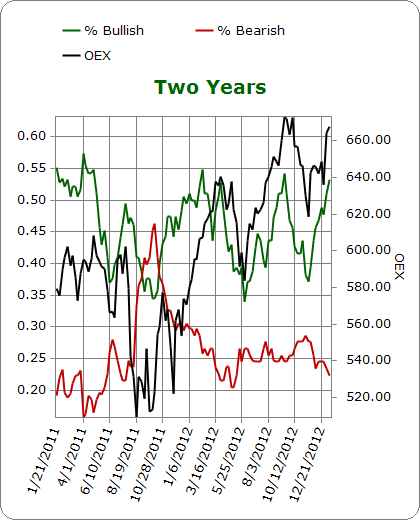 Analysis: The percentage of bullish newsletter writers has gone back to >50%. After all, who wants to write a bearish newsletter when the market is at the highest levels since 2007? Looking at the peaks an valleys though, it's pretty obvious that when these guys get onboard with the rally, it's usually time to get off.
Grade: Bearish.
The American Association of Individual Investors (AAII):
Raw Numbers: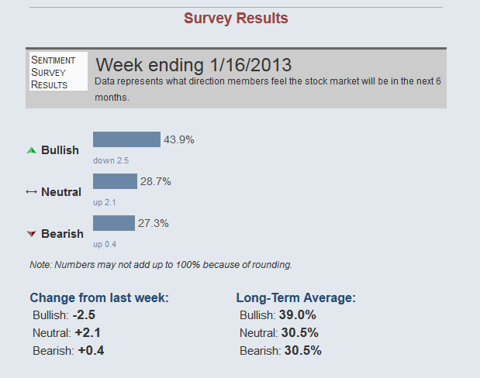 Bull - Bear Spread: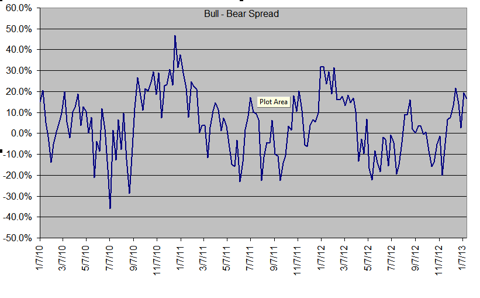 Bull / Bear Ratio: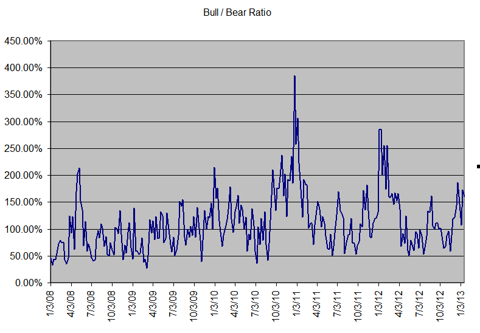 Analysis: So any way you slice it, the numbers are exhibiting a bullish bias, but are not really extreme. Individuals still seem to be less excited than the "pros." Probably from taking a beating the last ten plus years from listening to said "pros."
Grade: Slightly Bearish
CFTC Commitment of Traders (S&P e-mini contract):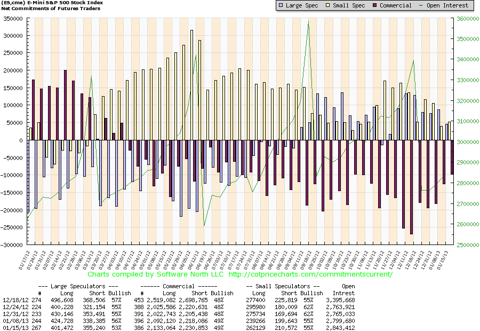 Analysis: Well ideally I would like to see the large specs and commercials on the same side, with the hapless small specs accumulating a huge position on the other side. Not really what I'm seeing here. Therefore this is a neutral.
Grade: Neutral.
National Association of Active Investment Managers (NAAIM):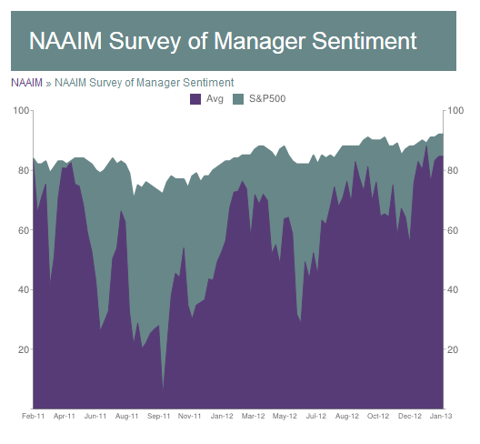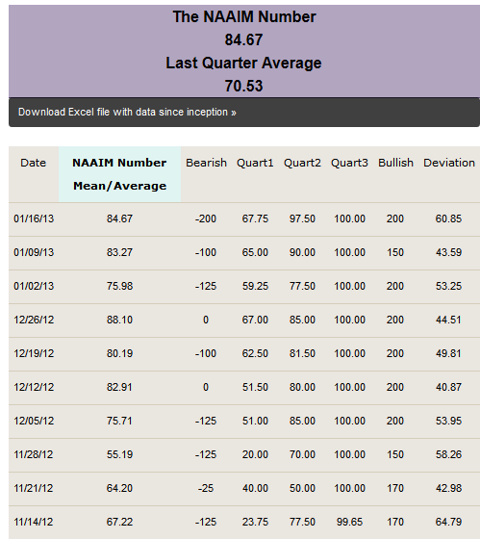 Analysis: Money managers are about as invested as they've been in some time, though interestingly enough there appears to be a few who are willing to take the opposite side of the trade. Note the 200% short bear. Unfortunately they don't tell us who's doing what, just the aggregate data. I'd be interesting to know who the brave guy (or gal) is.
Grade: Bearish
Short Interest:
Short Interest was update this week, here are the new figures for some of the most popular ETFs.
Analysis: There was a slight uptick in short interest leading up to the "cliff" though that's starting to come down. Overall, short interest remains at or near multi-year lows.
Grade: Bearish
Summary:
We've looked at the options market , newsletter writers, individuals, the futures market, professional money managers, and ETF investors. This should provide a pretty complete view of overall market sentiment.
Grades:
Bullish:0/6
Neutral: 1/6
Bearish: 5/6
Most of the indicators are showing a bullish bias, though I wouldn't go so far as to say they are extreme... yet. Still, based on what I'm seeing caution is advised. If you want to maintain long positions, I would use the low VIX to hedge.
Stay safe,
-Bill L.