Current Positions: Short S&P index.
Initiated a short position against the S&P today near the close. This is a short term position (will be on a few days maybe a week) with a stop slightly above today's highs (or if the divergences/non-confirmations disappear). Obviously this is very tight, so losses should be very minimum if I get stopped tomorrow. My thoughts here are that the market overall is very overbought by most technical readings, and today I saw a number of divergences and non confirmations that prompted me to take a small shot at the short side.
I often like to think in terms of poker hands, it helps me nail down the likely hood of winning as well as giving me a sense of how much risk to take. I feel like the setup here is like being dealt a pair or eights or nines. So a tier 3 or 4 hand. Something you can win often with, but shouldn't risk big on either.
New:
I'm going to be including another measure of sentiment starting this week, blogger sentiment, which is tracked and charted courtesy of Ticker Sense. I've been following it for a while now, and thus far my sense is that it valuable enough to be included in our weekly discussions of market sentiment. Here's this week's current reading: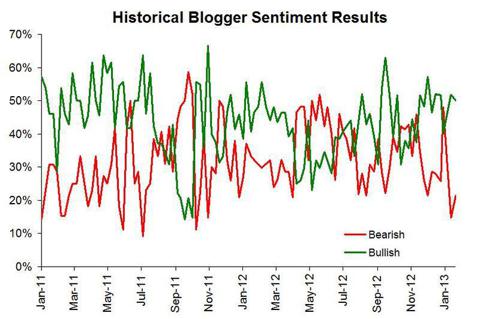 Notes: Like most of the other sentiment data sets I track, this too is near the highs yet not quite "extreme."
Price Action:
SPX: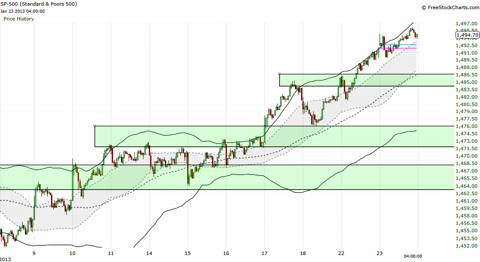 Notes: So in terms of the very short term picture, we're just under new highs for the SPX. Momentum break downs have made zero progress lower. Today however there we several non-confirmations that prompted me to take a shot at the short side.
EWC: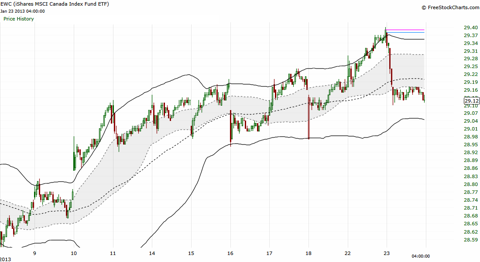 JJC: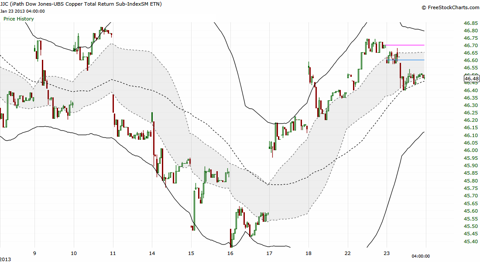 OIL: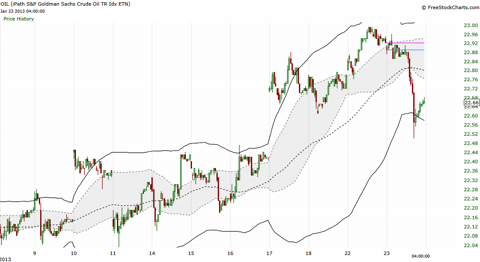 FXE: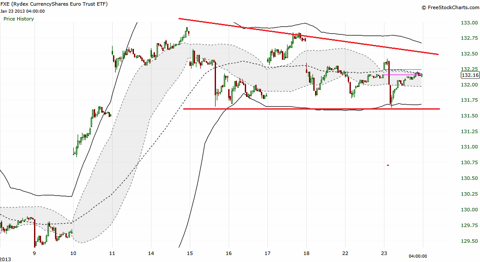 Notes: As I've shown in the last few short term updates, on a technical basis, the market is overbought (I'll go over in the short term indicators later in the update). Looking at some other indexes and "risk on" measures today there was a sharp decline breaking the positive momentum. Why does this mater? They often trade together and when the correlation breaks down, something is happening beneath the surface.
Indicator Summary:
Bullish: 5%
Neutral: 14%
Bearish: 81%
Aggregate Interpretation: The medium term indicators are still either very overbought or are starting to show a bearish divergence. Most of the short term indicators are either overbought or are close to the neutral line but could easily be interpreted as also showing a bearish divergence.
Indicator Snap Shot:
Percentage of Stocks Above DMA: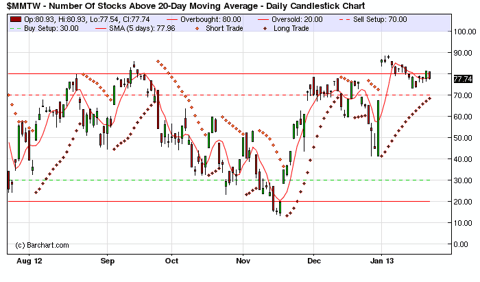 Notes: Still overbought and the Parabolic SAR is very close to catching up.
NYSE McClellan Oscillator: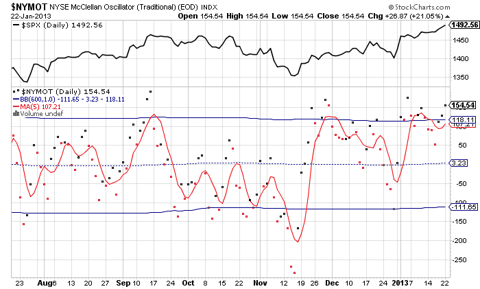 Notes: Another overbought medium term indicator...
NASDAQ McClellan Oscillator: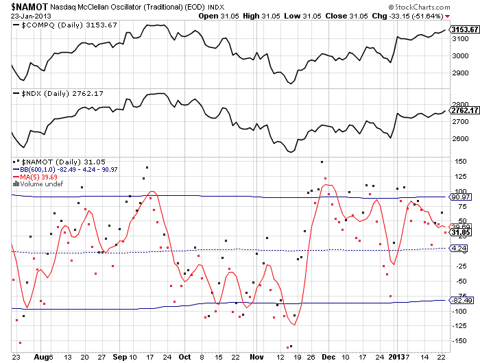 Notes: The NASDAQ McClellan touched the overbought zone a few days but has since started to decline. One could interpret this as a non-confirmation / bearish divergence.
Breadth, NYSE AD Line: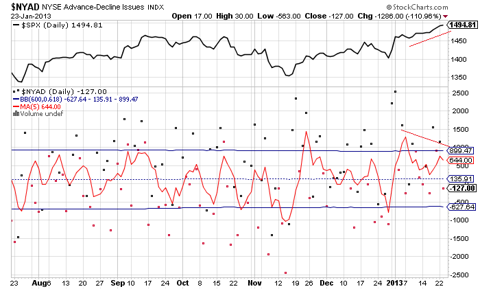 Notes: A possible divergence.
Volume, NYSE Up-Down Volume: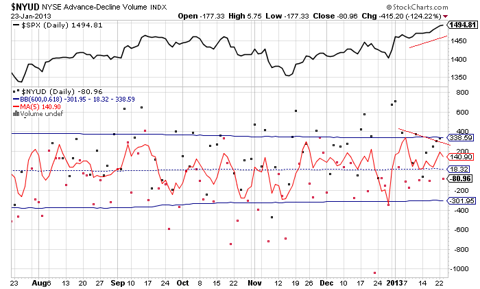 Notes: Another possible divergence.
NYSE Cumulative TICK: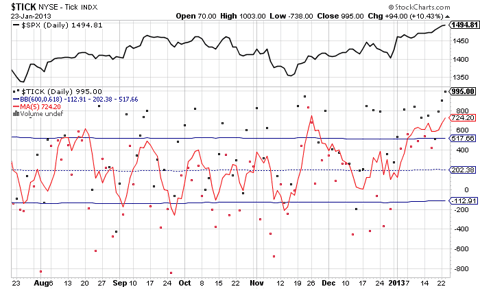 Notes: An overbought reading in the TICK.
NYSE 10 Day TRIN: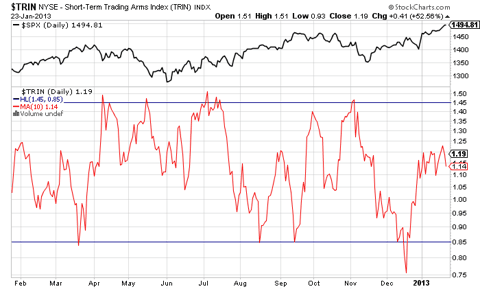 Notes: The 10 day TRIN is currently at neutral.
Put / Call Ratio: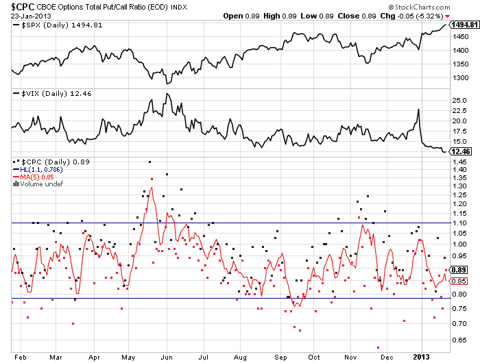 Notes: The Put/Call ratio hasn't moved much since I flagged it a few days ago. The current market sentiment still seems relatively unconcerned with a decline in the near future. This is consistent with most of the other sentiment indicators I'm watching. That's usually the way the crowd thinks right before it happens. Over and over. D'oh!
Summary:
On one hand, it seems everyone is convinced this market isn't going to go down ever again. It's been the pervasive attitude ahead of ever correction I can remember, and it's usually a pretty good tell that you shouldn't be buying. Trust me, the guy on CNBC today saying how great everything is probably selling on his other monitor. Meanwhile in the real world.
One the other hand, we are in a bull market until the market proves otherwise. My level that changes a bull to bear is a monthly close below 1,355 in the S&P or 12,800 in the Dow. The conservative bull should lighten up here or look at puts to hedge. Trust me, the market will provide us with a better buying point than today. Buys that start with a fear of missing out almost never pay out. The aggressive short term trader may want to try a small tactical short with a tight stop. How far the correction goes should tell us a lot. Short comment tomorrow, sentiment update Friday.
Good Hunting,
Bill L.
Disclosure: I am short SPY.