I didn't do a sentiment review last weekend so I decided to quickly include the updated charts here:
The Put/Call Ratio ($CPC):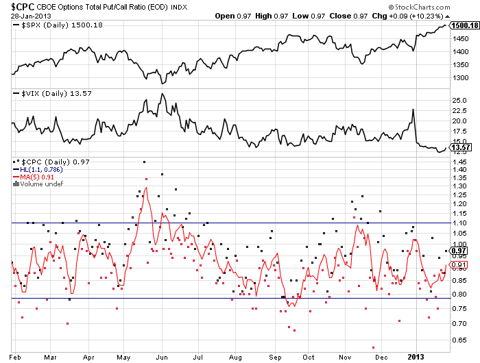 Notes: The put call ratio has crept up a bit, but still has a call side bias. The related VIX also remains historically very, very low.
Weekly Blogger Sentiment:
To quote Ticker Sense directly, "The Ticker Sense Blogger Sentiment Poll is a survey of the web's most prominent investment bloggers, asking "What is your outlook on the S&P 500 for the next 30 days?" Conducted on a weekly basis, the poll is sent to participants each Thursday, and the results are released on Ticker Sense each Monday. The goal of this poll is to gain a consensus view on the market from the top investment bloggers -- a community that continues to grow as a valued source of investment insight."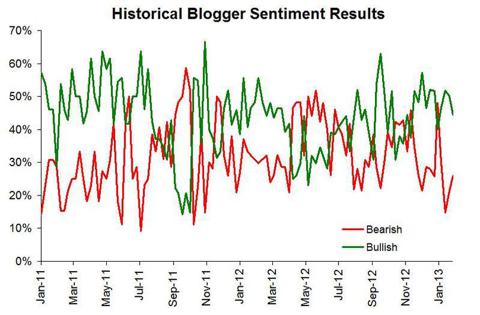 Notes: Like the put/call ratio blogger sentiment has turned lower, though just slightly and remains elevated.
Investors Intelligence: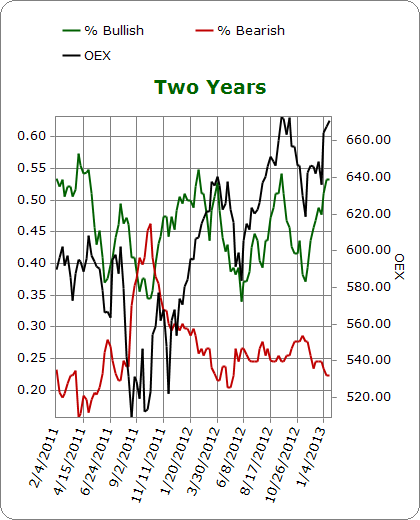 Notes: The percentage of bulls remains as high as it's been in the last few years. The bull bear spread also remains large. This is updated on Wednesday morning, so we'll see tomorrow if this remains elevated.
The American Association of Individual Investors (AAII):
Raw Numbers: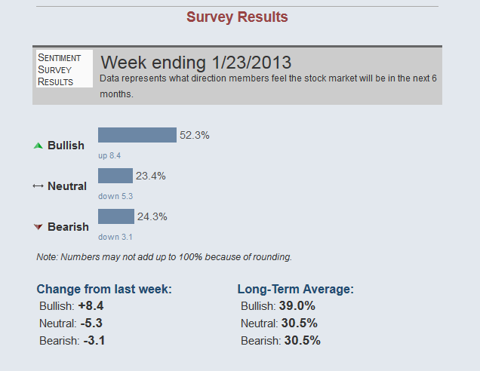 Bulls - Bears: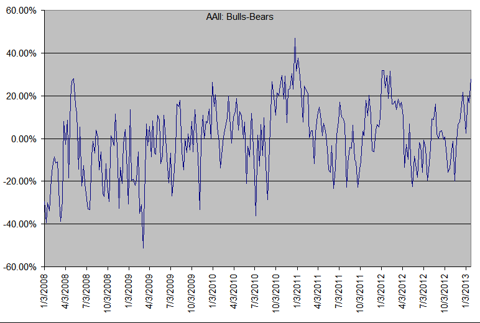 Notes: Individuals have been one of the lagging groups of investors. They've really taken it on the chin the last several years and have been reluctant to hope on board rallies. Unfortunately, all this has done is make them jump on board later into the rallies, actually increasing the odds that buy the top tick.
National Association of Active Investment Managers (NAAIM):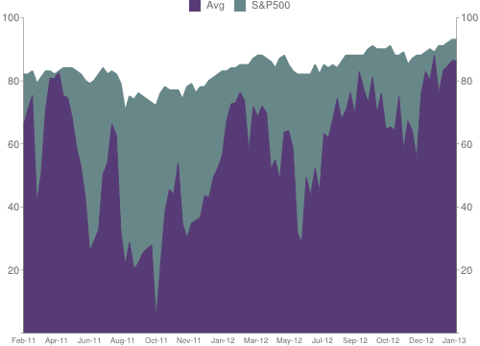 Notes: Money managers continue to hold one of the largest long positions in recent memory.
-Bill L