Bottom Line:
A picture is worth a thousand words, and I don't feel like writing that much, so tonight's bottom line comes from the desk of Bespoke...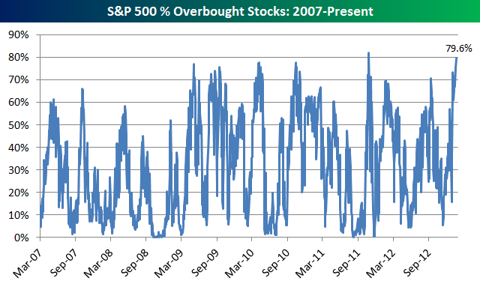 The Put/Call Ratio ($CPC):
The put call ratio measures the rate at which option traders are buying puts (bearish bets) compared to calls (bullish bets). This indicator is the most useful once it reaches extremes; when the market is topping investors are typically far too optimistic and when the market is bottoming they are far too pessimistic.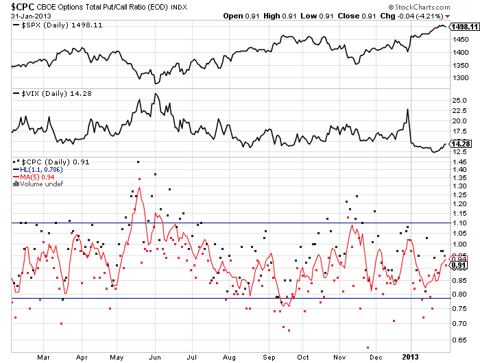 Analysis: Despite the new highs, the put/call ratio has gradually hovered back to the mean. The related indicator, the VIX, however still remains extremely low. So while the ratio of bearish bets to bullish bets has trailed off from it's recent put bias, the cost of protection remains extremely low.
Grade: The 5 day moving average of the put/call ratio has mean reverted, still because of the extremely low VIX, has a whole I'm still grading this indicator Bearish.
Weekly Blogger Sentiment:
To quote Ticker Sense directly, "The Ticker Sense Blogger Sentiment Poll is a survey of the web's most prominent investment bloggers, asking "What is your outlook on the S&P 500 for the next 30 days?" Conducted on a weekly basis, the poll is sent to participants each Thursday, and the results are released on Ticker Sense each Monday. The goal of this poll is to gain a consensus view on the market from the top investment bloggers -- a community that continues to grow as a valued source of investment insight."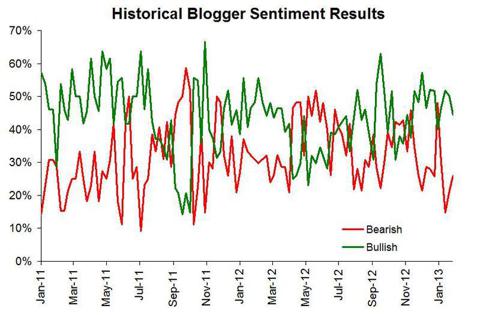 Analysis: The spread between bullish and bearish bloggers has come in a bit, but still remains very wide, and near extreme levels.
Grade: Bearish
Investors Intelligence:
Investors Intelligence is a weekly poll that surveys newsletter writers. While they are professionals they too are subjected to group think, fear, greed, excitement and all the other broad range of emotions that can hamper objective market analysis. One interesting note; when the market is topping, peak optimism is generally reached before the final index price high. This indicator works best as a contrarian indicator when extremes are reached.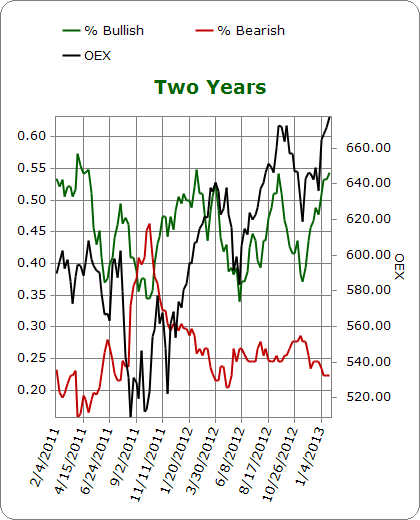 Analysis: Not the widest spread I've ever seen, but just looking at the percentage of bullish newsletter writers, we can tell this market is getting frothy. The last several corrections have all started when bullish sentiment was near these levels.
Grade: Bearish
The American Association of Individual Investors (AAII):
The AAII is a service that polls individual investors. Individuals tend to be more sensitive to price movements than the respondents for the Investors Intelligence survey, though the indicator works much the same way.This indicator works best as a contrarian indicator when extremes are reached.
Raw Numbers: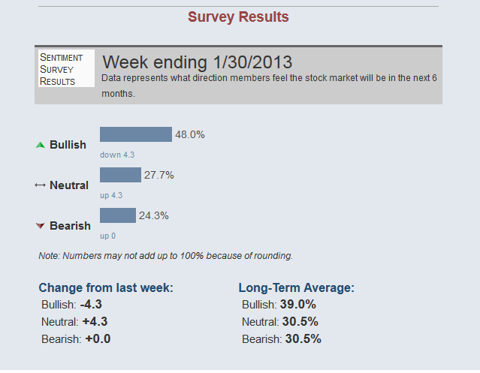 Bull - Bear Spread: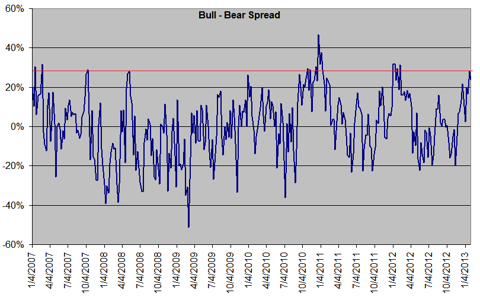 Bull / Bear Ratio: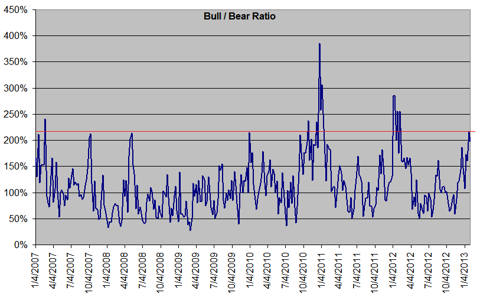 Analysis: Like the previous indicators we've reviewed, here to bulls have backed down a bit. But when looking at the spread, or the bull/bear ratio we can see that individuals have formed a strong consensus opinion that occurs very rarely. Just eye-balling the charts above, they reach this level of bullishness only once a year or so.
Grade: Bearish
National Association of Active Investment Managers (NAAIM):
The NAAIM polls active investment managers. While this poll hasn't been around very long, its short history tells us what we already suspected; professional managers tend to perform no better than most individuals, they're over-invested at tops, and caught short at bottoms. We can however turn their group think into something useful and use this data as a contrarian sentiment indicator.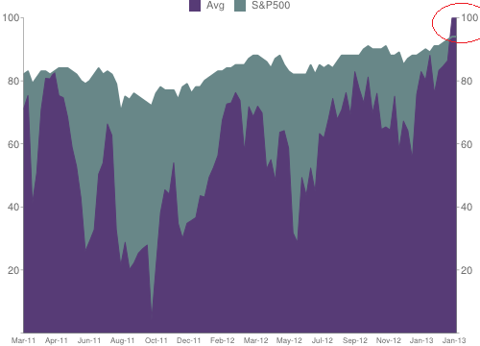 Analysis: In case you missed here, here's a link to my initial reactions when I saw the numbers cross. Several records were broken this week in terms of the level of bullishness among money managers. Click the link for a breakdown.
Grade: Bearish
Short Interest:
In the last few years ETFs have become a popular instrument for individuals and institutions alike to quickly and easily get long or short the market. Their overall popularity has skyrocketed, so it pays to pay attention to short interest in some of the most popular index ETFs.
Analysis: Most of the popular ETFs saw a slight uptick in short interest in the last update, but now most have come right back down to multi year lows.
Grade: Bearish
Summary:
We've looked at the options market , bloggers, newsletter writers, individuals, the futures market, professional money managers, and ETF investors. This should provide a pretty complete view of overall market sentiment.
Grades:
Bullish: 0/6
Neutral: 0/6
Bearish: 6/6
Summary: Some indicators came back in a bit, while others like the NAAIM skyrocketed to unseen heights. The aggregate picture is that there is a lot of consensus on the direction of the stock market, and a lot of consensus usually means the opposite will happen. Tread carefully up here...
-Bill L.
Disclosure: I have no positions in any stocks mentioned, but may initiate a short position in SPY over the next 72 hours.