People have been asking for real time setups, rational, explanation, so here you go: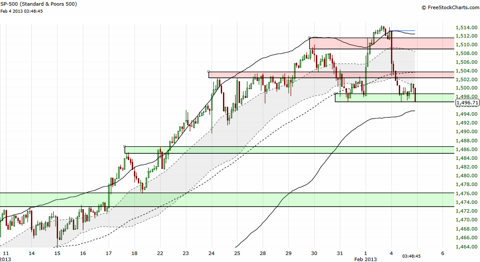 Taking a shot on the short side today if we can clear the current level of support (highlighted as a green rectangle). The SPX has broken through some momentum bands (which I use to initiate trades, identify the trend, and create stops), and has done so with a growing list of technical indicator divergences, as well as with some pretty extreme senitment figures. The two levels of resistance overhead can be used for stops of your choosing depending on risk tolerance, position size etc.
My long term trend model still says we're in a cyclical bull within a secular bear, so short trades should be given less tolerance for failure. Meaning, smaller position size, or tighter stops, of a combination of the two.
Full update tonight.
-Bill L.
Disclosure: I am short SPY.