Summary: Strong Insider Selling Continues
Last week I noted how despite the apparent strength in the equity markets, insiders had been using the noise from the "Dow 14,000" party to quietly sell their shares. This week that selling has continued except for a few very large buys in EMC/VMW. Without these large buys, the sell bias would be even more skewed.
In the table below I've been summing the largest purchases and sales each day in February in both dollar terms and share volume.
Chart 1: February Insider Activity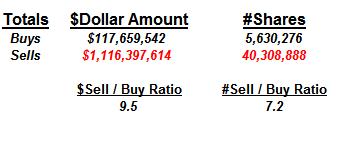 In terms of dollar amount, insiders have been selling almost $10 dollars worth of stock for every $1 dollar in purchases. In terms of share volume, over 7 shares of stock have been sold for every 1 share in purchases.
If we simply plotted every dollar sold vs dollar bought in a cumulative plot, we can see how the selling is outpacing the buying.
Chart 2: Cumulative Sales vs Purchases by Insiders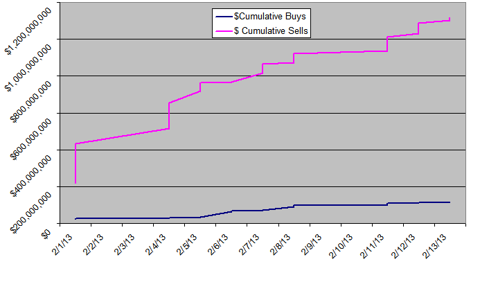 We'll see what happens the rest of the month, but when insiders flee their own company's stock in droves, that generally not a good sign.
On another note, seeing as how insiders at EMC and VM have been making large purchases ($50 million dollar worth give or take), I'll take a look there for anything interesting...
-Bill L.
Disclosure: I have no positions in any stocks mentioned, but may initiate a short position in SPY over the next 72 hours.