What bothered me yesterday (from a short term bearish perspective) was that the close was well off the lows. The market had a chance to test with lows intraday, but it never came close and instead reversed higher. Today the market followed through; the SPY gaped up, threatened a break down near the close but then reversed and ended the session at the highs.

Despite the strong session, looking at the McClellan Oscillator, I believe the bias for the next few days should be still be down. Let's take a look: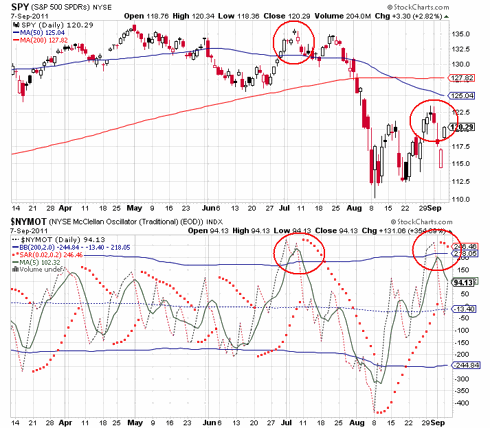 The Oscillator still looks as if it is falling from an overbought level. The McClellan typically oscillates from overbought to oversold, especially when an extreme is reach. On August 31st, the The McClellan Oscillator closed over 2 standard deviations (solid blue line) from the mean and the 5 day moving average peaked at 1.9 standard deviations from the mean. The most recent similar overbought condition occurred on July 7th, right before a -18.5% decline in the SPY. Drawing from years of empirical observation, I can say that it would be very unusual for the oscillator to reach overbought, and only mean revert. There is a possibility that the market will test the recent highs with a bearish divergence in the McClellan oscillator, which would only strengthen the short term bearish case. I'll be watching to see what develops.

Lastly, The Long Term Bull/Bear Trend Model is flirting with confirming a bear market, I believe there is a strong possibility that the market's are transitioning from an up to down trend, caution is the name of the game.

A sneak peak from the upcoming September edition: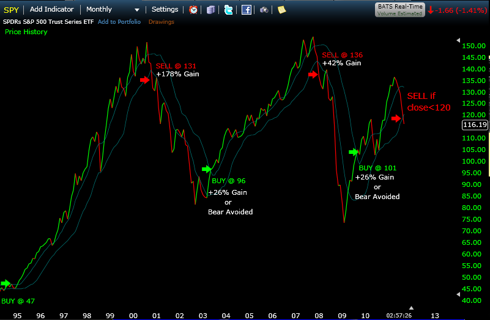 Investor's should continue to use rallies to unwind longs and wait and see how September closes. Short term traders may want to either sit in cash and wait for the market to get more overbought or take on small short positions if entries present themselves.