Only time for a short update tonight.

Tuesday Recap: The market is working off some short term oversold conditions and bouncing off short term resistance. 

Today:
Equities appear to be successfully challenging the downward sloping downtrend which now changes my short term stance to neutral. When something happens that I didn't expect, I always stop and let the market come to me. Right now, one could make an argument for either direction short term. Indicators are saying different things on different time frames, and it's hard to tell which trend line is going to win here. When that happens, I just stop trading until the market provides me with an obvious opportunity.

My guess? The next sell opportunity: the market will challenge the early September highs but with an obvious McClellan Oscillator divergence.

$NYMOT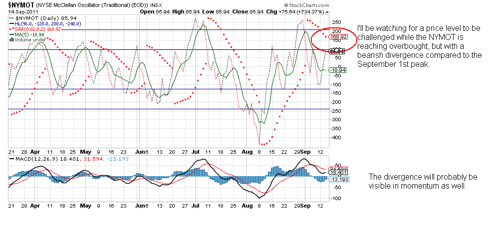 Summary:
I'm neutral here. Since today has turned the McClellan Oscillator back to near overbought, I believe the next big trade will be simply to wait till the $NYMOT gets overbought, then go short.

Enjoy your evening!

-Bill L.