Housekeeping:
I'll be traveling tonight so most of this update was written during the trading day, some of intra-day observations may have reversed by the close. Furthermore, the McClellan, TRIN, advance-decline line, etc only truly settle after the close, so I will be posting an addendum sometime this weekend, updating those charts.
Thursday Recap:
Markets push higher but in doing so are rapidly approaching a zone of resistance with indicators reaching near overbought levels.
Friday:
A very slow trading for me as I tend not to take much risk when indicators are in no man's land. It appears though, that this could be changing quickly. Equities followed the same pattern as the last few days, pulling back early, then reversing the breakdown and implusing higher. The rise was less impressive as the last few days however, a sign of declining momentum and lessening follow through. The indicators I follow are starting to get into interesting areas, and there are some Elliott wave interpretations that suggest a reversal is approaching.
Daily: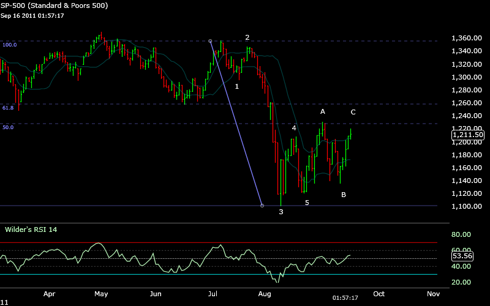 Notes:
Indicators suggest we are at some sort of terminal wave, in this case, wave C of a flat.
RSI should respect the 60-70 handle in a correction.
Heavy resistance happens to falls right in the middle of important Fibonacci retracement levels (50%-61.89%), which also coincides with all the iterations of the 50 and 200 day moving averages (not shown).
Hourly: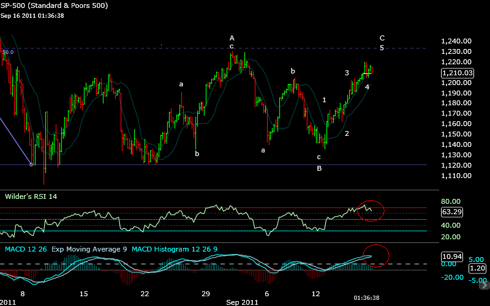 Notes:
This is a closer look at the ABC-Flat. 
Note that hourly indicators are close to overbought. We will probably see the typical wave 3 - wave 5 divergence on an hourly scale.
RSI overbought.
MACD converging.
Everything appears to be coming to a head near the outlined resistance/Fibonacci retracement levels.
15 Minute: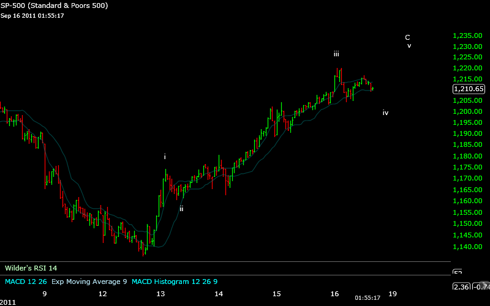 Notes:
A closer look at the C wave. 
Near completion.
Chart patterns are subjective, and I would suggest readers certainly not put all their eggs into one basket based on one of many possible Elliott Interpretations. That said, for the moment I am leaning towards this interpretation because there is a strong cluster of technical data coming together: the Fibs, MAs, and the internal readings of the market. Furthermore, we are seeing divergent behavior from the different indexes, which is common during a terminal move. For example the last few days, the Dow Utilities index has been outperforming, especially the more economically sensitive Transport Index. Today, despite the Dow and S&P being up, small and mid cap indexes (again, more economically sensitive) were actually negative for much of the day.
Summary:
Price patterns and technical observations are coming together, which likely means soon we will be having a technical and very trade-able decline. I'll be watching closely and I will try to identify when that happens. I'll be posting again, sometime this weekend updating the indicators that settle after the close.
Enjoy the weekend, and we'll talk again soon.
-Bill L.