Friday Recap
:
The stock market appears to be getting close to overbought levels, and should top next week. 
Monday
:
At the end of last week I noted that some of the indicators I watch were flirting with overbought conditions, and should they get more extreme, I would become more interested in playing the short side. As a trader, my job is not to call the close every day in unerring accuracy. My job is to find imbalances which can give me an edge in terms of choosing
with
direction to play. The greater the imbalance, the greater the bias I have. Today the market looked like it may have topped, but it's very hard here to get interested in the short side. The reason being the indicators I watch, just didn't extreme enough.
$NYMOT: Overbought, but not quite extreme.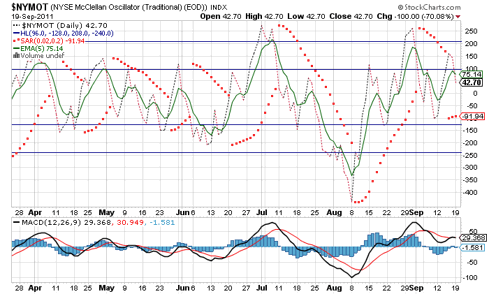 That said, we did break down on hourly charts and there is a possibility that what the $NYMOT is actually showing us is a bearish divergence between the 8/31 high and the 9/16 high; in terms of daily closes, the difference in the SPY was only less than a point, but there is a very visible difference in the $NYMOT at those corresponding peaks. That would imply that despite a nearly identical daily close in the SPY, the internal strength of last week's rebound could not match the internal strength of the thrust at the end of August, a bearish divergence.
Summary
:
For traders:
For most, I think the best thing to do here is wait for a better opportunity. The more aggressive traders who have discipline and are at their desk all day could short the market here and set a stop if the SPY can achieve an hourly close above 121 tomorrow. The reason I would be willing to risk a small amount on this trade is that that's less than a point of risk, and a break down would almost certainly have us revisit our most recent lows at 115. So near 5 to 1 risk reward, and the odds are slightly in our favor technically.
For Investors:
The Long Term Trend Model will confirm a bear market if the SPY manages a monthly close around SPY 120, a level that we're currently flirting with. So, the name of the game is safety first.