Monday Recap
:
Indicators are bearish, but not quite extreme. Better opportunities to sell the market will most likely present themselves soon. 

Tuesday:
Today's price action was interesting and I believe it strengthens the short term bearish case. Yesterday's hourly breakdown was completely reversed, that said, I've noticed that near the end of a trend, the last breakout tends to: 1) either fail to take out the previous high or barely manages a slight new high 2) occurs with several visible bearish divergences. I believe today's action fit that description.
SPY Hourly: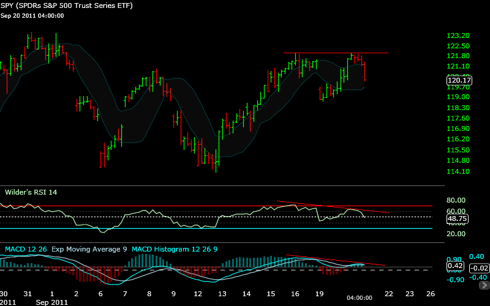 Notes:
Break out barely managed a new high, several indexes did not confirm (Russell 2000 small caps, Transports, S&P 400 midcaps).
Momentum Divergence.
MACD Bear Crossover.
Very close to an hourly breakdown.
Today's price action also adds weight to the thought I had yesterday; the McClellan Oscillator is showing a bearish divergence between major pivot highs. If this is correct, it should mean we are at the edge of a reversal that would almost certainly threaten to take out recent lows between SPY 114 and 112. There is almost major supply/resistance between 120-130 and above.
SPY Daily: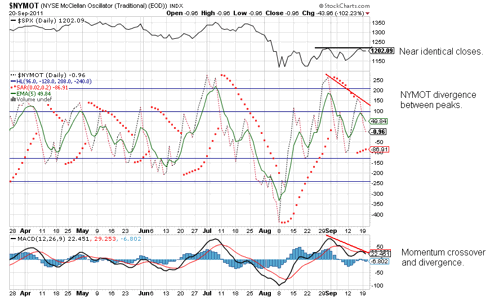 Summary:
The market looks like it's finally reversing last week's streak. Furthermore, this advance appears to be occurring on less momentum and weaker internals, thus making the previous pivot lows vulnerable if we do get a decline. If the SPY is able to have an hourly close below SPY 119.50, I would consider the top in and I'll be actively looking to short on weakness. I'll set stops for an hourly close above 121.40.